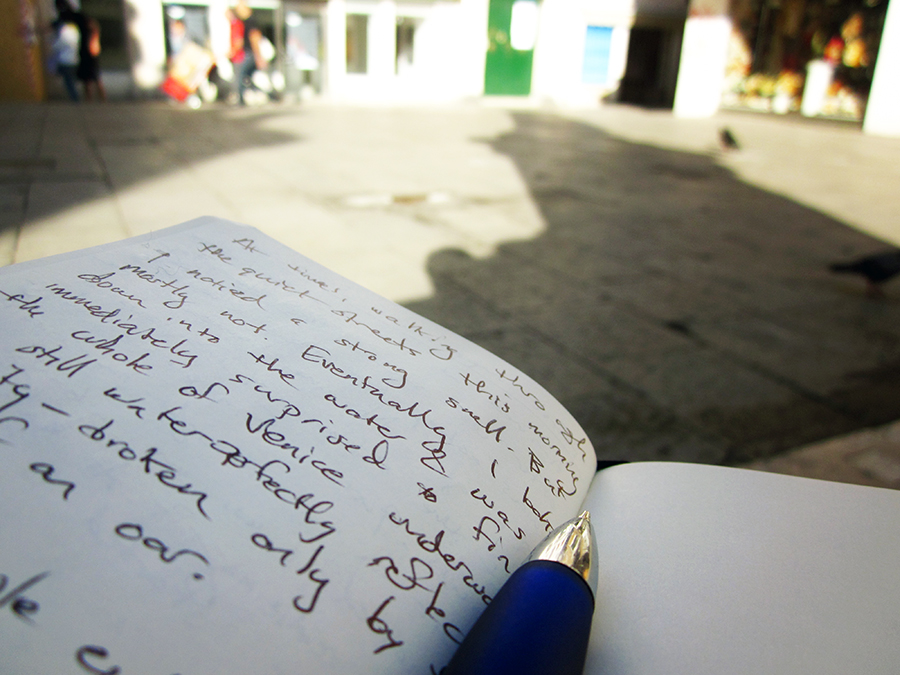 Arrived at the Venezia Santa Lucia train station sometime after 6 a.m.—seemed like the city was asleep but the sun was awake and bright. No one bombarded me at the station with information, tours; no touts. Quiet. Simple to walk which was surprising. Originally I thought you could only take boats and gondolas but I was able to just walk a straight path to the hostel.
Sometimes I noticed I was on a bridge without every realizing I was over water. At half-7 the pigeons started to coo. A woman in a plaza opened her green shutters, still in her nightgown. A café set out coffee cups on their small sidewalk table. A young couple embrace on a bridge—oblivious (or maybe just ignoring) the passers-by. A tourist takes photos of me as I sit on a statue pedestal—Paolo Sarpi—writing this in my Moleskine.
At times, walking through the quiet streets this morning I noticed a strong smell. But mostly not. As I started to wander more, I looked down into the water and was immediately surprised to find the whole of Venice underwater. The still water perfectly reflects the city—broken only by the slash of an old man's oar.