The beauty of Brussels is that it hides so many of its charming features. The downtown area, though beautiful, is only interesting for so many tourists—and even then it can't keep many young travelers' enthusiasm.
But leave the city center and explore some of the other parts of town (Ixelles, for one), and you'll quickly discover how much fun the city can be.
When researching this hipster guide for Brussels travel tips I came across the term "BoBo" or Bourgeois Bohemian. In all honesty, with Brussels' reputation as the "capital of Europe," BoBo is a more accurate description of many of the places to see in this travel guide.
What is a Bourgeois Bohemian and what sets them apart from a hipster? Well, not much. BoBos are just more likely to have and to spend more money. While there are plenty of thrifty and even cheap things to do in Brussels, if you've got the money, you might as well spend it. In Brussels, you can enjoy a very Bourgeois Bohemian lifestyle—even if you're just in town for a weekend.
The beauty of Brussels is that it hides so many of its charming features. The downtown area, though beautiful, is only interesting for so many tourists—and even then it can't keep many young travelers' enthusiasm. But leave the city center and explore some of the other parts of town (Ixelles, for one), and you'll quickly discover how much fun the city can be.
Sightseeing & Activities in Brussels
Embrace your inner child at the Belgian Comic Strip Center – this museum is the heart & soul of the comic industry in Belgium. Comic Book Museum
Visit the Magritte Museum – I can't rave enough about this museum. It's well worth your time even if you're not into surrealist art.
Belgium is known for chocolate, no doubt, and in Brussels, you can even take a short course and learn how to make your own chocolate. I did a chocolate workshop at Zaabär just off the trendy Avenue Louise.
Beer. Really, is there something that Belgium isn't known for more than beer? Maybe frites, but we'll stick with the drinking. There are hundreds of beer bars in Brussels, but if you wan't to do something a bit more off-beat, consider a beer tasting at Spirit of Wallonia.
Keeping with the DIY theme (and yeah, hipsters like to make and to create), you can also take short courses on comic book drawing. I spent a few hours hanging out with Belgian artist De Marck who helped me work on my severely lacking drawing skills. Keep your eyes out for my forthcoming graphic novel, "Adventures of the Hipster!"
And when it's raining in Brussels, what is there to do? Visit one of the many independent movie cinemas. There's the Galeries Cinema in the historic Royal Galleries and Cinemateque at Flagey Place which both offer English-language indie movies.
If you want a personal tour of Brussels, get in touch with the Brussels Greeters! This is a seriously cool experiment by VisitBrussels.be. They'll hook you up with a volunteer from Brussels who will show you off the beaten track sites. My guide took around Ixelles and helped me spot many of the trendiest cafes and bars for an hipster like myself—and all those trendy Bourgeois Bohemians, too.
There's an abandoned building just near the Comic Strip Center. It provides a nice panoramic of the city below and is a kind of cool place to explore. I wasn't able to get inside the building when there, but the deserted park below and the empty plaza it sits in seemed to be a haven for graffiti and other tagging.
Shopping in Brussels
The daily flea market at Place du jeu de Balle offers a random assortment of junk. Yes, junk. But if you're shopping for 1920s kitchen cutlery, you won't find a better place to look in Brussels! Bizarre but fun for a good stroll.
Art Books? Try the spacious Libraire d'art in Galleries Royal St Hubert—downtown and easy to find.
Do you use the word dapper to describe yourself or your beaux? Check out the old-fashioned shops across from Librarie d'art. One's speciality is gloves, the other hats.
There are a myriad of second-hand bookshops inside the 19th century Bortier Gallery off Rue Madeleine. You'll also find a shop there that sells second-hand comics.
Second-hand clothing can be found at Les Petis Riens—"the small nothings." There are a few shops scattered around the city and they're working to make Brussels a better place. They employ workers who really need jobs—those on social welfare and the like—and to give back to the community, the shop also has an annual fashion show to showcase young Belgian designers.
Avenue Louise is where you'll find Gucci and the likes, but there are also plenty of independent art galleries for some window-shopping.
The Vintage Market at Halles Saint Géry Vintage is just once a month but you're certain to run into other hipsters there. The vintage market is the first Sunday of every month and you'll find vintage clothing & kitschy, second-hand goods.
Veals and Geeks (website) is an indie record store in trendy and über-hipster Ixelles. They also run vinyl record street fairs.
Bars and cafes in Brussels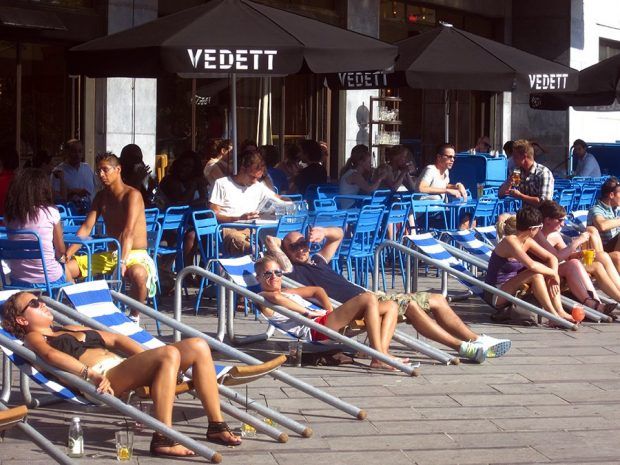 Cafe Belga – one of the trendiest cafes in town. You'll hear Bjork and her ilk on the stereo. During the day it's crowded with people hanging out on the sun loungers outside, in the evenings popular for enjoying some quality beers
Champagnotheque – Champagne bar where you can buy by the glass—a novelty for champagne!
À La Mort Subite – "Sudden Death" bar, famous for their Lambic beer on tap and a healthy mix of locals, tourists and funny old folks
Place Saint Boniface in the summer – lots of people hanging out in the plaza
Le Pantin – cosy bar with board games and chess sets for people to use
Recyclart – a non-profit cafe & art center (and in the evenings, it's a nightclub) – some nights they even offer quirky courses such as woodworking or bread baking
Potemkine – good brunch, often has DJs and small concerts. Also shows free movies
Moeder Lambic – one of the best beer bars in town, ranked as one of the top 10 in the world, waiters are trained to recommend beers (mostly Belgian) based on your mood/taste
Brussels Gay Travel Guide
The LGBT and gay area of Brussels is centered along one main street in the downtown quarter: Rue du Marché au Charbon. On evenings (especially the weekend), it's a popular spot for drinking and other shenanigans. Personally, I checked out the gay scene at La Fontainas which was a great cafe & bar. Grab a beer and enjoy the view on their outdoor patio—it's one of the most popular gay bars in Brussels.
Food in Brussels: Best Restaurants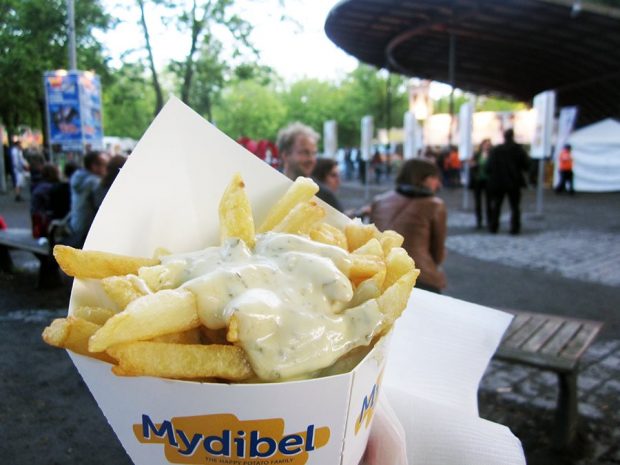 Exki – These quick eateries are scattered around town and offer healthy, organic foods. A welcome break from all the unhealthy snacks so popular in Belgian cuisine
Frites, of course! – Best I had were at the stand at Place Flagey (Friterie Flagey Frituur). Fritland is also popular (and decent), but probably only because it's the most popular in the downtown touristic areas. If you're looking for a bit of, um, adventure with your fries, try the local "Pickle" sauce.
Arcadi Cafe – a hyper-local place that's family-owned and downtown, too. Try a quiche!
Capoue – Generally, regarded as some of the best ice cream in town
Mamma Roma – Pizza for which you pay by the pound. They also serve up some interesting pizzas like "potato-truffle"
Nightlife in Brussels
Place Saint Boniface – The street just in front of the church offers up some affordable and quality restaurants. If you want to enjoy a summer night in Brussels without the partying but still a lot of people-watching and good times, consider checking out the cafes & restaurants here. Bonus: The street closes down for a summertime street-party at least once a year!
Saint Gery area near downtown, lots of people drinking outside in the summer. Great atmosphere and you don't even have to hang out in one of the bars.
Weekly events such as Piknik Elektronik (every other sunday in a different park, electro DJs) and Apéros Urbains (summer schedule) offer the chance to explore new parts of Brussels each week. While each started as more of an underground movement, these days they're more popular as networking events for Bourgeois Bohemians and European Union socialites.
Recyclart – Located inside an underground train station, it's a very hip atmosphere. Check their Facebook for parties.
Mr Wong – A trendy bar which offers a hip alternative to the nightclub scene. DJs every Friday and Saturday.
The Fuse – This club has been around for a while but is still one of the most popular nightclubs around.
Where to Stay in Brussels

Because Brussels is a popular business and political destination, finding affordable accommodation for a leisure holiday is sometimes challenging.
Recommended Hotels
Vintage Hotel — This cool boutique hotel is located just off Brussels' most fashionable shopping street, Avenue Louise. With 29 unique bedrooms, the Vintage Hotel is probably one of the best boutique hotels I've stayed in. Each room is decorated with individual pieces of design furniture from the 20th century. And just to make the boutique hotel even more interesting, the Vintage Hotel has an Airstream trailer available to sleep in. Rooms from just $70 per night.
MaxHotel — At a great value, the MaxHotel is located within walking distance to the gay neighborhood in Brussels (and the Grand Place). Minimalist design makes the hotel a great budget hotel option with fast and convenient service. Rooms from $65 per night.
Brussels Travel Tips
You can bring your frites into the bars, no one will mind!
Keep your eyes open for street art by Bonom (map)
Try the Jupiler and Vedett beers – cheap & easy Belgian beers available at most places.
Grab a free copy of the Brussels "map for young travelers." It's got some of the best travel tips and they'll even hook you up with additional maps if you're looking for vintage clothing or skate parks.
The free weekly magazine Agenda has listings in English, French and Dutch for things happening in art galleries, clubs or music venues. It's available at most of the bars & cafes I've listed above.
For hotel and hostel options in Brussels, check Agoda.com for special discounts & rates
Brussels Blogs for Insider Tips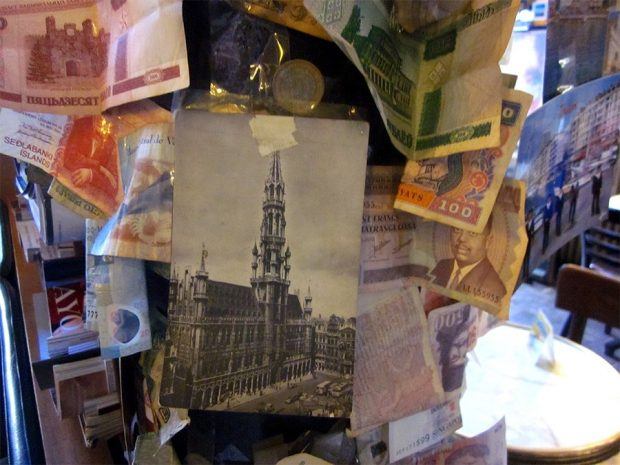 As always, the best way to get the most local tips is to check out the local blog scene. Here are some blogs I found useful when exploring Brussels for the trendiest things to do, places to see and local events happening.
Did you find this hipster guide to Brussels useful? Be sure to check out my other hipster city guides!