Home to one of America's best gayborhoods and a creative, entrepreneurial spirit, Dallas is one of the growing hotspots for cool and unusual things to do. But Dallas encapsulates that southern charm and local Texas flair while promoting a modern and forward-thinking culture.
There's history in Dallas, of course. It's home to Dealey Plaza where John F. Kennedy was assassinated, but beyond that, it's a city that's grown into one of the best cultural hubs in the south.
Dallas, Texas has a reputation for being BIG. It's a sprawling city part of the mega Dallas-Fort Worth metroplex (one of the largest metropolitan areas in the United States south). But Dallas encapsulates that southern charm and local Texas flair while promoting a modern and forward-thinking culture.
There's history in Dallas, of course. It's home to Dealey Plaza where John F. Kennedy was assassinated, but beyond that, it's a city that's grown into one of the best cultural hubs in the south.
I grew up in Dallas and so, naturally, I've always had a complicated relationship with the city. But, over the past two decades, I've also watched Dallas grow up to become one of the most interesting, dynamic and surprisingly hip cities in not just Texas, but the USA.
The city's Arts District has always been a cultural hub of the city, but newer art and design-focused neighborhoods have popped up, including the Bishop Arts District of Oak Cliff and the Design District in the city center. There's a creative and entrepreneurial spirit that flows through Dallas.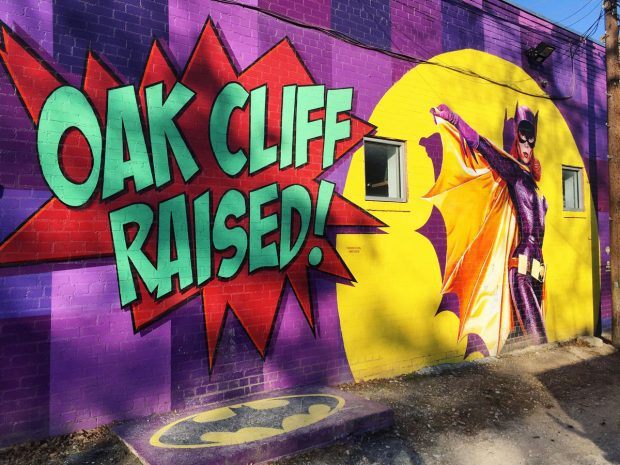 And as a growing metropolis home to international businesses and corporations, the city also has a unique and diverse worldview.
That Texas spirit you'll find throughout the state, one of pride and honor, meshes well with the Dallas spirit for success and expansion—making this a friendly and culturally important city. Dallas is also home to one of the largest LGBTQ neighborhoods in the country with a diverse scene for gays and lesbians who enjoy the year-round sunshine and friendly, local atmosphere.
For European visitors to Dallas, you may need to apply for an ESTA visa in order to visit the United States. The ESTA is cheaper and easier to get compared to another visa, and with an ESTA you can stay in the USA for up to 90 days. Plenty of time to see all of Dallas and experience the local Dallas culture.
Dallas isn't just big. It's a community of diverse people working to achieve more and more for their city. Explore more of Dallas in my guide here of some of the best and most interesting Dallas hotspots.
WHERE TO STAY
Not only is Dallas one of the largest cities in the United States, it's a vibrant cultural hub with a rich history so it's no surprise that it receives numerous visitors each year. If you're headed to Dallas there are a range of options to choose from to suit your budget.
HOTELS – Budget & Mid-range
There's so much to see and do in Dallas so if you'd prefer to spend your hard earned cash on live music, football games, shopping till you drop and dining out (and I don't blame you) you can easily find a basic but comfortable and centrally-located budget hotel or hostel.
If you're looking for a little more comfort but don't want to break the bank there are also a number of chic yet affordable options around the downtown Dallas' Arts District and business district.
Hotel Indigo — The Hotel Indigo located in the heart of the Main Street district is set in a historic red-brick building which once served as is the Dallas Opera House and the Titche-Goettinger department store. The three-star hotel boasts contemporary rooms with free Wi-Fi, flat-screen TVs and theatre-and-fashion-themed artworks which allude to the hotel's past. There's also a fitness center and a bar and bistro which serves breakfast and dinner. Rates from $100 per night.
HOTELS – Luxury
And if you really want to splash out, you've come to the right place! Many an oil baron has called Dallas home, and the city also had the fastest-growing population of new millionaires in 2013, so if you're in the mood to splurge and want to make your trip as memorable as possible there are luxury accommodations aplenty to choose from.
Find privacy in the hidden oasis that is the opulent Rosewood Mansion on Turtle Creek or see and be seen at the stunning Neo-Gothic Joule Hotel in Dallas' central business district. Wherever you choose to lay your head, you'll be sure to encounter a good dose of Texan hospitality.
Hilton Anatole Resort — This luxury hotel is great for both business and leisure, and its building is massive, because it also happens to host an art collection. The Verandah Club is one of the main attractions of the Hilton Anatole, an award-winning wellness and fitness center with pools, sauna and even men's facial treatment. The Hilton Anatole complex integrates several restaurants with cuisine from all over the world, to-go sushi sets (Counter Offer, open 24 hours) and Texan steaks (Sēr Steak + Spirits). Rates from $180 per night.
Joule Hotel — Built in 1927, Joule Hotel is located in Dallas' central business district and adjacent to the Dallas Arts District and the flagship Neiman Marcus store. The Neo-Gothic luxury hotel has 161 lavish rooms and four penthouses, as well as a variety of dining options offering award-winning artisanal food, craft cocktails and beers and an eclectic selection of wines. Visitors can do some shopping in the hotel's upscale boutiques, take a dip in its cantilevered rooftop pool or relax in its 8,000-square-foot, subterranean spa which also has a pool as well as a yoga and fitness studio. Rates from $280 per night.
The Fairmont Dallas — Located in the heart of downtown Dallas' Arts District, The Fairmont is a luxury hotel with 545 newly redesigned guest rooms and suites. The contemporary rooms offer high-end linens, flat-screen HDTVs, minibars and sweeping views over the city. The hotel's rooftop features a Junior Olympic sized pool as well as the Pyramid Restaurant & Bar which serves Modern American cuisine. Guests also have access to a Starbucks, a fitness center and massage treatments. Rates from $140 per night.
Rosewood Mansion on Turtle Creek — Originally the private residence of a wealthy cotton baron, Rosewood Mansion on Turtle Creek is a luxury hotel is tucked away in an exclusive oasis in the center of Dallas. Its 143 rooms and suites have balconies or patios and 42-inch flat-screen TVs. In addition to an outdoor pool and hot tub, an exercise room, a steam room and a sauna, the hotel boasts a stylish bar and an upscale restaurant serving contemporary American cuisine with a subtle global influence. Rates from $320 per night.
CAFÉS & COFFEE
The coffee scene in Dallas has grown up a lot over the past few years. The third wave coffee scene has come hard and fast to Dallas, with new shops, roasters and cafés opening every season.
Each coffee spot has their own unique style and design with an increasing emphasis on quality beans and other artisanal products. You'll find the best Dallas coffee shops spread throughout the city, oftentimes in hotel lobbies or in stand-alone, independent buildings.
Besides coffee, Dallas has a pretty strong sweet tooth. In the land of sweet tea, sugar is a staple of any Texas meal.
Bakeries have always been popular in North Texas, but as the trend toward more high-quality and diverse foods has spread across the region, specialty desert stores have begun to open up.
FOOD & RESTAURANTS
The Dallas dining scene has always been well established. A city with a lot of money makes for a wide variety of restaurant options, but as that wealth has spread to further districts from downtown Dallas, so has the diversity of options.
As developers add new life to new areas, thanks to better transport connections and more space, restaurants and bars are often the first to open up in new areas.
In 2013, shortly after the iconic Margaret Hunt Hill Bridge opened up connecting West Dallas and Oak Cliff with the city center, the Trinity Groves district went under development.
Today it's one of the secret foodie hotspots of the city home to new restaurants and retail shops where they can test and perfect their menus and recipes. And when you're looking for inspiration, look for the hundreds of Dallas foodie Instagram accounts.
COOL BARS & NIGHTLIFE
Dallas nightlife is as varied as the city's districts. Deep Ellum has been the center of the Dallas live music scene for decades, with countless music venues, alternative bars and cheap, late-night dining. A lot of the gay nightlife is in the city's gayborhood, centered on Cedar Springs Road in Oak Lawn. And along McKinney Ave in Uptown Dallas, you'll find a lot of sports bars and brewpubs with happy hour specials.
But don't ignore the bars and nightlife elsewhere in the city, too. Bishop Arts District, while especially great during the day, increasingly has more late-night venues and events. And other top-quality cocktail bars are scattered across the city in their own special venues.
Katy Trail Ice House — The best way to access the Katy Trail Ice House is, predictably, along the Katy Trail—one of the best nature spots in the Dallas city center. It's a large beer garden with fire pits and hundreds of outdoor tables making it an especially great place for large groups and meeting friends. The bar serves your typical bar foods (burgers and nachos)
The Bomb Factory — One of the biggest and newest live music venues in Dallas, they're located right in the heart of Deep Ellum. Concerts and events here are generally pretty eclectic, so check their calendar on their website for shows in advance.
High & Tight Barbershop — Literally a barber shop with a cool bar integrated into it where you can enjoy craft beer and cocktails, listen to music – both live performances or ambient music – and with luck enjoy some classic movie projected silently as part of the atmosphere. It's a popular venue, especially during the weekends, and well… you can also visit during the day hours and get a trendy haircut, trim your beard and change your look.
Off the Record Craft Beer & Vinyl — Small and crowded, but with one of the best selections of craft beers in Deep Ellum, Off the Record features a great vibe. You can talk to friends, what some videos projected in the TVs, and shop or just explore the collection of vinyl for sale. From Smashing Pumpkins to the indie bands, you never know what musical treasure is waiting for you in the wooden shelves.
The Nines – A small bar and club in Deep Ellum, The Nines recently renovated and has a rooftop patio overlooking Deep Ellum. Multiple dance floors, small bites and big, plush lounges, it's got a cool-but-kind-of-sleazy vibe. Burlesque shows and other special events (including rooftop karaoke) add to the fun and funky atmosphere.
The Curtain Club — One of my favorite live music venues in Deep Ellum, the Curtain Club puts on a variety of shows—mostly from startup bands and local indie performers. Two floors and a casual lounge make it a fun way to start a night out in Dallas if you're looking to try out some of the live music first.
McKinney Ave — This stretch of road in Uptown Dallas is home to a handful of pubs and sports bars—each with big patios, regular drink specials and all the basic requirements of a bar for the Dallas bros. It's a good place to get a taste of that famous "Dallitude" (Dallas attitude), but with the right group of friends, a night out on McKinney can be a lot of fun.
The Cedars Social — Recently under new management but still serving some of Dallas' favorite handcrafted cocktails, The Cedars Social is a great spot for craft drinks in a cozy, 1970s'-inspired environment. Meals here can be really good, too with a menu featuring a lot of heavy comfort foods.
Braindead Brewing — A local craft brewery in Deep Ellum, they've got one of the best outdoor patios. During the day, it catches a lot of sunlight and at night, it's a casual and social atmosphere—not too loud or rowdy. Their local brews are some of the best in Dallas and they've got a tasty menu of better-than-normal pub food.
LGBTQ – Gay Dallas
You might not expect Dallas to be one of the best gay cities in America, but you'd be wrong. The Dallas gayborhood of Oak Lawn and specifically a stretch of Cedar Springs Road, is one of the most established gay neighborhoods in the USA.
A handful of Dallas gay bars and shops, and two gay saunas make the area a mostly safe and friendly environment.
Over the past two decades, the LGBT scene in Dallas has grown and expanded, and now you'll find gay and queer bars outside of the main gayborhood. Deep Ellum has always been an edgy, alternative spot for punks and queers, while the Bishop Arts District and its revival of artisan foods, drinks and crafts has made it a hotspot of queer culture in Dallas.
LGBT Shops, Culture, and Activities
Gay Bars & Clubs
ART, MUSEUMS, & ACTIVITIES
Dallas is a city committed to culture, history and art, and the city museums reflect this in its diverse museums and galleries. Given the role of Dallas in contemporary U.S. history, the city is a major destination for those who love politics (including those who like conspiracy theories).
But beyond JFK and his tragic relationship with Dallas, the city hosts an Arts District with no comparison. The Art District includes all the variety of art manifestations, including classic and modern museums, sculpture gardens and even Asian themed collections.
The district also includes the Meyerson Symphony Center, the Dallas Opera house and several theater venues. A short walk will take you to the Klyde Warren Park, where locals meet to have a snack, read the free books and take park in the performances that occur frequently in an open stage.
The Sixth Floor Museum at Dealey Square — Focusing on the life, assassination and legacy of President John F. Kennedy, the Sixth Floor Museum is situated in the former Texas School Book Depository, overlooking at Dealey Square and the famous intersection of Elm and Houston street. This is the place from where Lee Harvey Oswald allegedly (according to many government investigations and reports) shot and killed President Kennedy in 1963. The museum is one of the main attractions of Dallas and if all the information and history in the museum is not enough to satisfy your curiosity, a collection of political and biographical books, as well as documentaries, are available in the museum store.
John F. Kennedy Memorial Plaza — Designed by renowned American architect Philip Johnson, the John F. Kennedy Memorial Plaza is five minutes away from the Sixth Floor Museum. The monument consists of 72 white concrete columns, creating an "empty tomb" (a cenotaph) that resembles the freedom that characterized JFK in both his life and his political ideals. The memorial was erected in 1970 and was funded by the city of Dallas. It's an eerie place of calm in the city center, surrounded by history.
Dallas Farmer's Market — From high-quality olive oil, to trendy T-Shirts and Caribbean meals, the Dallas Farmer's Market is open every day of the week and includes a variety of restaurants and alternative shops. It has everything that locals and visitors need, including various small cafés and a bakery, and an amazing view of Dallas skyline. Artisanal products, local specialty foods and fine cheese make the market a must for food lovers and creative souls. On weekends (Friday, Saturday and Sunday) regional farmers bring in produce and you'll find additional specialty stands in The Shed next door to the Farmer's Market, selling everything from vegan snacks to pickles brined in local craft beers.
Nasher Sculpture Center — The museum and sculpture garden features modern and contemporary artworks by Jean Arp, Joseph Beuys, Antony Gormley, Alexander Calder and Alberto Giacometti to name just a few. The collection has been around for a while but the museum has only been open since 2003. The sculpture garden in the back is the clear highlight, as well as the temporary exhibitions which regularly feature topical and political subjects. There's also a popular cafe and restaurant on the terrace overlooking the garden—food with a view!
Dallas Museum of Art — With a permanent collection that includes art from Papua Guinea and Mondrian or Pollock, the museum is open for free (with the exception of selected temporary exhibitions and night shows) from Tuesday to Sunday, offering more than 24000 works of art. The collection is huge and you need about four or five hours to see all the different sections at a normal pace. A cafeteria, workshops for children and a cool souvenir store are part of the attraction of the DMA.
Klyde Warren Park — This tiny park is a wonderful place for strolling, reading, exercising and having fun with your family. The park has a playground and a couple of restaurants, an open stage, ping-pong tables, and free WiFi. If you happen to be a dog lover, the park also includes an area for their enjoyment. More than a meeting point, the Klyde Warren Park is a great place to hang out between museums or before an artistic performance, given its proximity to the Dallas Art District. The best of the park: The food trucks.
Crow Collection of Asian Art — More than a collection, this is a cultural center. The museums frequently shows Asian art in all its diversity, focusing on the artistic works of China, Japan, India, and Southeast Asia. The entrance is free of charge and this include some of the wellness activities (with a focus on the needs of special populations like the veterans and the elderly).
Dallas Contemporary — Located on Glass Street, the Dallas Contemporary is always searching for new national and international art to show in its building. As part of their commitment to education, the Dallas Contemporary frequently hosts lectures, seminars and other activities, and their exhibitions focus on varied manifestations of contemporary art such as video-art, photography, drawings, painting and installations.
Theatre Three — As if it were the plot of a play, the Theatre Three was founded by Norma Young thanks to an $3000 inheritance that she received from a great-aunt that she never knew. Today, located in Uptown Dallas, the theater produces contemporary and classic plays that reflect on the understanding of the human condition. Adapted classic works like Stevenson's "Dr. Jekyll and Mr. Hyde" and new, independent plays are part of the tragedies and comedies performed each season.
Granada Theater — Located on Greenville Avenue, the Granada theater used to be a post-war WWII movie theater now turned into a perfectly acoustic concert hall. Considered one of the best ten places to see live music in 2016, the Granada theater shows include indie bands, soft pop and of course, country music. Many events are free of charge and during the summer months you can enjoy classic films and half-price whiskey on the rooftop.
Meadows Museum — Through excellent exhibitions, performances, workshops and lectures, the Meadows Museum is a place for both national and international art, but with a focus on Spanish art. This is because the founder, Algur H. Meadows. Mr. Meadows, became an art lover during his trip to Spain in the 1950s. From Goya to Salvador Dalí, the permanent collection is composed of paintings, drawings, and sketches. The Elizabeth Meadows Sculpture Garden, located in the outdoor plaza, is a collection of modern sculpture by non-Spanish artists (often including works by Rodin and Giacometti).
Dallas Symphony Orchestra — Arhictecturally, the Myerson Symphony Center is a masterpiece by architect I.M. Pei, and it has become the house of a 4535 pipe organ. Its program includes high-definition screenings of the Hollywood musical La La Land (accompanied by the Dallas Symphony Orchestra) and classic masterpieces such as the Mahler 5. The Myerson Symphony Center also has a special family-oriented program.
FASHION & SHOPPING
No trip to Dallas would be complete without indulging in a little bit of shopping. If you're a clotheshorse you can't afford to miss a trip to the Neiman Marcus Flagship Store which has been around since 1914 and offers an impressive selection of high-end brands, or the the Northpark Mall which contains 235 stores! Head to Highland Park Village for designer brands like Chanel and Christian Louboutin.
If you're looking for one-of-a-kind pieces there are countless alternative boutiques and hipster shops, and some great thrift stores, as well as outlets which sell organic, ethically-sourced clothing. Maybe you're in the market for some quirky art, homeware or stationery? The We Are 1976 boutique's got you covered.
And foodies fear not, the city is home to a growing number of outlets selling craft beers, artisanal chocolates, organic cheeses and eclectic wines, as well as Mexican grocery stores selling the best salsas and hot sauces you'll find north of the border. There's no shortage of retail adventures in Dallas!
TRAVEL TIPS
Dallas can be tricky for most tourists. While it has become increasingly cool and hip, still most tourists visit Dallas for events, conferences and meetings. Discovering the underground side to the city, and the new and alternative hotspots is never easy, but with the help of some locals, it's easy to discover Dallas.
Efrogs is an independently owned and operated eco-friendly, tip-based shuttle service operating throughout Dallas as a transportation alternative. The service offers FREE rides for office workers, hotel guests, restaurant and bar patrons, as well as visitors at parties and sporting events. The funky shuttle buses are a great (and safe) way to explore Dallas at night. You can even book a brewery tour direct with them to visit multiple craft breweries for as little as $80 per person. Their city tour is just $22 and includes free pizza and several secret photo hotspots in the city.
For those looking to get a photo of the new Dallas skyline (featuring the iconic Margaret Hunt Hill Bridge designed by Santiago Calatrava), park at the south end of the bridge at Trinity Groves. Parking is free and you can walk up to the nearby park alongside the riverbed to get a panoramic photo of Dallas.
For a different view of the Reunion Tower, take the elevators up to the top floor in the Hilton Regency hotel next door — it's a great skyline view of the tower. And it's free!
The Deep Ellum district, just outside of the city center, is famous for its live music venues and nightlife, but plan to visit during the day, too. You'll discover hundreds of street art murals, graffiti paintings and iconic art on the streets. Bring a camera and prepare your Instagram.
For history fans, there's a section of the Berlin Wall that's inside the Hilton Anatole resort. It's in the lobby of the hotel, so it's easy to access—you'll find it off the cocktail bar and spacious lobby by the conference rooms.
If street art is your thing, besides the murals you'll find in Deep Ellum, make sure to wander around the Bishop Arts district. You'll find several iconic Dallas murals. You'll find the Dallas Strong mural that was painted in 2017, as well as other Instagram-worthy murals. Many are on the main streets, but if you wander a few blocks further into the residential area(s), you'll stumble across additional murals.
There's a giant eyeball in Dallas — like I said, everything in Dallas, is BIG. The Giant Eyeball (that's its official title) is a sculpture by Chicago-based multimedia artist Tony Tasset. It's located in Downtown Dallas just across from the Joule Hotel.
EVENTS AND FESTIVALS
When you think of festivals in Texas, Austin's SXSW probably springs to mind, but Dallas can give Texas' hipster capital a run for its money when it comes to events which celebrate alternative music, art and culture. Throughout the year a slew of festivals and events take place in the heart of Dallas. In between Dallas Pride and holiday celebrations like the Oak Lawn Halloween Block Party, you'll find it hard to choose between festivals which either focus on or combine eclectic music, cutting-edge art, creative innovation, outstanding food and award-winning beers.
Every year more and more thoughtfully curated events crop up with the aim of showcasing local talent, cultivating creativity, engaging the community and most of all providing a mind-blowingly memorable experience. Check out the event listings at DowntownDallas.com to see what's on when you're in town. Here are a few of my favorites:
Dallas Pride — In 1969, The Stonewall Inn (a gay bar in New York's Village) was the site of the Stonewall riots which prompted the gay rights movement. Three years after the riots a group of between 250 and 300 men and women marched through downtown Dallas, waving signs and chanting gay rights slogans; by the end the crowd was 3,000 strong. This was the city's first gay Pride parade and today Dallas Pride is one of the biggest Pride events in the state. Throughout the month of September, gay pride events occur across the city, culminating in the Pride March which will be held on Saturday 16th September this year.
Oak Lawn Halloween — The Oak Lawn Halloween Block Party is a massive annual outdoor party and arguably the best Halloween bash in Dallas. Get ready to strut your stuff down the costume catwalk, and dance the night away to live music. There are also DJs, drag performers, and a selection of food, beer and other refreshments are available at a number of booths. Arrive early if you want to park your car.
Deep Ellum Arts Festival — Each April, six blocks of Main Street in the Deep Ellum entertainment district play host to an enormous street festival, the Deep Ellum Arts Festival. Festival attendees can enjoy an eclectic selection of alternative music being played on six stages, as well as admire decorative arts displays by visual artists, sculptors, muralists, jewelers, and leather and wood crafters. You can pick up your own artwork or commission an original piece. There will also be a mouthwatering selection of Mexican, Caribbean, Mediterranean, Asian food and drinks on offer.
LOCAL BLOGS & RESOURCES
Dallas can be tricky for most tourists. While it has become increasingly cool and hip, still most tourists visit Dallas for events, conferences and meetings. Discovering the underground side to the city, and the new and alternative hotspots is never easy, but with the help of some locals, it's easy to discover Dallas.
DowntownDallas.com — The business association for downtown Dallas businesses, the website features a useful event calendar for all the events, festivals and activities happening each month. The website also features free neighborhood guides with food and drink recommendations.
Dallas Observer — The weekly print magazine is available throughout the city for free at small newsstands or in most museums, galleries and alternative bars and cafés. With a print run of over 40,000 and available each Thursday evening, it's the go-to source for news and events in Dallas. In the magazine, and on their website, you'll find local and regional news and entertainment stories, plus helpful guides and reviews for local Dallas things to do.
Dallas Voice — The print LGBT magazine for the city, the Dallas Voice is the go-to resource for anything LGBT-related. With news, lifestyle and entertainment articles, the print magazine comes out once a week and the website is full of extra resources and guides (including special features for Dallas Pride and other local LGBT events).
Guidelive.com — Owned by the local newspaper, The Dallas Morning News, Guidelive.com is a useful entertainment resource for the city with featured listings on movies, music, restaurants, bars, events and culture in Dallas and the surrounding North Texas area.
VisitDallas.com — It's the official city tourism portal with useful guides on things to do, as well as an extensive overview of Dallas hotels and other city recommendations. A comprehensive Visitor's Guide is available for free with over 60 pages of attraction and venue listings for the city.
D Magazine — A monthly print lifestyle magazine, their website, dmagazine.com, is also a useful resource for travelers. In-depth features and high-quality editorial sets the magazine apart from other local publications. While their print edition is only monthly, their website is packed with regular blogs and articles on new restaurant openings, trends and other local news.
Central Track — The website and digital magazine features a mix of the many types of Dallas publications out there. You'll find sassy and subversive news and features across the website with a special emphasis on fashion, nightlife, music, cultural activities and food/drink.
Food Bitch — Born out of a popular local foodie Instagram account, the Food Bitch has a fun and lively take on the Dallas dining scene. You'll find honest, fully-disclosed reviews and a mix of both food and drink features.
Eat Style Dallas — A men's lifestyle and fashion blog, the EatStyleDallas site has reviews and features on everything from Dallas nightlife (including special events) to dining, fashion and style tips.
HeSaidMagazine.com — The digital magazine features dining and theater/arts reviews, previews of upcoming community events, new store openings, media personality interviews and other lifestyle news.
iliveinDallas.com — A blog that's been around for a while, the website showcases just about everything that happens in Dallas with sections on everything from art & festivals to tech & theater. Check out their listings of free events in Dallas if you're on a budget.