Richmond is more than just a capital city or a college town—it's a bustling metropolis popular for craft beer, contemporary art, hip neighborhoods and an LGBTQ-friendly city culture
Richmond, the capital of Virginia, is a small capital city with lots of street art, fine restaurants and plenty of entertainment options. It's a college town as well, so you'll find a lot of great activities for young people.
During my first visit to Richmond, Virginia, I explored the vegan restaurants, the coffee culture, the queer bars, drag shows, and the peaceful (and colorful!) street life.
From the empty streets and the dark corners that probably inspired some of the tales of Edgar Allan Poe to the colorful, hipster areas with alternative bookstores, vintage shops and museums, Richmond is a bit both young and old.
Even when the architecture is a reminder of the historical past of slavery and war, Richmond today celebrates its diversity and mixed population with pride, including LGBT families, migrants and hundreds of students from the United States and abroad.
Know Where to Go: Richmond Neighborhoods
Church Hill – Home to the famous church where Patrick Henry stated "Give me liberty, or give me death…", the Church Hill neighborhood today the center of Richmond's foodie scene.
Popular local restaurants and even some cheap eats like Do & Pig Show, Proper Pie, Metzger and The Roosevelt are some of the foodie hotspots. Make sure to try a cream soad at Roaring Pines.
Carytown – Just south of the Virginia Museum of Fine Arts, Carytown has a funky and alternative arts vibe. On the western end of Cary Street, you'll find a lot of quirky shops—probably the most famous being Mongrel—Richmond's uncommon gift shop.
Thrift and vintage shops selling bric-a-brac are all in the area, while other high-end shops (and plenty of street art) are also nearby. Need Supply provides high-end fashion and men's lifestyle products.
There's a reason locals refer to Carytown as the "Mile of Style." Also worth checking out is Babes of Carytown—a Southern pub with food, drag shows, karaoke and even an outdoor volleyball court.
Museum District & The Fan – Richmond's Museum District, predictably, is home to the city's biggest museum: the Virginia Museum of Fine Arts.
The nearby surrounding streets, in particular Monumental Avenue and Hanover Avenue (in the distinct neighborhood, The Fan) are great examples of the city's traditional architecture—picket fences, flags draped from the wrap-around porches, it's all just so very American!
Scott's Addition – Part of Richmond's rapidly growing and changing cityscape, Scott's Addition is fast becoming a hip hangout. Formerly the industrial neighborhood, it's now Richmond's unofficial "beverage district" home to multiple craft breweries and even a distillery.
The neighborhood's commitment to the independent arts is also strong, as Scott's Addition is home to the non-profit art studio Studio Two Three and the Richmond Triangle Players—an LGBT theater group running programs year-round. Diversity Thrift, Richmond's LGBT thrift shop is also in the neighborhood.
Best Food & Cafés in Richmond
Richmond is fast-becoming a food and drink hotspot thanks to a lot of independent owners. There are even nine different food tours operating in Richmond, through Real Richmond Food Tours. Finding a good bite to eat isn't so difficult, but below were some of my favorite restaurants and cafés
The Daily Kitchen & Bar – Located in Richmond's trendy foodie district of Carytown, this casual eatery is on a mission to serve healthy, organic foods—but you'd never know it! You'll find everything from Caesar salads to fish tacos on the menu, plus a sleek bar and a stylish interior.
Rappahannock Oyster Company – Virginia has this thing with oysters, many coming from the famous Chesapeake Bay. And in Richmond, the best oysters are available here at Rappahannock Oyster Company's restaurant.
Lamplighter Roasting Co. – One of Richmond's many hipster coffee spots, Lamplighter also serves as a meeting and work space for a lot of the local university students. There are three different cafés across Richmond.
Crossroads Coffee – A funky all-day café that serves your classic American dishes and desserts, but like the best places in Richmond, they've also got a healthy selection of craft beer available on draft. Try the ice cream, too!
Perly's Restaurant – A Jewish deli just around the corner from the Linden Row Inn, they serve your basic deli bites and dinners in a retro-style, casual eatery. Crowded on weekends!
Heritage Restaurant – Relocated from New Jersey, the Heritage Restaurant has made a name for itself in Richmond's culinary scene thanks to a creative and locally-sourced menu.
Village Café – A local institution around since the 1950s, the Village Café is right in the heart of Richmond's arts university district, so expect to see some funky locals.
Insomnia Cookies – A Virginia chain of cookie shops known for their late-night deliveries. Yum! They even have a cookie tracker on their website for those that are extra-impatient…
Cool Bars & Nightlife in Richmond
Richmond has more than 20 different craft breweries making it a surprisingly great destination for brewery fans—even if the local brew of choice is more often than not a cheap PBR (you've got the college students to thank for that).
Check out richmondbeertrail.com for more brewery and pub information from Richmond. But thankfully it's not all about beer in Richmond; the city is also home to craft distilleries such as Reservoir Distillery which produces bourbon, wheat and rye whiskies.
Babe's of Carytown – One of Richmond's iconic LGBT hotspots, it's got a bit of everything going on. Whether it's Southern pub-style food, cheap drinks, drag shows, karaoke r even line dancing, there's a fun and lively energy here.
Ardent Craft Ales – While it's one of Richmond's many new craft breweries, Ardent Craft Ales also have a beer garden and tap room on the premises so it's a good place to hang out as well.
Strange Matter – It's an underground bar and restaurant and while they serve food (including many vegan options), it's more of a nightlife spot. You'll find arcade games and booths for seating. Friendly bartenders will happily make beer recommendations depending what's on tap and there's a great queer-friendly vibe inside.
LGBTQ – Richmond Gay Travel Tips
As part of the state tourism campaign Virginia for Lovers, Richmond is a place that doesn't hide its gay and queer influences. You can have a great brunch surrounded by lip-singing drag queens at Godfreys, enjoy a queer theater show—dramas and comedies—at the Richmond Triangle Players or enjoy a beer in one of Richmond's handful of LGBT bars, including Barcode or Babes (of Carytown).
Virginia Pride takes place in Richmond in September with live music acts and local vendors. Since 2014, Richmond Region Tourism has actively promoted LGBT tourism to the city through the OutRVA program.
On the Richmond is Out website, you'll find a comprehensive travel guide for LGBT tourism with everything from the quirkiest hotels to the best nightlife. Keep an eye out for the OutRVA stickers which you'll find in many of Richmond's gay and LGBT bars.
The Valentine museum also includes in its permanent collection the LGBT pride flag which once flew on the Virginia Capitol. Look for queer-themed exhibitions at Richmond's art museums as well through their special exhibitions.
Gay Richmond Bars, LGBTQ Clubs & Other Nightlife
Godfrey's – Godfrey's is a popular gay hotspot, but every Sunday it comes alive with their Drag Brunch (reservations required). They'll put on up to two shows each Sunday.
It's often a lot of bachelorette parties, but you'll find some LGBT people hanging around as well, and certainly on weekend evenings when it's open as a bar and club.
Babe's of Carytown – One of Richmond's iconic LGBT hotspots, it's got a bit of everything going on. Whether it's Southern pub-style food, cheap drinks, drag shows, karaoke r even line dancing, there's a fun and lively energy here.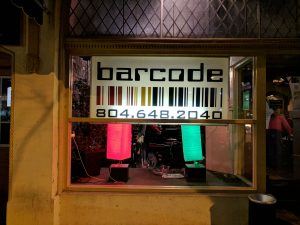 Barcode – In the center of Richmond, Barcode is one of the city's few gay bars.
Just across the street you'll find a large gay-themed wall mural, and inside, a cozy environment with a mix of people of all ages. You'll find pool tables and a friendly, social atmosphere.
Richmond Gay Activities & Things to Do
Richmond Triangle Players – Richmond Triangle Players delivers adventurous and entertaining theater as the leading voice in the community's explorations of equality, identity, affection and family, across sexual orientation and gender spectrums.
Diversity Thrift – One of Richmond's largest thrift stores, Diversity Thrift has a little bit (0r a lot) of just about everything—furniture, record albums, books, men's and women's clothing, shoes and jewelry.
The shop opened in 2000 and has grown into one of Richmond's best shops. Proceeds from the donated items go back to the local community's LGBT center, Diversity Richmond. The building, like so many other in Richmond, is plastered in colorful street art, and as part of the LGBT center attached to the thrift shop, many LGBT community events take place there.
The Valentine – You might think a museum called The Valentine will be all about love. And you know what? It almost is!
The Valentine is Richmond's city museum which documents, collects and preserves Richmond's 400-year history. Operating for the past century, their exhibitions focus on the diverse stories from the region's history.
It's the type of place locals visit on a school trip, but with their temporary exhibitions on display, it's also worthy of a visit by tourists. In fact, the museum had an exhibition called "One Love: LGBT Families" which features photographs of local LGBTQ families
Art & Museums in Richmond
The Valentine – Richmond has a diverse and unique history. The Valentine specializes in about 400 years of Richmond history, told with the artifacts of its residents, historical documents and photographs, and many installations. The photograph collection, for example, includes topics like the Civil War, portraits of famous Virginians and the fascinating world of Richmond's buildings and places.
During 2017, the temporary exhibition One Love, located in the basement is focusing on LGBT families, showing the diversity of Richmond's inhabitants and challenging closed-minded definitions of what a family really is. Moreover, for those who are unable to visit the place – I mean physically – the Valentine offers online exhibitions, a series of past exhibitions hosted with Google Cultural Institute.
Edgar Allan Poe Museum – Do you love black cats and good storytelling? The Edgar Allan Poe Museum is a must. You can work around this little venue and wonder the rooms with furniture and pictures belonging to Poe or to his family, telling the story of his favorite spots with the city and the tragic events that inspired many of his writings.
With an internal garden that host a sculpture of Poe and an open casket for your creepy selfies, you will probably feel that you are being watched (by the two black cats that own this place). The museum offers also drawings and temporary exhibitions showing artworks inspired by Poe, some of these created by local artists and for sale.
The little gift shop inside the museum also holds a lot of Poe's writings, dark objects for mysterious presents and scary-yet-trendy fashion items.
Virginia Museum of Fine Arts – Located in the Museum District of Richmond, the Virginia Museum of Fine Arts is a great place to enjoy the masters of the classical and contemporary art world and to explore the new emerging talents as well.
During my visit to Richmond, an exhibition dedicated to Edvard Munch and highlighting its influence in American artists Jasper Johns, "Love, Loss, and the Cycle of Life" was a travel in itself. But beyond excellent temporary exhibitions (with a fee), the permanent collection displays East Asian, African, American, European and Ancient American art, all with a free admission policy.
The Fabergé collection, the largest outside Russia, is one of the main attractions. Walk around the old and new buildings of the VMFA and explore one of the largest museum in North America.
VCU Institute for Contemporary Arts – Another great museum option in Richmond Virginia with special exhibitions and an impressive permanent collection of contemporary art. Worth a wander!
Shopping & Souvenirs in Richmond
Mongrel – For over 25 years, Mongrel has been Richmond's uncommon card and gift store. Customers find a shop filled with life choices – for home, body, mind and soul. Whether you have hours to spend, or if you're on the run, Mongrel is a Carytown destination and has been voted 'the best' in shopping year after year. It's got a little bit of everything and definitely worth a browse!
Chop Suey Books – Just across from Mongrel, also in Carytown, the Chop Suey Bookstore sells used books and other funky products.
Need Supply Co. – For a bit more upscale shopping, the Need Supply Co. (also in Carytown—there's a reason they call it the "Mile of Style"!) has a great selection of fashion and beauty products, as well as vintage goods. It's a lifestyle shop with a solid mix of both men's and women's products.
Where to Stay in Richmond
Richmond is a city that's spread out over several different neighborhoods and districts. You'll likely need a rental car to get around, though there is regular public transportation.
Many hotels are situated in the city center, walking distance to the shops, cafes and restaurants along East Broad Street, between Carytown in the west and the State Capitol Building in the east.
Best Hotels in Richmond
Quirk Hotel
The Jefferson Hotel
Richmond Travel Tips
Richmond Mural Project – With artists coming from graffiti meccas to those from Perú or The Netherlands, various locations around Richmond have become a living canvas. The Richmond Mural Project is a yearly event with the fantastic goal of creating over 100 murals by artists from all over the globe. The artworks are located in public streets in neighborhoods like Monroe Ward, Churchill Hill or the Museum District. You can explore the collection on foot or with a bike.
Richmond Events & Festivals
Local Richmond Travel Blogs & Resources
Check the city's official tourism website for additional Richmond travel recommendations.