Canada's coolest city is also one of the best in North America. You just might be surprised at Toronto's diversity and the amount of awesome bars, restaurants and events which make the city so unique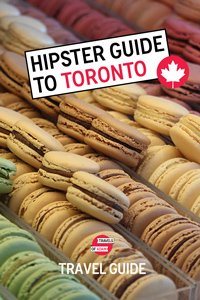 Toronto is cool. So cool, in fact, it's quickly become one of my favorite cities. Toronto is a BIG city with a population over 2.5 million. It's also a very international city.
In fact, just over 50% of Toronto's residents weren't even born in Canada! In a city with so many foreigners, it shouldn't be surprising that Torontonians speak all together over 140 different languages.
In a city as international as Toronto (rated one of the most multicultural in the world), it's no surprise that there are plenty of hipsters and hipstery things to do. With art fairs, a growing food truck scene, three Chinatowns and a diverse and multicultural population, Toronto is one of the world's most hipster cities.
Here are my picks for some of the best things to do including tourist attractions, restaurants, bars, cafes and nightclubs. And if these personal recommendations aren't enough, check out Toronto's official tourism app which highlights current attractions and events.
Things to Do and Places to See in Toronto
Queen Street West is undoubtedly one of the most hip and trendy areas in Toronto today. The Trinity Bellwoods Park seems to be the hub of summertime activity for the neighborhood. Though Queen Street West was once more bohemian, gentrification has caused rents to go up but it's still full of hipstery cafes, bakeries and restaurants.
On a side street just off Queen Street West is Graffiti Alley—Toronto's only public space where graffiti is legal. You can even take a tour of Toronto's graffiti scene which will give you more insider tips on the scene.
For art lovers, the Art Gallery of Ontario is one of Canada's most prominent art museums. Bonus: it was designed by Frank Gehry!
Maybe because Toronto is so close to NYC, the city is one of Canada's most fashion-savvy. There's an entire museum dedicated to shoes!
If you're looking for an awesome photo opportunity, shell out the big bucks and do the EdgeWalk at the CN Tower. It's the tallest free-standing structure in the Western Hemisphere (that's HALF OF THE WORLD). Perhaps because Canadians are just so adventurous (or they have a strong desire to try to cheat death) they'll let you walk around the tower at 116 floors up…with little more than a rope keeping you attached to the building.
Get lost in Toronto's Chinatown. You can find just about any fruit or vegetable at the fresh market stands, but tuck in between them and you'll find the city's best Chinese restaurants. Come for Dim Sum if you can!
Go shopping near Kensington Market
Toronto, being one of Canada's many epicenters of culture, is home to one of the world's most important film festivals—lovingly abbreviated as the TIFF. The Toronto International Film Festival lasts 10 days and celebrates some of the best films and documentaries from around the world. They've got quite a reputation for selecting quality movies which end up as blockbusters or critical hits.
Toronto's Distillery district is home to art galleries, restaurants and beer gardens. The brick-lined streets are reminiscent of Victorian times, but hey, this is the now. You could do a Segway tour in the Distillery neighborhood, or you could pound back some beers. You decide.
Is Toronto a cool city? With all its hipster bars and fun & trendy things to do, Toronto is one of North America's coolest cities.
Restaurants and Cafés in Toronto
Toronto's culinary scene is as diverse and interesting as the city itself. Many restaurants have embraced current food trends—everything from vegan restaurants to cupcakes and even honeybees! There are plenty of ways to get associated with Toronto's food scene.
Personally, I took a chocolate and cheese food tour with @chowbellaTO which was a great introduction to the Queen Street West hipster neighborhood of Toronto.
Toronto's Best Bars & Cool Nightlife
This is just a small selection of the many Toronto bars and hipstery clubs in the city. There are literally hundreds if not thousands of great places to go out for a drink in the city.
Ossington is far and away Toronto's most hipster neighborhood and area. Ossington street runs perpendicular to Queen Street West which has been a bit yuppified over the years, but Ossington has kept its roots for the moment. You'll find some of Toronto's most hip bars on this street. Plenty of people regard it as too hipster, but so long as you go out with a funky hat or tattoo sleeves, you'll fit right in. One night out, I wandered into a bar that was giving away Hawaiian leis and was packed full of bearded, flannel-covered hipsters. It was awesome.
The Black Hoof — Arguably Toronto's best cocktail bar, The Black Hoof is a tiny little place on Dundas Street West. If you can't get into the lounge and don't want to wait for a seat, they've got a raw bar across the street. Start your night out here with a classic cocktail before things get sloppy.
Cold Tea – This dive bar is hidden down a mysterious hallway near Kensington Market. The hideaway speakeasy bar is hard to miss because of the thumping music and the crowd of hipsters waiting outside under a red light. There'll be a DJ at the bar inside, and a large patio out back. Get a cocktail!
416 Snack Bar — Popular for their small plates and sort-of tapas, the food is good, the bar is crowded and the drinks are plentiful! Great for parties and groups even if it's overflowing with yuppies and hipsters. Check out their blog or find their daily specials on Twitter @416SnackBar.
Drake Hotel — Located on Queen Street West, the boutique hotel has one of the area's trendiest bars to boot! Even if you're not staying in one of the hotel's beautiful rooms, go for a cocktail (or two).
Toronto Gay Travel Guide
Toronto is one of the most gay-friendly cities I've visited and it's easy to understand why. The city, with its huge ethnic and multicultural population is one of the most tolerant in the world.
With so many different types of people and cultures coming together in one space, the city has embraced tolerance to an extreme.
The Toronto pride festival each June is one of the world's largest. Most of the gay nightlife is in the city's "Gayborhood" on or nearby Church Street.
Where to Stay in Toronto
Hotels in Toronto fit into a number of different categories. Because Toronto is a popular business destination, you'll find a lot of chain hotels and skyrises in the city center—convenient to the conference centers and other business hotspots.. TripAdvisor is a good place to check hotel reviews for additional recommendations, or for those looking to stay in a rented holiday apartment, Airbnb is still one of the best options with apartments available from $70 per night.
Best Hotels in Toronto
Victoria Hotel — Located on the popular Yonge Street, this 3-star hotel is a great budget value. Rooms come with mini-fridges and other basic business amenities—great for keeping your trip affordable on a leisure holiday. Room rates from $90 per night.
Gladstone Hotel — This historic hotel has all the essentials required for a comfortable stay. Plus with easy access to a fitness center. Staying at the Gladstone Hotel, you'll be near Toronto's Chinatown and Queen Street West (one of the best areas to hang out for nightlife, cafes and restaurants). Room rates from $150 per night.
Toronto Travel Tips & Other Things To Do
If you want to sound like a real Torontonian, don't pronounce the second t in Toronto!
Skip the American-style restaurants near Kensington market and head straight for the ethnic cuisine (especially the churros!)
Have your beer and spirits delivered to your door! Due to the beer and alcohol laws of Ontario, all alcohol must be purchased through a government authorized shop, however services like Dial a Bottle offer delivery if you're not near a spirits shop.
Local Toronto Blogs for More Insider Tips