Located just a short distance north of NYC, the Dia:Beacon museum houses the Dia Art Foundation's art collection from the 1960s to the present. It's a popular day trip from NYC and relatively convenient to reach by car or train from the city.
And with its impressive permanent collection, beautifully designed property, and Instagrammable style, it's also one of New York's best collections of contemporary art.
[box]
Read other art blogs here:
In Venice for the Biennale – A Place for Meaningful Art
[/box]
The museum opened in 2003—just on the bank of the Hudson River in Beacon. Since its opening nearly two decades ago, the small town of Beacon has changed dramatically.
I'd never visited the town until this year, but I'd heard of Dia:Beacon's museum already for nearly a decade. The museum was always recommended by my art friends, anyone with a passing interest in contemporary art—or even, architecture.
Talking with several locals, I learned Beacon has had a pretty storied history. Much of its Main Street is still being developed since Dia:Beacon moved in, but already there's been a lot of hype.
The gentrification of the town the past two decades has led to new businesses, and lots of new residents. Many of them from New York City. So much so, that one bartender I met referred to the town of Beacon as the new Brooklyn, Beaklyn.
My day in Beacon (both times I visited this year) has centered entirely around visiting the Dea:Beacon collection. It's the town's main tourist draw—and rightfully so. Its collection can compete with any of the New York City permanent collections, but with a large space and a lot of funding, it's able to offer something you can't find in the NYC museums.
Visiting Dia:Beacon
There's no clear path of how to explore the Dia:Beacon collection when you enter, though guides are happy to help point you in a certain direction. The massive amount of space in the former factory, though, allows for lots of wandering. And lots of room for some of the massive sculptures in the collection.
Photos from my recent visit to Dia:Beacon below. Check opening times and admission prices for Dia:Beacon on their official website.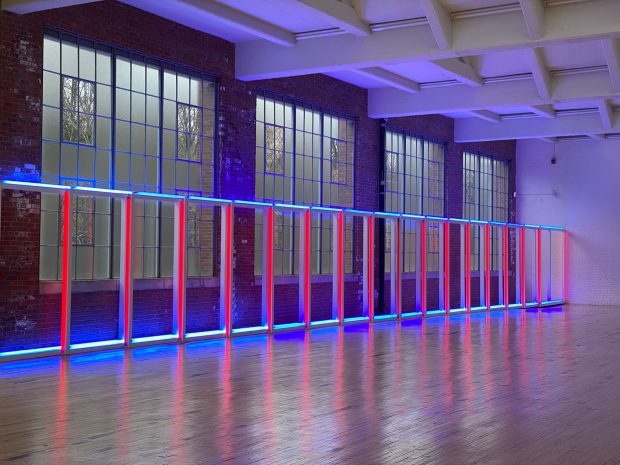 Note: My visit to Beacon and through Dutchess County was sponsored and supported by Dutchess Tourism. The Hudson River Valley is home to countless tourist attractions and things to do. Discover more of Dutchess County on their website here.