Asbury Park, nestled along the picturesque New Jersey coastline, has earned its reputation as one of the best gay beach towns for a weekend getaway. This vibrant and welcoming seaside destination has become a haven for LGBTQ+ travelers (especially from New York City), thanks to its rich history, inclusive atmosphere, and a thriving queer community.
Once a famed Victorian-era resort town, Asbury Park has undergone a remarkable revival in recent years. Its diverse and open-minded population has embraced LGBTQ+ visitors with open arms, making it a safe and inviting haven for all.
The iconic Asbury Park Boardwalk, stretching along the Atlantic Ocean, is a hub of LGBTQ+ culture, where you can find a plethora of LGBTQ+-owned businesses, from boutique shops to lively bars and restaurants.
On my most recent visit, I counted nearly 20 gay pride flags just within a 5 minute drive to the beach. Asbury Park is one of the gayest beach towns I've ever been to!
Asbury Park's pristine beaches are not only sun-soaked havens but also sanctuaries for self-expression, where visitors can feel comfortable and free to be themselves. The town's inclusive events calendar is another highlight, featuring annual LGBTQ+ festivals, drag shows, and lively nightlife, including the renowned gay club, Paradise Nightclub, where you may just even catch stars from RuPaul's Drag Race.
With its blend of stunning coastal beauty, a warm and welcoming community, and a commitment to celebrating diversity, Asbury Park has rightfully earned its place as a top gay-friendly destination. Whether you're looking for a relaxing beach escape or a lively weekend full of entertainment, Asbury Park offers the perfect backdrop for a memorable gay weekend getaway.
LGBTQ Gay Guide to Asbury Park in 2023
6 Best Things to Do in Asbury Park
Below are my top recommendations for a gay weekend in Asbury Park. But, honestly, it's such a fun beach town, you could spend more than a weekend here and still have a great time.
It's why I love returning a few times each summer—an opportunity each visit to soak up the sun, enjoy the gay nightlife, and just generally have a lot of fun. It's such a fun gay beach town to visit with friends or even on a couples getaway.
Things to Do in Asbury Park
Enjoy the Gay Nightlife at Empress Hotel (especially the Paradise Club): The Empress Hotel, a beloved LGBTQ+ hub, is where you can immerse yourself in the electrifying gay nightlife of Asbury Park. The Paradise Club, nestled within, offers a high-energy experience with its talented DJs, drag performances, and a diverse crowd, ensuring a memorable night of dancing and entertainment.
Relax on the Beach: Asbury Park's pristine beachfront is a tranquil oasis offering respite from the bustling city life. While there's a nominal fee for access, it grants you entry to immaculate sands and the option to rent comfortable chairs. It's the perfect spot to unwind, soak up the sun, and savor the soothing sound of the waves.
Yappy Hour at Wonder Bar: Wonder Bar's Yappy Hour is a unique attraction where you can enjoy a refreshing drink while your furry companions mingle with fellow four-legged friends. It's a delightful experience that epitomizes Asbury Park's dog-friendly and community-oriented atmosphere.
Shop at Convention Hall: Convention Hall's shopping scene is a treasure trove of independent boutiques, offering a wide array of goods. Whether you're seeking quirky souvenirs, handcrafted jewelry, or vintage finds, it's an ideal place for leisurely window shopping and discovering unique treasures.
Brunch at Cardinal Provisions: Cardinal Provisions is a brunch haven that serves mouthwatering dishes and generous portions. It's a go-to spot for a hearty and satisfying morning meal. Their fruit smoothies are a refreshing complement to the scrumptious offerings.
Indulge in Ice Cream on the Boardwalk: As the sun sets over the Atlantic Ocean, a visit to the Asbury Park Boardwalk is incomplete without savoring a scoop of ice cream. The boardwalk's charming atmosphere and the sweet, creamy flavors of ice cream make for a perfect evening treat, enhancing the overall beachfront experience.
Where to Eat in Asbury Park
Asbury Park's culinary scene is a delectable journey waiting to be explored, making it a culinary haven for food enthusiasts. This vibrant gay beach town boasts an array of restaurants and eateries that cater to every palate.
What sets Asbury Park apart is its commitment to creativity, quality, and diversity. From seafood shacks serving the freshest catches to upscale bistros offering inventive cuisine, this seaside town offers a gastronomic adventure like no other.
With a blend of culinary innovation and a passion for local flavors, Asbury Park's food and restaurants consistently earn acclaim, enticing food lovers from near and far.
Asbury Park Restaurants
Reyla – An upscale Mediterranean restaurant offering a sophisticated dining experience with a welcoming atmosphere. Enjoy the rich flavors and exotic dishes from the Mediterranean region.
The Bonney Read – Delicious seafood restaurant with a raw bar and indoor/outdoor seating. Casual vibes but with top-tier food.
Porta – Housed in a unique barn-like setting, Porta serves fantastic Italian cuisine. Don't miss their crowd-pleasing meatball pizza. As the night goes on, it transforms into a lively nightclub, perfect for a post-dinner dance.
Georgie's – Renowned for serving the best burger in town, Georgie's is a must-visit for burger enthusiasts. Their casual and friendly ambiance makes it an ideal spot to unwind. Dog-friendly during the afternoon.
Cardinal Provisions – Start your day with an amazing brunch at Cardinal Provisions. Their generous portions are perfect for sharing, and don't forget to try their delightful fruit smoothies. Note that they don't serve alcohol.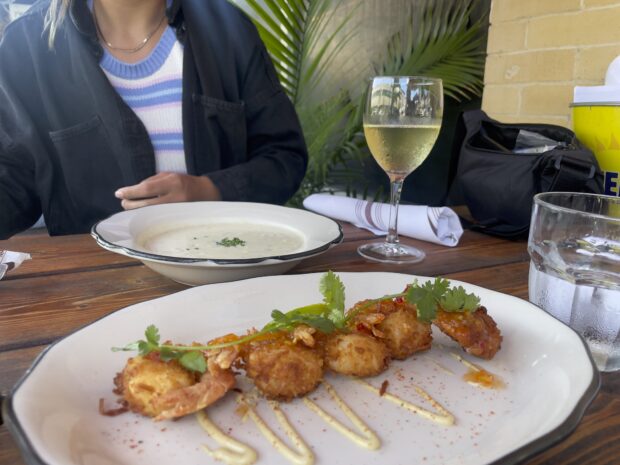 Asbury Oyster Bar – If you're a seafood lover, don't miss Asbury Oyster Bar. Dive into a selection of fresh oysters and savor the taste of the ocean in this welcoming seafood establishment.
Kim Marie's Irish Pub – Not the best food, but it's a dog-friendly bar and restaurant with Irish bar staples like wings, potato skins and other fried foods. They even have a food menu for dogs.
These restaurants not only offer exceptional dining experiences but also embrace a welcoming and inclusive atmosphere, making them ideal choices for LGBTQ+ travelers and anyone looking for a fantastic meal in Asbury Park.
Where to Party: Gay Bars in Asbury Park
There are just two gay bars in Asbury Park, but most bars and clubs are definitely gay-friendly.
Paradise Club (inside the Empress Hotel) – As one of Asbury Park's most iconic LGBTQ+ nightlife club, Paradise Club offers a dynamic and lively atmosphere. Dance the night away to music spun by talented DJs and enjoy themed events and drag shows.
When I visited, drag queen superstar Olivia Lux performed in the side room. The main room has a round bar, a photo spot, and a spacious dance floor with a stage for bigger performances (or just for dancing in front of a fun crowd).
The Paradise gay club also keeps the pool deck open late (though swimming is not allowed) so you can enjoy drinks from the poolside bar and a bit of fresh air.
Georgie's Bar – Adjacent to Georgie's Restaurant, this bar is a favorite among the LGBTQ+ community. It's known for its friendly patrons, great drinks, and an inviting atmosphere. It's a dive bar, very gritty.
Where to Shop: Fun & Funky Shopping in Asbury Park
These shopping destinations in Asbury Park offer a wide range of products, from vintage and retro fashion to unique glassware, metaphysical items, and antiques. Whether you're seeking stylish clothing or one-of-a-kind treasures, these stores provide a delightful shopping experience in this vibrant seaside town.
Asbury Park Convention Hall – This historic venue often hosts pop-up markets and bazaars where you can find a variety of vendors selling clothing, jewelry, art, and more. Check their event calendar for upcoming markets.
Wanderlust Land & Sea – Known for its great quality and stylish sweaters and clothing, Wanderlust Land & Sea offers a unique selection of apparel that reflects the coastal style of Asbury Park.
Bettie's Bombshells – If you're looking for vintage-inspired fashion and accessories, Bettie's Bombshells is the place to go. They offer a range of retro clothing and pin-up style items. Shop staff is super friendly and it's open late for any last minute party clothes you might need.
Hot Sand – Hot Sand is an excellent spot to shop for glassware and unique gifts. You can even try your hand at glassblowing and create your custom glassware in group activities.
Freedom Rocks – For those interested in rocks and crystals, Freedom Rocks is a shop specializing in metaphysical and spiritual items. You'll find a variety of crystals, minerals, and holistic products. They have have a lot of LGBTQ, pride-themed gifts.
Antique Emporium of Asbury Park – If you're a fan of antiques and vintage finds, this emporium is a treasure trove. It's a multi-dealer antique shop with a diverse range of collectibles, furniture, and curiosities.
Where to Stay: Gay Hotels in Asbury Park
The Empress Hotel
The Empress Hotel, located in the heart of Asbury Park, is a historic and iconic LGBTQ+ friendly establishment that has been a beloved cornerstone of the town's culture for decades. This charming hotel offers a unique blend of comfort, style, and inclusivity, making it a popular choice for both LGBTQ+ travelers and visitors seeking a vibrant and welcoming atmosphere.
Exquisite Accommodations: The Empress Hotel boasts well-appointed rooms and suites designed to provide a comfortable and inviting retreat. Guests can expect modern amenities, plush furnishings, and clean, well-maintained spaces that make for a restful stay.
Paradise Club: Within the Empress Hotel, you'll find the famous Paradise Club. This dynamic nightclub and entertainment venue is a hub for LGBTQ+ nightlife in Asbury Park, featuring talented DJs, energetic dance floors, and captivating drag shows that keep the party going late into the night.
Prime Location: Situated just steps away from the beautiful Asbury Park beach, the Empress Hotel offers easy access to the sun and surf, making it a convenient choice for beachgoers. Additionally, it's within walking distance of the town's eclectic shops, restaurants, and attractions.
Inclusivity and Community: The Empress Hotel is known for its commitment to inclusivity and diversity. It warmly welcomes LGBTQ+ travelers and hosts a variety of events and gatherings that celebrate the LGBTQ+ community, contributing to Asbury Park's reputation as a welcoming and accepting destination.
Whether you're looking for a comfortable place to stay, a lively nightlife experience at the Paradise Club, or a welcoming community atmosphere, the Empress Hotel is a landmark in Asbury Park that offers all of this and more, making it a cherished destination for LGBTQ+ travelers and beyond.
The Asbury Hotel
The Asbury Hotel is a stylish and vibrant boutique hotel located in the heart of Asbury Park, New Jersey. This trendy establishment embodies the spirit of this eclectic seaside town, offering a unique blend of comfort, creativity, and community that appeals to both locals and travelers alike.
Artistic Ambiance: The Asbury Hotel is a true celebration of art and culture. Its interior design showcases a captivating mix of retro and contemporary aesthetics, featuring local artwork and stylish furnishings that create an inviting and visually stimulating atmosphere.
Diverse Accommodations: The hotel offers a range of accommodations to suit various preferences, from cozy rooms for solo travelers to spacious suites for families or groups. Each room is thoughtfully designed with modern amenities and a touch of coastal charm.
The Asbury Lanes: A highlight of the hotel is the Asbury Lanes, a retro-inspired bowling alley, bar, and live music venue. It's a place where guests can enjoy a lively night out, complete with bowling, dancing, and live performances.
Expansive Asbury Hotel Rooftop Bar: The hotel's rooftop bar offers breathtaking views of the Atlantic Ocean and Asbury Park's vibrant boardwalk. It's a popular spot to savor craft cocktails, socialize with friends, and soak in the coastal scenery. They even show outdoor movies on select nights.
It's a trendy spot with stunning views of the ocean and a great sunset view inland. It often hosts LGBTQ+ events and themed parties, providing a chic and inclusive atmosphere.
Community and Events: The Asbury Hotel is known for fostering a sense of community through its events and gatherings. It often hosts live music, art exhibitions, yoga classes, and more, creating a lively and inclusive atmosphere for guests and locals alike.
Proximity to the Beach: Just a short walk from the beach, The Asbury Hotel provides easy access to the sun, sand, and surf, making it an ideal choice for beach lovers.
Whether you're seeking a relaxing getaway, an immersive cultural experience, or a lively night on the town, The Asbury Hotel offers a unique and welcoming setting that captures the essence of Asbury Park's vibrant and diverse spirit.