Bushwick, perhaps Brooklyn's most vibrant and lively neighborhood, is known for its dynamic culture, street art, and fun atmosphere. The annual Bushwick Collective is a major street art festival where artists are invited to re-decorate the city streets, and this summer, the House of Yes (an iconic semi-queer nightclub) is hosting weekly street parties.
At the heart of this buzzing Bushwick community lies Maria Hernandez Park, a (mostly) green oasis that has become the go-to destination for locals and visitors alike. From its rich history to the diverse crowd it attracts, this park offers a unique and exciting experience.
Why does Maria Hernandez Park stand out as Bushwick's most fun public space? Well, besides the crazy (and admittedly sometimes annoyingly-too-loud-and-too-crowded) atmosphere of the public park, there are also lots of great nearby restaurants, cafes, and bars that perfectly complement an afternoon spent in the park.
Maria Hernandez Park – A Travel Guide for Locals
The History of Maria Hernandez Park
Maria Hernandez Park was established in 1989 and named in honor of Maria Hernandez, a local community activist. Previously a vacant lot, the park underwent a significant transformation thanks to community efforts.
Today, it spans five acres and features lush green spaces, playgrounds, basketball courts, and a skate park. Its history reflects the spirit of resilience and creativity that Bushwick embodies. During the early days of the 2020 pandemic, the park was sometimes closed, and since then, the park has undergone several renovations.
There's now an updated dog run in the eastern edge of the park, and the main plaza has been extended to create even more public space. There are public restrooms (that close at 4pm) in the center of the park which is roughly the size of a city block.
During the pandemic, I went to countless rallies and protests here. It's really at the heart of Bushwick—and on any given weekday, you might encounter skateboarders, families having picnic dates, volleyball tournaments, local politicians canvassing, or other demonstrators and activists.
Types of People You'll Find at Maria Hernandez Park
Maria Hernandez Park draws a diverse crowd, reflecting the eclectic mix of cultures and backgrounds found in Bushwick. On any given day, you'll encounter artists, musicians, families, young professionals, and local residents enjoying the park's various amenities.
That's why I like it so much even when others might prefer quieter and simpler parks. Maria Hernandez is an eclectic meeting point, fostering connections between people from different walks of life.
Bushwick has a large immigration population so expect to see a diverse group of Puerto Ricans, El Salvadoreans, and others—in addition to the hipsters and students that have found gentrifying the Bushwick area economically friendly.
The western edge of Maria Hernandez butts up against Knickerbocker Avenue which is a street as lively and entertaining as the park. Knickerbocker Ave is home to an annual Puerto Rican Day Parade which is probably the loudest day of the year to be in Maria Hernandez.
Recommended Bushwick Restaurants Near Maria Hernandez
Exploring Maria Hernandez Park can work up an appetite, and fortunately, there are plenty of excellent dining options just a short stroll away. These local restaurants serve up a range of flavors to satisfy every palate and are some of my regular go-tos in the neighborhood.
The Sultan Room: A lively venue that hosts live music performances and offers a delicious Middle Eastern-inspired menu.
Arepera Guacuco: A Venezuelan restaurant specializing in arepas, cornbread pockets filled with savory ingredients, and other traditional dishes.
The Ten Bells: A cozy Spanish wine bar offering a carefully curated selection of wines and tapas.
Carmenta's: Italian American specialties, especially sandwiches. Try their meatballs!
Sea Wolf: A seafood-focused restaurant with a vibrant atmosphere, serving fresh and innovative dishes. I love their appetizers, actually.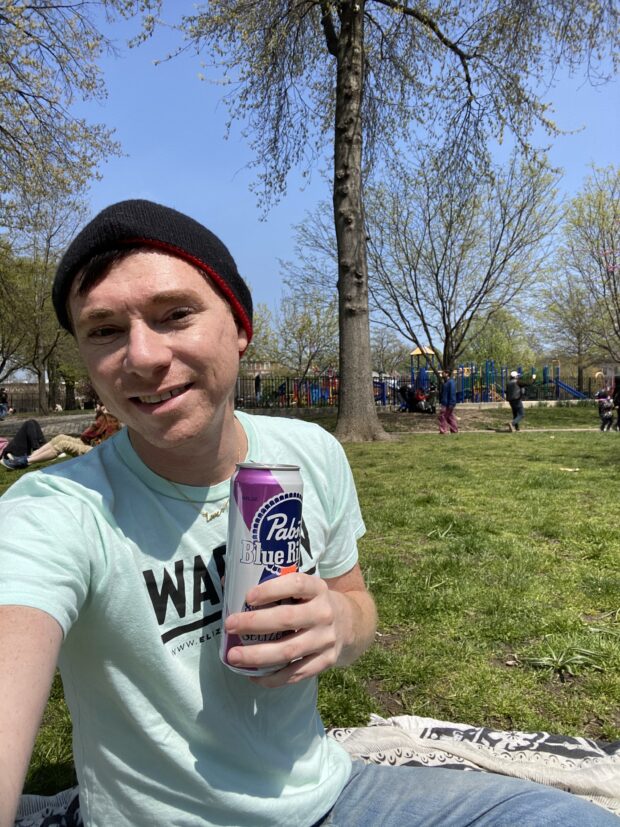 Recommended Cafes & Breakfast Spots
Starting your day at Maria Hernandez Park with a satisfying breakfast and a cup of coffee is a great way to kick off your visit. Luckily, the neighborhood boasts several cafes and breakfast spots to fulfill your morning cravings.
Pitanga: A charming cafe serving delectable Brazilian-inspired dishes, including açai bowls and hearty brunch options.
Black Seed Bagels: A New York-style bagel shop that crafts hand-rolled, wood-fired bagels with a variety of delicious toppings.
Dweebs: A small but trendy coffee spot offering light breakfast options. There's a small patio in front which is where the hipsters hang.
Lazy Suzy Cafe: A larger coffee spot and café that's popular for those looking for a place to work from. A little less scene-y than Dweebs.
Knickerbocker Bagel: A famous neighborhood staple known for its freshly baked bagels and an array of spreads and sandwich options. I love their bagel sandwiches.
Abracadabra: A quirky coffee shop where you can enjoy aromatic brews, homemade Turkish pastries like börek. Honestly: they make my favorite breakfast sandwich in NYC.
Bars & Where to Drink Near Maria Hernandez
After a day of exploring the park, unwinding at one of Bushwick's trendy bars is a must. From hip dive bars to chic cocktail lounges, the area surrounding Maria Hernandez Park offers a vibrant nightlife scene.
Three Diamond Door: A laid-back neighborhood bar with a wide selection of craft beers and classic cocktails. There's a back room that has DJs on weekend nights, and the wooden patio in the pack is one of my favorite hangout spots in Bushwick on a lazy summer day.
Starr Bar: A community-oriented bar hosting events, live performances, and a menu of signature cocktails.
The Johnson's: A retro-themed bar known for its inventive cocktails and relaxed atmosphere, imported from the Lower East Side. (The original Johnson's location in LES was one of Lady Gaga's regular hangouts when she lived downtown.)
Palmetto: A trendy cocktail bar with an extensive list of specialty drinks, perfect for a night out with friends or a hot date.
Yours Sincerely: A stylish cocktail bar specializing in unique and creative concoctions served in innovative self-serve containers. Always love the atmosphere here.
Maria Hernandez Park has rightfully earned its reputation as Bushwick's most fun public space. Its rich history, diverse community, and convenient proximity to excellent dining and drinking establishments make it a vibrant hub for locals and visitors alike.
Whether you're looking to relax in the sun, engage in recreational activities, or immerse yourself in the neighborhood's vibrant culture, Maria Hernandez Park has something to offer everyone.