We all know that backpacking is like a thrilling rollercoaster ride for your senses—new cultures, stunning landscapes, and, of course, the amazing food. And while you're out there slurping noodles in Asia or sipping espresso in Europe, let's not forget to dig into the culinary playground that is American cuisine.
Sure, burgers and fries have their place, but there's a whole world of flavor hiding behind the fast-food counters and tourist traps. We're here to dish out (pun intended!) the real deal—those classic American foods that make you feel like you're hanging out with locals at a backyard barbecue or a cozy diner.
In this foodie adventure list, I want to highlight some of my favorite American foods that I always miss the most when traveling abroad. From Southern comfort food like biscuits and gravy that warm your soul, to the ingenious Chinese-American concoctions that have taken tastebuds by storm, we're going on a taste journey across the good ol' U.S. of A.
But hold onto your forks, because we're not just talking about what's on the plate. We're digging into the stories behind the dishes—the history, the fusion of cultures, and the heartwarming traditions that turn a simple meal into a flavorful memory.
So, grab a seat at the table (or wherever you're reading this), loosen that belt a notch (because you're gonna want to eat everything), and join me as we chow down on the lesser-known heroes of American cuisine.
This is your passport to America's tastiest treasures—so let's eat, explore, and enjoy the ride, one bite at a time!
American Foods I Always Miss When Traveling Abroad
Popular American Breakfast Dishes
Peanut Butter and Jelly Sandwich
A nostalgic favorite, the PB&J sandwich combines creamy peanut butter and sweet fruit jelly between slices of bread. It's a simple yet satisfying breakfast option enjoyed by both children and adults.
Grits
A Southern classic, grits are a warm and comforting dish made from ground corn. Served creamy or firm, they're often enjoyed with butter, cheese, or gravy, making them a versatile breakfast choice with a touch of Southern flair.
Biscuits and Gravy
This hearty Southern breakfast features fluffy biscuits smothered in a rich, savory sausage gravy. The combination of buttery biscuits and creamy gravy creates a filling and indulgent morning meal.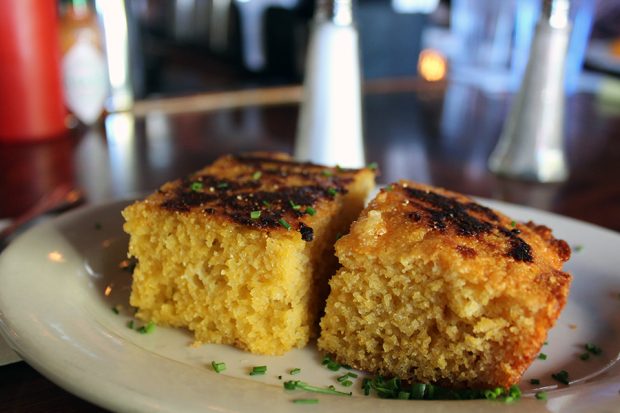 Cornbread
A staple of Southern cuisine, cornbread is a crumbly, slightly sweet bread made from cornmeal. Served as a side dish for breakfast, it complements savory dishes with its unique texture and flavor.
Bagels with Cream Cheese and Lox
A classic breakfast option, toasted bagels are slathered with cream cheese and topped with thinly sliced smoked salmon (lox). This combination offers a satisfying blend of textures and flavors that's both savory and rich.
Cereal
A quick and easy breakfast choice, cereal is a beloved staple in American households. Available in a wide range of flavors and types, it's typically served with milk for a simple and familiar start to the day.
Popular American Side Dishes
Macaroni and Cheese
Mac and cheese is the ultimate comfort food, combining cooked macaroni pasta with a creamy cheese sauce. It's a versatile side dish that's equally loved by kids and adults.
Nachos
A popular appetizer or snack, nachos feature crispy tortilla chips topped with melted cheese, jalapeños, and often accompanied by sour cream, guacamole, and salsa. They're perfect for sharing or indulging alone.
Corn Dogs
A carnival favorite, corn dogs are hot dogs coated in a cornmeal batter and deep-fried to golden perfection. They offer a delightful combination of flavors and textures that's both nostalgic and satisfying.
Tater Tots
These bite-sized, crispy potato nuggets are a fun and addictive side dish or snack. Often served with ketchup or other dipping sauces, they're a popular choice among both children and adults.
Popular American Dessert Foods
Pumpkin Pie
A quintessential fall dessert, pumpkin pie features a spiced pumpkin filling in a flaky crust. It's often enjoyed during Thanksgiving and offers a blend of warm, comforting flavors.
Key Lime Pie
A refreshing and tangy dessert, key lime pie boasts a zesty lime filling in a buttery graham cracker crust. Its vibrant flavor makes it a perfect ending to a meal.
S'mores
A beloved campfire treat, s'mores consist of toasted marshmallows and chocolate sandwiched between graham crackers. The combination of gooey marshmallows and melty chocolate is a delightful, nostalgic indulgence.
Popular American Meals, Lunches, and Dinners
Clam Chowder
A thick and hearty soup, clam chowder features tender clams, potatoes, onions, and often bacon, all cooked in a creamy broth. A New England favorite, it's a comforting dish enjoyed during colder months.
Buffalo Wings
These spicy and flavorful chicken wings are a staple of American bar food. Coated in tangy buffalo sauce, they're typically served with celery sticks and blue cheese dressing.
Barbecue
With regional variations like Texas, Kansas City, and Carolina styles, American barbecue offers slow-cooked, smoked meats accompanied by a range of sauces and sides. It's a celebration of savory flavors and culinary traditions.
Deep-Dish Pizza
Originating from Chicago, deep-dish pizza features a thick crust, piled high with layers of cheese, sauce, and various toppings. It's a hearty and satisfying option for pizza enthusiasts.
Cheeseburgers
A classic American sandwich, cheeseburgers consist of a juicy beef patty topped with cheese and various condiments. They're a fast-food icon and a favorite choice for a satisfying meal.
Fried Chicken
A Southern specialty, fried chicken is crispy on the outside and tender on the inside. It's seasoned with a blend of herbs and spices, creating a flavor-packed dish that's enjoyed nationwide.
Chicken Parmesan (or Chicken Parm)
Breaded and fried chicken cutlets are smothered in marinara sauce and melted cheese, creating a comforting and flavorful Italian-American dish.
Jambalaya
Hailing from Louisiana, jambalaya is a one-pot dish that combines rice, meat (such as sausage or chicken), and a medley of vegetables. It's a spicy and flavorful representation of Creole and Cajun cuisine.
Chinese Food
Americanized Chinese dishes, like General Tso's chicken or sweet and sour pork, offer a blend of sweet, savory, and tangy flavors. These familiar dishes have become a part of American culinary culture.