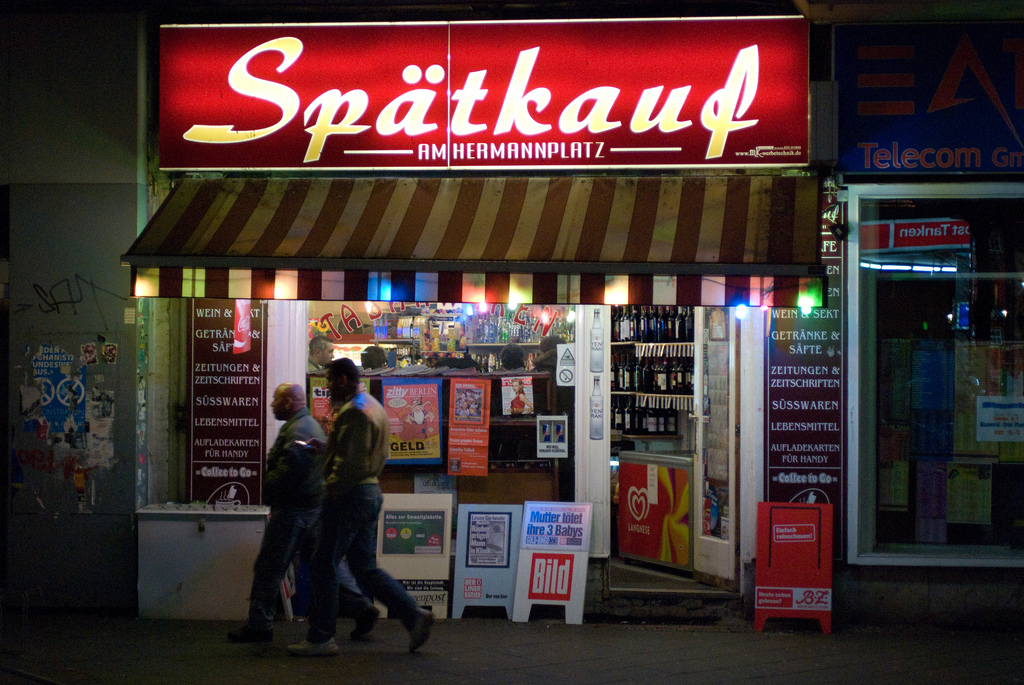 I'm not a poet, but Berlin during summertime and the ubiquitous Berlin späti (spaeti) makes me sing with excitement! What's a späti? Read more after the poem :)

You're where I go when I'm thirsty,
And after a night out of being dirty.
Both before and after Berghain,
And always on my way to Friedrichshain.
Though your beers are never very cold,
From cheap to expensive, even Beck's Gold.
I buy a pils for my journey
In Berlin, where everyone's horny.
Inside, you're empty & bright
People come and go, with jeans tight.
Folks buying crisps & Coke,
Most of them are probably broke.
Sometimes we visit quick,
One euro twenty, click click.
Taking a Kindl, a Sterni,
Where else would I be?
Other times, we're in and we're out.
Buying beers for our picnic—sauerkraut
and grilled snacks for our barbecue
At the volkspark in summer. The sky, blue.
On a long summer night, we grab a bench
On the stoop outside—English, German, French.
Expats and foreigners; I'm still an out-of-towner.
Our barkeep? The woman behind the counter.
Sitting outside, we're a rowdy bunch
Beer after beer; drunk as such.
No clubs, no bars—We paid no entrance fee,
Yet another reason I love you, dear späti.
What is a spätkauf?
Basically, it's a convenience store. A 7-11 of sorts. They're not specific to Berlin, but in Berlin, there's at least a späti on every street. I'm not exaggerating! I've paid as little as 60 euro cents for a beer. People (drunk tourists and locals alike) typically stop in a späti on their way out, on their way home, or on their way anywhere. In a city where public drinking isn't policed (you can even drink on the subways), beers-to-go are popular. And often a part of just about any night out on the town—whether you're clubbing or just hanging out with friends.
This post is part of the Blogger Stammtisch, a monthly round-table of sorts for German expats.