One of my favorite German traditions is the city festival. Every town, small or big, seems to host their own public festival where street vendor showing up selling fried foods, cheap beer and there's always Schlager music (essentially German pop music). And during the spring and summer, these festivals show up in full force. But perhaps one of the biggest and best is the annual Baumblütenfest in Werder, Germany.
The Baumblütenfest is as kitschy as it is wonderful. The city produces many fruit wines—super sweet wines fermented from various fruits such as rhubarb, peach, apple or any combination of flavors. This festival, which is in its 138 annual year, celebrates the season. The streets are lined with blooming cherry blossom tress, and with public parades, a festival queen, live music stages, carnival rides, arcades and thousands of vendors—it's unquestionably a seriously fun affair.
I've been to the festival for the past five years—an easy day trip from Berlin (just with an ABC ticket on the metro) and we always come away with more than a few crazy stories. A 1-liter bottle of wine at the festival generally goes for 7€ and split amongst a group of friends, it's the perfect accompaniment for a picnic. Many houses in Werder, especially those up on the hill overlooking the city, open up their private gardens and allow visitors to buy wine, food and picnic in their backyards.
I always tell people I'm going to a "wine festival" but truthfully, as a fruit wine festival, it's just a lot sweeter and sillier. The Baumblütenfest always takes place the week of May Day. This year the festival runs from April 29 to May 7, 2017. View their official website at baumbluetenfest.com.
5 Things To Try at Baumblütenfest
1. The wine (obviously)
It's sugary and it's sweet and it's sure to cause a terrible hangover. But it's 100% worth it. Go with a group of friends and buy several bottles for an afternoon so you can try the different flavors. Most vendors will happily provide samples of each as well until you find the one that you enjoy. Once you buy a bottle, just ask for some plastic cups (they'll always have them), and the rest is history! Here are my favorite fruit wines I've tried at the Baumblütenfest
Apfel mit Ingwer – Apple with ginger
Birne – Pear
Heidelbeere – Blueberry
Himbeeren – Raspberry
Johannisbeere – Red Currant
Rhabarber – Rhubarb
Schwarze Johannisbeere – Black Currant
2. The food
The Baumblütenfest is a proper European festival and with that comes all the best European and German festival foods. Just don't think too much about the calories; you're going to need the sustenance to drink all that wine! You'll find garlic breads, bratwurst (of course!), steaks, ice cream, candy vendors, and my favorite: the Hungarian langos. It's fried dough served with sour cream and cheese on top—and with other toppings if you prefer. It's the perfect drinking snack!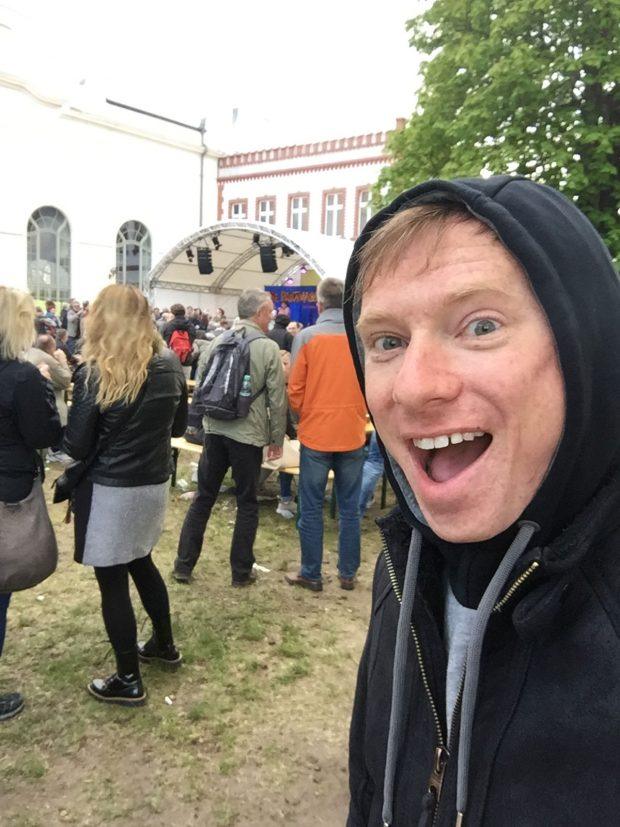 3. The Schlager music
One of Germany's most ridiculous traditions is Schlager music—German pop music with its upbeat, folksy tunes and ridiculously sentimental lyrics. After hours of drinking sweet wines in the sunshine, there's nothing better than sitting in a beer garden in front of a stage watching two men and women dance around and sing in polka-dot outfits. At the Baumblütenfest, you'll find plenty of stages with various performers, plus the occasional additional busker. Find a comfortable spot to sit and just take it all in.
4. The carnival rides
My favorite is the Ferris wheel. It's the perfect panoramic view over Werder and they'll even let you bring wine on board. And a ticket is just 4€! Just please don't go after you've had too much to drink—nobody wants that.
5. The train back to Berlin
Probably the hardest part of the Werder festival is the public transportation to and from the city. Thousands of people are traveling each day from Berlin to Werder for the Baumblütenfest, so you can expect crowded trains—mostly full of drunk teenagers. Make sure you buy your ticket before boarding to save time and stress!
• • •
There's plenty more going on at the Baumblütenfest each day than just the above. There's always a techno party in an abandoned lot near the train station. This year they were even flying an LGBTQ pride flag outside the party. And of course there's the other carnival and festival attractions—arcade games, bumper boats on the river and just nonstop noise and crowds. When you visit the Baumblütenfest, expect silliness and you won't be turned off by all the kitsch! It's a perfectly magical escape into German small town culture, and it's wonderful!