When I moved to Berlin at the end of last summer I heard a lot about how great Berlin is during the month of May. With May Day (May 1st) to unofficially kick off the summer season, Berlin seems to suddenly spring alive this time of year. A gloomy winter disappeared, the city is alive again!
So, on Saturday, I went to visit a town just outside of Berlin—Werder. Though a lot of my local friends didn't know, Werder hosts an annual fruit wine festival over two weekends in the first week of May. The festival, called Baumblütenfest, is (allegedly) Germany's 2nd largest festival for drinking—right after that beer one. Naturally curious…. I went and visited Werder's Baumblütenfest with a few friends.
The festival was a hot mess. Literally. Berlin seemed to have found its summer weather so on this Saturday, with temperatures in the low 30s ˚C, Werter was HOTTT. Here's how it all went down:
Baumblütenfest – day trip from Berlin
2pm—Left Berlin on a train from Alexanderplatz. Crowded with loud (and most likely) drunk 20-something douches. One group punched a hole through the train's ceiling. Afraid for my life. But idea of obstwein (fresh fruit wine) in my near future kept me sane.
3pm—Arrived Werder, met up with other friend who was lost somewhere on the train. Waded through a sea of people at the train station. Bags checked by security—no glass allowed. Massive crowds!
3:20pm—Wandering from the train station we walked up the main street full of festival-goers. Avoided a loud techno party near the train station. Made our way up a massive stairway on the side of a hill. First drink: Potsdamer beer, with a scenic view over Werder.
3:30pm—Saw the festival's Queen arrive in a convertible. Tried a glass of fruit wine from a vendor. He wasn't pleased we didn't buy any.
3:50pm—Ate some Hungarian lángos (deep fried bread with sour cream & cheese). Continued wandering through several of the fruit wine festival's vendors. Saw some truly interesting characters. Santa Claus in tights? Hats and sunglasses for sale everywhere.
4pm—Stumbled into the city's main square. Bought a liter of cheap cherry fruit wine. Met up with a friend and made our way to Werder's island—where all the activity seemed to be.
4:30pm—City's only bridge to the island was crowded, but bearable. Bought another liter of wine and sat on the grass to catch some shade. More friends and people piled up. Eventually left in search of more food.
5pm—Wandered to the other side of the island (it was small) where it was quieter. Ate more festival foods (my favorite type of cuisine!) and eventually found our way back in a circle.
6:30pm—Left the island and wandered through the carnival section of the festival. Made our way back up to the top of the hill where we found a garden to hang out in. Sitting in the grass, on the slope of a hill, underneath some fruit trees—felt like I was in another world. Maybe the wine helped, too.
Hard to imagine this was part of the festival. On one side you had the island full of drunks and bands and carnival things. Up on the hillside you had peaceful gardens with young lovers and fruit trees!
8pm—Chaos again! Waited at the Werder train station in a massive crowd of people for about 15 minutes until we could get on a train. Train ride back was as interesting as the on there in the morning. Half-naked men, a guy vomiting in the seat in front of me, and strangers attempting to steal bottles of wine from their neighbors.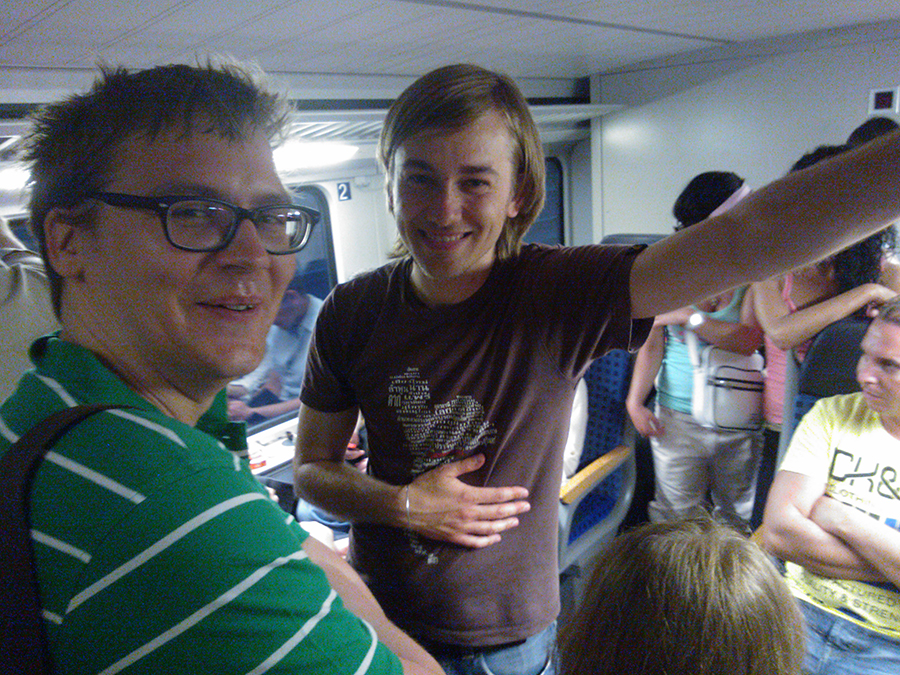 10pm—Arrived home in Berlin. Grabbed a falafel sandwich before heading out to a German house party. Exhausting day of day-drinking in the sunshine, but so much fun!
Festival details
Werder's fruit wine festival is a strange and interesting festival. On the one hand, you have a lot of drunk Germans (mostly youngins), but then it's also in this quaint and pretty German town. Werder, with a little island on a beautiful lake, feels like an old farm & fishing town with cobble-stoned streets and a main central plaza (where I can only imagine there is a local ice cream stand). The town even crowns a beauty queen for the festival! Add in 700,000 tourists and visitors for a week, and the place turns into a carnival. Ferris wheel, arcade games and bottles upon bottles of sweet fruit wine. Strange place? Awesome place.
Wine cost as low as €5.50 for a liter. Obviously you pay a little more for better varieties. Schwarze Johannisbeere was probably my favorite.
More info on how to get to the festival:
http://www.baumbluete.de/
From April 28 to May 6, 2012 in Werder (Havel)
Accessible by train (a very loud ride) from Berlin (just need an ABC ticket)
(thanks to my friend Aapo for some of these photographs!)