"That's pretty," he said, as he gently touched my wrist. He looked up at me, into my eyes, while fidgeting with the bracelet between his fingers. A glint of gold sparkled briefly from the Christmas-colored fairy lights hanging above the bar.
With a White Claw in my hand, and my friend in the seat next to me, we were talking about boys (specifically: our exes), and the hassle of dating in Brooklyn. At one of my favorite gay bars, we were on the prowl, and I'd dressed up for the first time in months.
For me, getting dressed for a night out is all about the little things. I don't want to overdo a look, but I want to make sure I've got a bit of style, too. Style isn't just an empty word, though. It's got to have purpose and meaning. Wearing any kind of bling or jewelry, or a flower crown (one of my favorite fashion accessories right now), shouldn't just be an empty bit of flair. Jewelry has a meaning.
That's why I've started wearing jewelry I've found from my travels—bangle bracelets from India, or a necklace I bought in Key West. Pieces that have meaning.
And then, one day in Brooklyn, I discovered the local brand Bird + Stone. A statement jewelry brand that also gives back. Ethically made jewelry that donates 10% of every purchase to support causes around the world. And the kind of statement pieces that even draw the attention (and compliments) of strangers in the bar ;)
---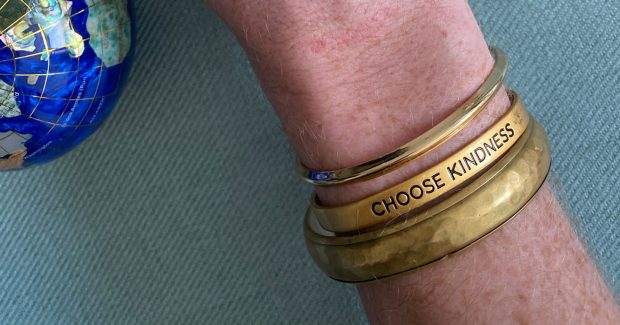 New York-based, female-founded jewelry brand and label Bird + Stone started in 2013 as a way to fundraise for a volunteer trip. Inspired by the power of community to make a difference, the founders kept it going. Since then, the Bird + Stone label has grown with partnerships to support organizations working on a number of different causes from around the world.
Ethically manufactured in the USA, every purchase from the label supports a different cause. The label's efforts to build a more equal world are noble, and the messaging on each product reflects that. They are statement pieces that actually back it up with real-world implications.
Bird + Stone was founded on the idea that brands have the power to be vehicles for change. Meaning that not only are their products made ethically, but they also donate a portion of profits to organizations moving the needle on important causes.
Every product sold by Bird + Stone (online or in select shops) indicates the amount or percentage donated in the product description. Price points for Bird + Stone jewelry range from $15-$75, with generally 10% of each purchase going directly to causes. You can shop by cause or by style on their website.
[box]
Top causes supported by Bird+Stone jewelry:
women's health
feminism
girls' education
end sexual violence
climate
poverty
women in politics
civil liberties
end child marriage
refugees & immigrants
[/box]
---
Shop Bird + Stone jewelry online here.