Don't be fooled by my smile in this photo. It's all just a show. Currywurst—that abomination of sausage—is one of Berlin's most famous landmarks. But is it really that special? No! It's the worst…
What the eff is currywurst?
Currywurst is boring.
In basic terms it's a hot dog cut up into pieces and slathered in ketchup and curry powder. If you order it at a food stand (or imbiss), it's the exact same thing: a hot dog cut up into pieces and slathered in ketchup and curry powder.
It's nothing extraordinary. In fact, I'm pretty sure I used to eat the same thing when I was 7 years old—sans the curry powder. Now that I'm 27, eating currywurst feels childish and even embarrassing. That's probably why most people eat it after a night of heavy drinking—you're less likely to remember it the next day.
If my description of currywurst isn't suitable enough for you, I can change the words around to make it sound more appealing—but it's the same thing: bratwurst with curry-ketchup. One thing I will say, though, is that the type of wurst has a big impact on the quality of the meal. The better the sausage, the better the currywurst! I'll still never understand why it's acceptable to use curry powder—a rather mild spice—instead of something with a bit more bite. The Germans have never really liked spicy, though…
German food, hey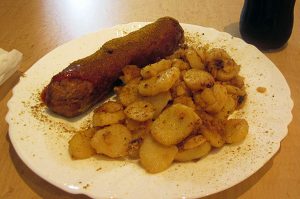 I'm no foodie, but I do like good food when I find it. Stereotypical German food staples are meats and potatoes—and if you ask me, they're not really known for being some of the best meats & potatoes either. Sure, German sausage is a "thing" but even if Germany is to sausage what Italy is to pizza, I think the Italians win.
But hey, currywurst is that unique German (and very Berlin) thing. It's just a shame more imbiss shops don't do something special with it. Though I suppose they've already improved a hot dog vastly by adding ketchup and some curry powder, pile on some decent fries and the whole meal's fairly disgusting taste is hidden behind condiments and fried things. Now that's a winning solution, am I right?
Currywurst is nothing special. And yet somehow currywurst has even been exported to Los Angeles!
I mean, come on. Who calls a food by a negative superlative? That's just silly.