Flight review and photos of Flight AA70 – American Airlines flight Dallas to Frankfurt in the First Class cabin. The food, the spoils – it's luxurious & it's wonderful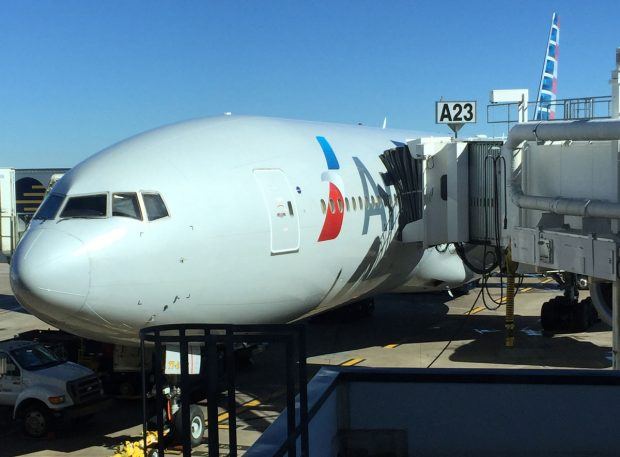 Sitting in DFW airport, I was anxiously charging my computer and phone while waiting for my flight to be called. I've flown this same route at least once every year, Dallas to Frankfurt—the most convenient connection between my family in Texas and my adopted home in Berlin.
At over nine hours flying time, it's a pretty long route. I wasn't sure yet of my seat, or whether there'd be a power port, so I wanted to make sure all my devices were fully charged. But by the time of boarding, it was apparent I was needlessly worried. My seat? 3G.
I've managed to fly first class internationally quite a bit thanks to buddy passes, and this time was no different. It's always a bit of a mystery where you'll end up, but when the gate agent hands you an upgraded first class, international ticket — there's this moment where you can't help but smile.
One friend almost exclusively books first or business class tickets for long-haul international flights—her biggest expense but almost always "worth it."
Luxury doesn't come cheap, but when you love air travel, sometimes it's worth the splurge on the upgrade.
On this particular American Airlines flight, the plane (a Boeing 777-200) hadn't yet been refurbished with AA's new, plush interiors. The seats were still in the blue checkered pattern I'll always identify with AA—a comforting bit of stability.
Though my seat's plugs still required a car adapter for charging, the flight attendant was happy to loan a converter for the duration of the flight.
When you sit in a first-class seat for the first time, there's this initial awe—so. much. space. And once you rotate the seat 45º to line up with your pull-out tray table, when the champagne and the warm nuts arrive, it's just all so easy to sink into a state of relaxation.
And then there's all the food. On this Transatlantic flight, I opted for a healthy meal—the cilantro-cured salmon and grilled halibut with a cauliflower puree. Both tasty and paired with a crisp white wine.
In first class, with ample amounts of space, I was also able to take my time enjoying my meal while watching Florence Foster Jenkins. And obviously, on a 9+ hour flight, there was more than enough time. For dessert, I went with the cheese plate.
Next time I'll probably switch back to my personal favorite, the ice cream sundae with hot fudge and mixed nuts.
After dinner, with approximately a gazillion hours to go, I switched on the radio stations through my in-flight entertainment, changed into my AA pajamas and spent some time working on my computer. If there's one place where I can write well and write fast, it's in airports and airplanes.
Something about the time-crunch and the total lack of internet distractions makes it one of the most productive places in the world for me. I whipped up a couple blog posts in a few hours, cleaned my hard drive and generally just felt productive.
Sleep was next—an attempt to beat the jet lag. Spoiler: a week later and I'm still not over the jet lag.
Listen, I get it. Flying first internationally is a total luxury. The food, the drinks, the lie-flat beds and all the spoils. (Not the mention the custom ice cream sundaes.)
Is it worth the total value? Maybe not to everyone. It's certainly out-of-reach for some, but if you can collect the air-miles and you're taking a holiday worth splurging on, I honestly believe first (or business) class is one of those attainable luxuries.
It's relaxing but still fun, and depending upon which direction you're going, it can really help with adjusting to the time change.