Hell's Kitchen, a vibrant and dynamic neighborhood nestled in the heart of Manhattan, has earned its reputation as one of the best gay neighborhoods in the city for a multitude of compelling reasons. This lively enclave just a short walk from Times Square and Broadway has evolved into an inclusive haven that warmly embraces the LGBTQ+ community and fosters a sense of belonging and acceptance.
Hell's Kitchen wasn't always my favorite gay neighborhood in NYC, but the gayborhood has definitely grown up. There are new gay clubs and gay bars opening up every year, and my favorite long-time haunts still stand. It just seems to always get even more gay year after year! Hard to imagine, but it's true.
Its streets are lined with a colorful array of bars, clubs, and businesses that cater to LGBTQ+ patrons, offering spaces for socializing, dancing, and celebrating one's true self. It's not uncommon to see pride flag stickers or actual flags flying in front of every business.
Whether you're looking for a leisurely brunch or a high-energy nightclub to dance the night away, Hell's Kitchen has it all for every type of gay person visiting NYC—the gayest city in the United States.
Moreover, the neighborhood's commitment to LGBTQ+ causes is palpable, with various community organizations and events dedicated to fostering unity and advocating for equal rights. New York City's annual gay pride celebration the last weekend in June always brings big crowds to Hell's Kitchen (or HK as we call it).
And because so many of NYC's best gay hotels are in the same neighborhood, HK is always a fun mix of locals and tourists.
Hell's Kitchen's rich history, vibrant LGBTQ+ scene, and unwavering commitment to inclusivity make it one of my favorite gay neighborhoods in Manhattan. Its increasingly welcoming spirit and thriving LGBTQ+ community continue to attract individuals seeking a place where they can live authentically and proudly.
A testament to the enduring power of love, acceptance, and diversity in the very heart of the city that never sleeps.
10 Favorite Gay Bars in Hell's Kitchen
Every gay boy has their own favorite scene and HK attracts so many gays from around the world, that there's literally a gay bar for every type of guy. But if I were to pinpoint my favorite gay bars in HK, they'd be these—for their fun vibes, chill crowds, and likelihood for making friends (or meeting a hookup).
1. 9th Ave Saloon
Located in the heart of Hell's Kitchen, 9th Ave Saloon is a beloved neighborhood dive bar with a welcoming atmosphere. Known for its friendly staff and unpretentious vibe, it's a go-to spot for locals and visitors alike.
Whether you're looking for a casual drink with friends or a place to unwind after a long day, 9th Ave Saloon offers a laid-back setting where you can enjoy a cold beer, basic gay cocktails, and good conversation. It's always so easy to chat with the other bar patrons here and I never leave without a new random story to tell.
2. The Ritz Bar & Lounge
The Ritz is an iconic gay nightlife destination in Hell's Kitchen. With its stylish décor, top-notch DJs, and energetic dance floor, it's the perfect place to dance the night away.
The Ritz also hosts a variety of events and theme nights, ensuring there's always something exciting happening. Whether you're into house music, drag performances, or simply mingling with a diverse crowd, The Ritz has it all. Super popular with tourists and young kids, it's always a fun night out.
3. VERS
VERS is a trendy nightclub in Hell's Kitchen known for its inclusive and welcoming atmosphere. With a focus on versatility and diversity, this venue hosts an array of events, from dance parties to live performances.
Whether you're into pop music, electronic beats or EDM, or drag shows, VERS offers an unforgettable nightlife experience that celebrates self-expression and individuality. I've had a lot of fun nights there recently. It does tend to skew to a younger crowd but with a mix of 30-somethings, too.
4. Flaming Saddles Saloon
A unique blend of a country-western bar and a gay nightclub, Flaming Saddles Saloon is where urban meets the Wild West. Expect lively line dancing, attractive bartenders, and a welcoming crowd. This high-energy establishment serves up great cocktails and a memorable time with a side of Southern charm.
It's also an extremely popular gay bar for bachelorette parties and out-of-town tourists, but that's okay. I love the atmosphere and seeing hunks in cowboy boots & cowboy hats dancing on the bar is just a lot of fun.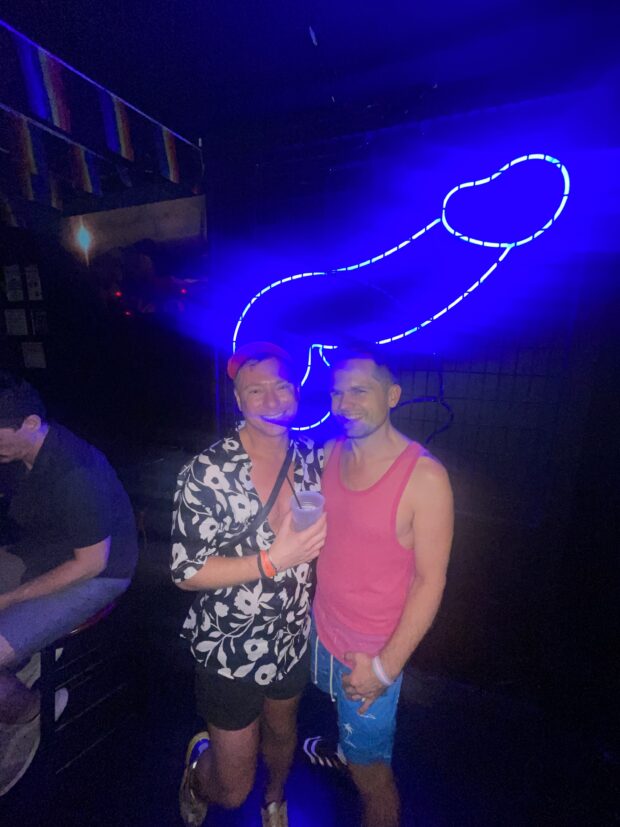 5. DBL
DBL, short for "Don't Tell Mama," is very basic gay dive bar on 10th Avenue. It's a cozy spot where you can enjoy talented performers, random sing-alongs, and a cheap happy hour. They've got some outdoor tables, too, which it makes it a pleasant after-work hangout.
6. Hardware
Hardware is a sleek and contemporary gay bar in Hell's Kitchen with a reputation for its industrial-chic ambiance. Whether you're sipping craft cocktails at the bar, catching a drag show, or enjoying the outdoor patio, Hardware offers a modern and stylish setting for socializing and entertainment.
Hardware is my go-to gay bar in HK. Expect to see topless bartenders (who sometimes moonlight as Only Fans porn star models or gay strippers).
7. Rise Bar
Rise Bar is one of the most popular Hell's Kitchen gay bars. Again: expect to see lots of shirtless bartenders, and since they took over the spot next door and expanded with a second dance floor, the one time cozy lounge is now a bopping club.
There's a regular rotating array of events from trivia nights to drag shows, screenings, and live entertainment. It's a great place to unwind with friends or meet new ones in the heart of Hell's Kitchen. It's the type of place to make friends, meet boys, and maybe even find a hot date.
8. Boxers Sports Bar
Boxers Sports Bar is a lively gay sports bar in Hell's Kitchen where you can catch the latest games on big screens while enjoying a menu of classic bar fare. Whether you're a sports enthusiast or just looking for a laid-back place to socialize, Boxers provides a fun and inclusive environment for all.
I actually preferred their pre-pandemic location on the opposite corner of the same block, but their new venue still brings in the fun crowds—especially for their incredibly popular happy hour.
9. FLEX
FLEX is a new gay bar with a much more relaxed lounge vibe. It only opened recently and is already brining in fun crowds. I've only been a few times, but have always enjoyed it, especially as it seems to attract 30-somethings as opposed to some of the other gay venues in HK which cater to younger audiences (*ahem* The Ritz *ahem*).
10. Atlas Social Club
Atlas Social Club is a sophisticated gay bar and lounge in Hell's Kitchen, offering an upscale atmosphere for those seeking a more refined nightlife experience. With its craft cocktails, stylish décor, and friendly patrons, it's an excellent choice for a night of conversation and relaxation in a chic setting.
Atlas Social Club, living up to its name, also allows various meetups and groups to use the space for special events and parties. I've been there sometimes when there was a gay "pup" party and on leather fetish nights, too.