Hey there, party planners and festive folks! The crisp autumn air, the scent of pumpkin spice, and the hint of mischief—yes, Halloween is just around the corner, and it's time to turn up the queer quotient on your spooky shindig!
Whether you're a seasoned Halloween host or a newbie, I've got your back with some tips on throwing a gay Halloween party that's bound to be the highlight of the season.
et ready to illuminate the darkness with a Halloween celebration that's more than just a party – it's your very own gay Christmas miracle! The crisp autumn breeze carries with it the promise of a night filled with LGBTQ+ camaraderie, fierce costumes, and spine-tingling cinema. In this guide, we're about to unfold the blueprint for an unforgettable night that captures the spirit of Halloween and the vibrancy of the LGBTQ+ community.
From the moment the first pumpkin is carved, to the last dance under shimmering disco balls, we'll delve into every aspect of creating a spellbinding atmosphere. We'll explore how to curate a playlist that marries queer anthems and dancefloor classics, fashion costumes that radiate individuality and pride, and assemble a lineup of gay scary movies that will have hearts racing and spirits bonding.
So, gather your fellow revelers, dust off your most glittering outfits, and prepare to discover the key to crafting a gay Halloween party that rivals even the most cherished Christmas traditions. It's time to embrace the magic, create memories, and celebrate the season of spookiness in a way that only the LGBTQ+ community knows how!
Why Halloween is the Gay Christmas
Absolutely, let's dive into why Halloween is often affectionately referred to as the "gay Christmas."
Picture this: a kaleidoscope of vibrant costumes, a pulsating dance floor, and an electric atmosphere where self-expression knows no bounds.
That's Halloween – the gay Christmas, if you will. For gay men especially (but all LGBTQ+ individuals), Halloween isn't just a holiday; it's a canvas on which you can paint your true selves with fearless strokes.
Just as Christmas is a time of togetherness and celebration for many, Halloween holds a special place in the hearts of LGBTQ+ communities worldwide. It's a night when the boundaries of gender and identity blur, allowing for uninhibited exploration and empowerment.
Just like the ornaments that adorn a Christmas tree, costumes become the ornaments of self-expression, each one reflecting a unique facet of one's personality.
Halloween's historic roots in breaking societal norms align perfectly with the LGBTQ+ journey towards acceptance and liberation. As LGBTQ+ individuals have fought for visibility and equal rights, Halloween has become a platform where they can showcase their resilience and triumph over adversity.
Just as Christmas lights illuminate the darkest winter nights, LGBTQ+ costumes illuminate the social landscape with a vibrant tapestry of diversity.
Moreover, Halloween parties often serve as safe spaces where LGBTQ+ individuals can come together, shedding societal expectations like old wrapping paper. It's a night of solidarity, community, and a sense of belonging – much like the warmth and unity felt during the holiday season.
In many ways, Halloween is a celebration of the ever-evolving LGBTQ+ narrative. Just as Christmas encourages giving and compassion, Halloween fosters a spirit of sharing one's authentic self with the world.
The thrill of putting together a costume, whether it's a nod to queer icons, a playful twist on gender norms, or an embodiment of a fantastical alter ego, brings joy akin to unwrapping presents under the tree.
So, as Halloween approaches, remember that it's not just about trick-or-treating or haunted houses; it's about embracing the freedom to be exactly who you are, and celebrating the shared experiences that make the LGBTQ+ community a vibrant and resilient family.
In its glittering extravagance and its kaleidoscope of colors, Halloween truly is the gay Christmas – a time to revel in authenticity and spread love like confetti.
What You Need to Host a Gay Halloween Party
See below for a wickedly wonderful guide to throwing a gay Halloween party that'll have everyone talking until next year's spooktacular soirée.
Remember, it's all about celebrating your authentic selves, embracing your uniqueness, and having a hauntingly good time. Happy Halloween, you marvelous creatures!
1. Ghoulishly Glitzy Invitations
Let's start with the basics, shall we? Your invitations set the tone for the event. Embrace your inner glam and design invites that scream "spooky chic".
Think deep purples, electric oranges, and a dash of rainbow magic. Whether you go digital or old-school paper, make sure your invites convey the fusion of spooky and fabulous.
Personally, I use the Partiful website to easily create party invites that I can share with my friends and family for any type of party. There are plenty of Halloween party invite templates on Partiful, but you can also create and upload your own so that it matches your gay Halloween party theme.
2. Hauntingly Hip Decor
Transform your humble abode into a haunted haven with decorations that make your guests gasp and gag—literally! Cobwebs and pumpkins are classics, but why not sprinkle in some rainbow skeletons and glittering witches' hats?
Set up a selfie station with LGBTQ+ themed props for your guests to unleash their inner divas and heartthrobs. Halloween party decorations are a must and can make or break the party vibes.
3. Monster Mash-Up Playlist
The music is the heart of any gathering. Prepare a playlist that's an enchanting blend of dance hits, nostalgic throwbacks, and queer anthems. Spice it up with tracks from LGBTQ+ artists who've been owning the charts.
Dancing to Lady Gaga's "Monster" or Freddie Mercury's "Don't Stop Me Now" is an absolute must.
4. Come as You Are, or Aren't
Costumes, darling! It's not a Halloween party without some over-the-top outfits. Encourage your guests to be as creative as they want—whether that's channeling their inner diva, their favorite queer pop icon, or an LGBTQ+ character from their favorite show.
And remember, inclusivity is key. Make sure everyone feels welcome and comfortable in their chosen attire.
5. Witch's Brew and More
Slay the drink game with spooky cocktails that would put any potion master to shame. How about a "Queer Quencher" punch with vibrant layers or a "Bewitching Bellini" that sparkles like a spell?
Offer some non-alcoholic options too, because hydration is important, especially when you're werking it on the dance floor.
6. Halloween Party Games to Die For
Keep the party lively with games that'll have everyone cackling with delight. LGBTQ+ trivia, Halloween charades with a twist, and a fierce lip sync battle are sure to keep the energy soaring.
Prizes could range from rainbow accessories to tickets to local LGBTQ+ events. It's fun to host a costume contest, too—who has the gayest costume, the scariest Halloween costume, or the most creative? Make the costume contest into a proper game with a secret ballot or a voice vote.
7. Halloween Treats and Eats
Let's talk food! Munchies are a must, but how about adding a little spooky twist? Think "Mummy Dogs" (my personal favorite) wrapped in pastry, "Haunted Guacamole" that oozes with flavor, and cookies shaped like rainbows.
And of course, don't forget the candy—stock up on sweet treats that'll give everyone that sugar rush to dance the night away.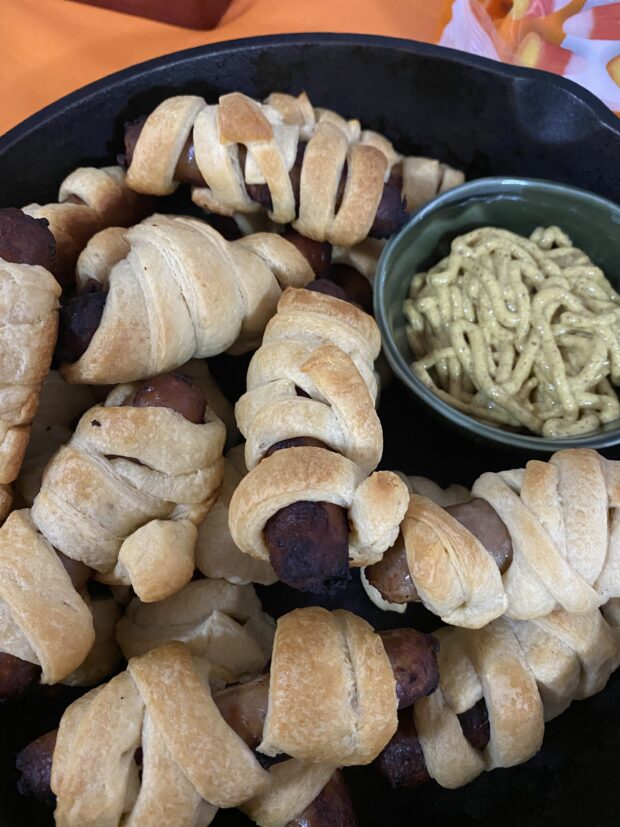 8. Queer-fect Party Favors
As your guests reluctantly leave the fabulous fiesta, send them off with a little something to remember the night by. Custom-made rainbow pins, quirky keychains, or mini pride flags will ensure your party stays in their hearts long after Halloween is over.
---
5 Gay Halloween Costume Ideas That Never Go Out of Style
Here are five fabulous gay Halloween costume ideas that will have you slaying the spooky season:
Disco Diva Delights
Channel your inner disco royalty with a dazzling costume inspired by the glitzy era of the '70s. Think sequined bell-bottoms, a shimmery halter top, and platform shoes that take you to new heights.
Top off your gay costume with a voluminous afro wig, oversized sunglasses, and a sparkling personality that can light up any dance floor.
Legendary Pop Icons
Pay homage to an LGBTQ+ pop icon who has left an indelible mark on music and culture. Whether you transform into the enigmatic David Bowie with his signature lightning bolt, the fierce Madonna from her "Like a Virgin" days, or the charismatic Freddie Mercury with a studded jacket and mustache, you're sure to turn heads and hearts.
Mythical Creature Mavens
Embrace your inner fantasy with a mythical creature costume that's both enchanting and alluring. Choose to be a sultry merman with a sparkling tail, a majestic unicorn adorned in rainbow hues, or a mischievous satyr with furry legs and horns.
Add some magical makeup, beauty accessories, or just some glitter, and you'll be ready to cast spells of charm.
Queer Spectacular Superheros
Why settle for regular heroes when you can be a super queer crusader? Design your own LGBTQ+ superhero persona with a colorful cape, a bedazzled mask, and an emblem that symbolizes your unique powers.
Whether you harness the strength of Pride or radiate love and acceptance, your costume will send a powerful message.
Iconic TV Characters
Bring your favorite LGBTQ+ TV character to life by recreating their iconic hipster look. Whether you want to become the fashionable Blanca from "Pose" with her striking ballroom attire, the witty David Rose from "Schitt's Creek" with his statement sweaters, or the glamorous Moira Rose with her outlandish wardrobe, your costume will be a nod to the queer characters who stole our hearts.
Remember, the key to a show-stopping gay Halloween costume is confidence and authenticity. Whichever costume you choose, make sure it represents your unique spirit and style. Now go forth and unleash your Halloween fabulousness upon the world!
---
5 Gay Halloween Movies
Below are some of my favorite Halloween-themed movies with LGBTQ+ themes that will add a touch of diversity and inclusivity to your spooky movie marathon.
October is one of my favorite times of year because the weather is on the cusp between autumn and winter, a cool air that makes being outside perfect for a gay cuddle session.
And we know what that means: scary movies great for cuddling up to a new boyfriend or winter buddy. Curl up with your favorite person and maybe even catch one of these gay-themed Halloween movies at an outdoor cinema while the weather is just right.
"The Rocky Horror Picture Show" (1975)
A cult classic that's practically synonymous with Halloween, "The Rocky Horror Picture Show" is a musical extravaganza that celebrates individuality, sexuality, and non-conformity. Follow the story of a newly engaged couple who find themselves in a mysterious castle filled with eccentric characters, including the iconic Dr. Frank-N-Furter.
"Beetlejuice" (1988)
While not overtly LGBTQ-themed, "Beetlejuice" exudes a playful sense of gender-bending and unconventional relationships. The character of Lydia Deetz, played by Winona Ryder, is often interpreted as a young queer icon, and the film's quirky and supernatural elements make it a Halloween must-watch.
"Hocus Pocus" (1993)
This family-friendly Halloween classic takes a light-hearted approach to LGBTQ+ representation. Thackery Binx, who is cursed to live as an immortal black cat, has been embraced by many as a subtle LGBTQ+ symbol. Plus, the film's campy witches and spooky shenanigans make it a delightful choice for a Halloween movie night.
"The Craft" (1996)
While the main plot revolves around witchcraft, "The Craft" touches on themes of power, friendship, and identity. The character of Nancy, portrayed by Fairuza Balk, has been seen as a representation of a queer character struggling with societal norms and her own desires for control and acceptance.
"A Nightmare on Elm Street 2: Freddy's Revenge" (1985)
This sequel in the "Nightmare on Elm Street" series is often discussed in queer cinema circles for its underlying LGBTQ+ themes. The film has been analyzed as an exploration of the main character's internal struggle with his sexuality and the fear of revealing his true self. It adds a unique layer of subtext to the horror genre.
These movies offer a blend of spooky thrills, LGBTQ+ representation, and Halloween vibes that will make your movie night both entertaining and thought-provoking. So, dim the lights, grab some popcorn, and enjoy a cinematic journey that celebrates diversity and the Halloween spirit.