Memorial Day weekend is the unofficial start of summer; it's when stores usually run all their fashion summer sales. By this point in the year, most of us have done some sort of spring cleaning and hopefully have Marie Kondo'd' our closets.
The long weekend with (usually) barbecues, bike-riding and maybe even beaches brings with it a fresh look and style, too. This year's Memorial Day weekend is going to be a little different. Many beaches are going to be closed. Social distancing is going to make barbecues and picnics a little more challenging if not impossible.
But that doesn't mean we shouldn't try our best to enjoy the holiday weekend. It's still a sign that summer is coming. Why not use this time to freshen up your wardrobe, look forward to the future, and celebrate local creators?
---
Jewelry is a simple fashion piece you can use to both add some style to your outfit and make a bold statement. Here are some of my favorite jewelry designers I've discovered this year.
How to Make a Statement with Handmade Jewelry Designs
Show your love
Capsul Jewelry
Capsul Jewelry offers personalized custom jewelry which you can have printed in your own original handwriting, or from one of their templates. You can even have sound waves or ultrasounds created as gold and silver jewelry.
Their pieces encapsulate life's happiest memories into luxury jewelry that can be worn every day. Through advanced 3D printing technology, each piece is personalized with unique handwriting, the sound wave pattern of a voice, or an engraving/roman numerals of a name, special date, or place.
Show your love with a custom piece. Shop Capsul Jewelry here.
---
Support international craftspeople
54kibo
54kibo is an online retailer of contemporary African design with unique, handmade pieces. With African jewelry designs and home accessories, the online shop makes it easy to access beautiful works from African designers—with everything from Zimbabwean ceramics to Jamaican ceramics and Haitian table linens. The jewelry selection is unique and includes brass, Kenyan choker necklaces, beaded bracelets, and many other handmade, original designs.
54kibo partners with over 30 designers who live around the world, all with roots in Africa and its diaspora. Many designers still work out of their studios across Africa, including Ghana, Nigeria, South Africa, Kenya; and the majority are female. Shopping with 54kibo is a great way to support international craftspeople while the tourism industry is hurting.
Support contemporary African designers. Shop 54kibo jewelry & home design here.
---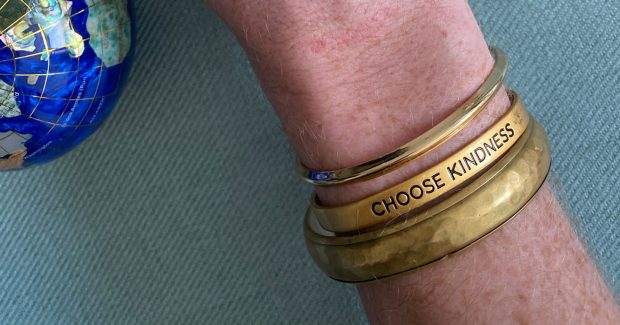 Share important messages
Bird + Stone
Bird + Stone is a Brooklyn-based, female-focused jewelry designer that focuses on ethically sourced and manufactured designs with a purpose. Every purchase from the label supports a different cause. The label's efforts to build a more equal world are noble, and the messaging on each product reflects that.
Bird + Stone was founded on the idea that brands have the power to be vehicles for change. A portion of all profits are donated to organizations moving the needle on important causes. Not only that, the designs incorporate up-cycled materials and sustainable materials.
Share important messages for change. Shop Bird + Stone jewelry.
---
Shop independent creators
Etsy
Etsy is pretty much a one-stop shop for handmade products from thousands of independent creators. You can find everything from jewelry and clothing, to home décor, furniture and art. Since starting to re-decorate my apartment, and shopping home furniture online, I've been browsing Etsy more and more often.
The Etsy jewelry selection is pretty impressive and you can find all sorts of handmade and custom jewelry designs online. I've bought some jewelry pieces made of shattered mirrors, and some cool necklaces for partying and nightlife.
Shop independent creators and jewelry designers on Etsy here.
---
Jewelry is a fun and easy accessory to add to any outfit. Even while quarantining at home, wearing a statement jewelry piece or bit of fashion can make a difference.