Seven Dials London is at the heart of central London with great bars, restaurants and cool things to do
In a city as sprawling as London, many people might be tempted to avoid the city center. It might at first seem like an area over-crowded, noisy, congested and expensive, but if you know what the locals know, it's far from frightening. And in fact, it's probably one of the best spots to discover London—especially for weekend tourists.
The Covent Garden area can be especially daunting for tourists—it's full of vendors, tourists and the London Underground station is weird. To get from the trains to the street level, it's necessary to take large freight elevators—or else you get stuck climbing nearly a thousand steps. And for so many first-time visitors to London, this is their first introduction to the city.
Luckily, there's a hidden area (7 Dials) behind Covent Garden, tucked between trendy Soho and the congested interchange at Tottenham Court Road. Seven Dials is a secret local hotspot—a hideaway of surprisingly calm and quiet streets compared to the busier areas it sits between.
The Seven Dials London district is named, aptly, after seven separate streets which converge at a single point—a sundial monument. There's a hyper-local feel to the neighborhood, with many authentically British shops, local independent brands and cozy eateries tucked away among the Seven Dials streets.
Explore Seven Dials London
What to do & see in London's secret hideaway
Shop
Seven Dials is probably most famous for its shopping. Monmouth Street is home to a handful of contemporary British designers, as well as beauty and lifestyle shops. Major international fashion brands such as Urban Outfitters, G-Star Raw, Speedo and Nike are located in the area (mostly along Neal Street), but the real charm of shopping in Seven Dials is at the small, independent designers.
Try Finisterre—a British surf shop committed to creating eco-conscious, sustainable and functional products for those that love the sea. Or for that classically British sense of style, try legendary British designer Peter Werth for its signature cool but casual London style.
Eat
London is a bustling metropolis and the international mix of peoples living, working and visiting London everyday make it a truly electric, eclectic place. And like every large city, there's an increasing amount of diversity in the culinary options.
In Seven Dials, you'll find an equally mesmerizing amount of diverse restaurants and cheap eats. You'll find Spanish tapas at Pix Pintxos, contemporary Indian cuisine, authentic British pub food at The Two Brewers (a favorite haunt of local theater-goers), affordable wood-fired takeaway pizza at Homeslice, classic New York style deli foods (pastrami on rye!) at a sandwich counter, and so much more.
A local London blogger has even successfully opened a short-lived restaurant dedicated to healthy eating and vegan dishes.
Drink
It shouldn't be surprising that a hotspot for London's creatives is also home to a number of coffee shops and cafés—a mix of those places great for casual meetings between friends, or spaces convenient for freelance work.
Swedish bakery Fabrique serves fresh-baked breads and pastries, including the popular Swedish cinnamon buns (kanelbullar). Meanwhile, Monmouth Coffee Company sells specialty filter coffees and always attracts a crowd of Londoners standing out on the street for the perfect brew.
For late night drinks, top-quality cocktails aren't hard to find in and around Seven Dials. Of course there's the gay bars and clubs along Old Compton Street. In the Seven Dials area, you'll find The Escapologist cocktail bar located in the basement of what was once the headquarters of a Victoria era secret society. Styled like a Victorian men's club, the bar is trendy and cool and the cocktails are consistently good.
And the best part is their 2-for-1 happy hour EVERY DAY OF THE WEEK (except Sundays) from 5-9pm. There's also a nearby underground basement bar (this one of a much more minimalist style) serving up great cocktails at affordable prices.
Explore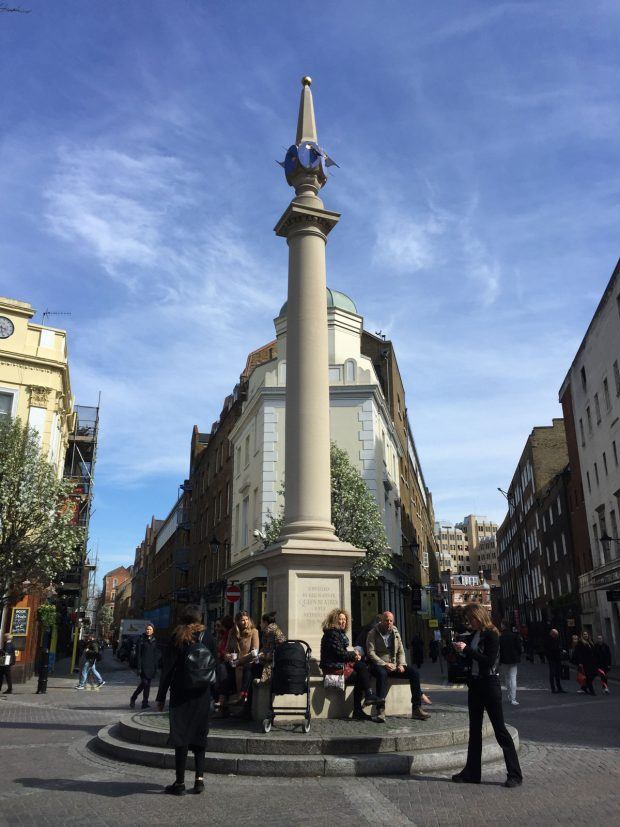 Besides the hundreds of shops, cafes, restaurants and bars of London's Seven Dials, there's plenty to see and do in the neighborhood as well. First off, the sundial at the intersection of the seven streets is a popular market and meeting point, with people sitting around it all day and night, often people buried under their shopping bags.
On Earlham Street, nearer to Cambridge Circus, you'll also find a daily street market with some pop-up food trucks and fashion vendors.
There are also five distinct theaters in the district, and Soho's West End is only a mere few blocks away with its countless other theaters. But the real attraction of Seven Dials is the hidden Neal's Yard—an alleyway between Monmouth Street and Shorts Garden street which is home to a handful of restaurants. Neal's Yard is a quaint and colorful area, hidden from street view and often missed by tourists—the perfect kind of secret hideaway.
Stay
The thing about central London is that many people simply pass through—afraid of the crowds and jam-packed London Underground. While you might find budget hotels in other areas, especially around the big train stations, staying in central London affords a lot of opportunities for more adventure.
First off, the area around Seven Dials is still one of London's best spots for nightlife. Besides the long-running gay nightlife options in Soho, there are plenty of great cocktail bars and late-night restaurants worth exploring.
One of London's most hipster hotels, The Hoxton, has a property right at Holborn—walking distance to Seven Dials and Soho. With trendy rooms, breakfast bags delivered to your door and one of London's coolest hotel bars, it's the perfect place to rest your head after a day out in London.
Get a complete guide to Seven Dials at sevendials.co.uk or read more London travel tips on Travels of Adam here.