Kicking off my hipster project, I stayed for a night in downtown Dallas at one of the city's many luxury hotels. The Joule is centrally located in the city of Dallas (it's right on Main Street!) and offers a number of amenities and luxuries to make just about any stay in Dallas a special one. Everything about the hotel is, to put it simply, cool.
I was first attracted to the hotel because of it's promise of a rooftop pool and bar. But when I arrived at the hotel, I was immediately impressed with the level of cool throughout the hotel. This was more than just another luxury hotel—this was an elegant surprise! Why would I describe a luxury hotel as hipster-cool? Well, if you visit The Joule, you'd quickly see for yourself…
10 reasons why The Joule is oh so cool
Valet parking is free if you drive a hybrid car. Or if you get the super nice guy who was there when I showed up!
There's a rooftop swimming pool.
Said rooftop swimming pool is actually bigger than the roof. It sticks out over the sidewalk below.
They've got a Twitter account (@thejoule)…and a blog!
The hotel offers a car service to anywhere within a 5-mile radius. Just provide a tip for the driver!
The Joule's rooftop bar will make anyone feel special on weekend nights.
Suite-style rooms come with a full martini set if you decide to shake your own cocktails.
Original artwork and photography throughout the Dallas, Texas hotel
The Dallas hotel is owned by Tim Headington, a Hollywood producer famous for films like Hugo and The Tourist.
The Joule is named after the international unit of energy—the joule!
**Bonus** There's a rooftop swimming pool!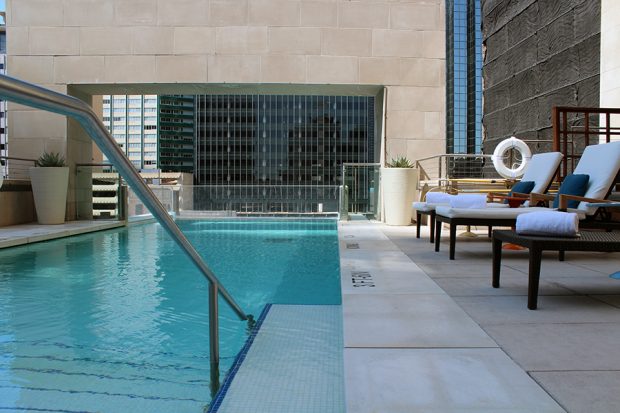 This hotel is über-cool. It's trendy, it's classy, it's fun and it's elegant. If you don't believe me, just look at these photos and see for yourself. The luxury hotel is in a renovated 1920s building but with a name like "The Joule", the hotel incorporates a lot of contemporary and modern design into each space. And if you visit in the Spring of next year, you'll have the chance to check out their $78 million renovation which includes a new spa, terrace and underground nightclub. Yes, an underground nightclub in the same hotel as a rooftop bar. The Joule is likely to remain the place to be from top to bottom!
The Joule luxury hotel in downtown Dallas
The Joule
1530 Main Street, Dallas, TX 75201
thejouledallas.com (a Starwood Preferred Guest hotel)
Disclosure: I was a guest of The Joule luxury Dallas hotel but all opinions on this travel blog are my own.