SPONSORED — I woke up early on a Thursday morning. It was cold in New York City, but I was on my way north to Quebec and knew it would be much more cold there. I grabbed my heaviest winter coat, my small suitcase, an extra pair of gloves, and headed out the door.
By noon, I was already in Montreal and boarding a direct bus to my resort. The sun was shining and it was cold out, but not too cold. Within 90 minutes, I was already at my hotel, the Fairmont Tremblant, and was looking forward to exploring the Pedestrian Village—a few meandering streets that make up the town at the foot of the mountain.
This was going to be my first weekend skiing. Though I've been to other ski resort towns and winter chalets, I just never really picked up the sport. I was too focused on the other activities! But this time, for this weekend in Tremblant, I was visiting during a gay ski weekend hosted by Elevation Gay Ski.
For the entire weekend, the town was taken over by guys from around the world. Everyone was wearing rainbow colors, and even the music that they played on the bunny slopes and at the base of the ski lifts seemed extra-queer for the weekend. It was mostly just a lot of fun pop music you usually hear at gay clubs!
Besides my morning ski lessons, I managed to take in quite a bit of Tremblant's tourist offers. Whether it was spending a snowy afternoon sitting in the outdoor spa, a lot of fine dining, or enjoying the town's nightlife (and extra-queer nightlife during Elevation Gay Ski!), I kept myself busy for the entire weekend.
Below: my recommendations on the best things to do and winter activities for a weekend in Tremblant.
8 Best Activities for a Winter Weekend in Tremblant, Quebec
---
1. Stroll & shop in the pedestrian village
The charm of Tremblant, besides the many activities and things to do, is in its pedestrian village. It's quaint and cute and charming—and sitting at the foot of Mont Tremblant, it's the best spot for leisurely exploration.
With no cars able to drive through the main village, it's easy to wander the village on your feet (even better with snow shoes). There's a large parking lot at the base of the village and a cable car (cabriolet) that takes you from the base of the mountain to the main area of the village, so you don't have to worry about climbing uphill too much.
The pedestrian village has a number of great shops for winter gear, clothing, and general food & drinks (great for those on longer stays who plan to cook in their holiday apartments).
2. Relax at the Fairmont Spa and roast marshmallows
At the base of the ski lifts and with ski in/out privileges, the Tremblant Fairmont Hotel and Spa offers one of the most luxurious spots in town with some of the best views over Tremblant and its pedestrian village.
An outdoor pool and spa literally sits at the base of one of the ski routes, and with several outdoor campfires, you can even grab a bag of marshmallows to roast from the hotel.
3. Enjoy a lively afternoon lunch at La Forge
In the main center of town, La Forge is right at the heart of Tremblant's life and culture. Visit on a weekend afternoon and you'll find it crowded with skiers and snow boarders enjoying a hearty lunch between breaks.
The cozy but upscale restaurant sits in a former ski shop with windows right out to the ski lift, so you can keep an eye out for long lines. A large central bar area is great for socializing with other visitors. And an impressive menu of decadent foods like truffle fries, duck wings, and wagyu steaks makes it a great restaurant for a group of friends or a romantic date.
4. Take in the view from the top of the mountain
On a sunny, cloudless morning, the view from the top of Mont Tremblant is pretty fantastic. There's a restaurant at the top of the mountain as well, so even if you're not skiing, it's possible to visit the top of the mountain for the views. Just ride up the panoramic gondola (Télécabine Express) with your skis or other equipment (snowboard, snowshoes) and take in the views from the top before you head down.
5. Treat yourself to dinner by the fireside
After any long day of winter sports, the apres-ski tradition is a great way to unwind. But even better is to take a leisurely dinner by the fireside in a cozy restaurant.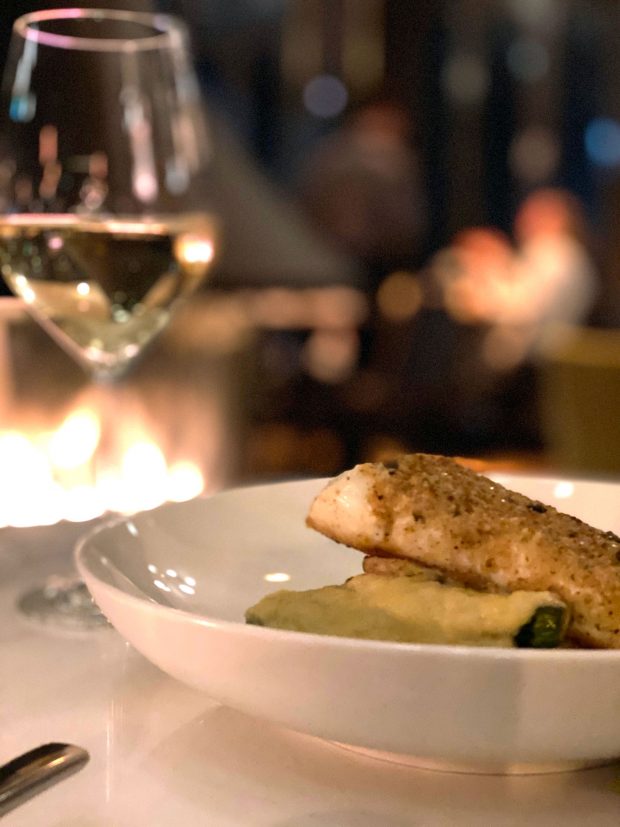 Tremblant has a pretty impressive dining and restaurant scene that caters to all sorts of cuisine, and most restaurants offer something for everyone. And like most mountain villages, the fireside is often the best spot in every bar, restaurant, and lounge! Inside the Fairmont Tremblant, the restaurant Choux Gras Brasserie offers great evening views over the foot of the mountain, and with a cozy fireplace! And great French-Canadian cuisine, too!
6. Spend a night out at the Tremblant Casino
The Tremblant Casino and lodge sits a little further out of town from the pedestrian village, but is accessible every evening with a free shuttle that runs every half hour. At the casino, you'll find standard casino table games like blackjack and poker, as well as a selection of slot machines. You can even reach the casino from the ski slopes if interested!
The in-house restaurant, Altitude, serves a small but excellent menu of seasonal meats and vegetables. The bar and restaurant is a perfect spot and offers a great mountain view from the floor-to-ceiling windows.
The Tremblant Casino also regularly hosts events and live shows, so check the casino website to time a visit with something fun happening on the property.
7. Take in Tremblant's legendary nightlife
Sure, Tremblant is popular for its great skiing and snowboarding options, and its charming village, but the resort town is equally famous for its crazy nightlife. Late-night bars and clubs attract crowds every night, especially on the weekends.
And the convenience of hotels walking distance from the main drag of bars makes it easy and safe to have a wild night out of drinking and dancing.
8. Go skiing (or snowboarding), of course
Mont Tremblant, while a year-round holiday destination, is most popular in the winter for its incredible skiing and snowboarding opportunities. As a first-time skier myself, I found the mountain very comfortable. The guides and lessons available from the Tremblant Resort Association made it possible for me to go to the very top of the mountain with just about 2 hours of lessons under my belt!
More experienced skiers and snowboarders will find lots of courses available for every skill level, and the scenery along the way is top-notch. There are also lots of other winter activities in Tremblant, so there's no shortage of things to see and do.
[box]
Tremblant Travel Basics – What You Need to Know
Getting to Tremblant
Tremblant is only 90 minutes from Montreal, and from the Montreal Airport it's possible to take a direct bus which will drop you off at your hotel resort. The bus runs various schedules depending upon the season, usually convenient with the most airport transfers. Check the Skyport website for current schedules and to book a ticket in advance (recommended).
Where to Stay in Tremblant
Because the resort village of Tremblant caters to many tourists and weekend visitors (especially in the winter tourist season), there are a number of hotels. I stayed at the Fairmont Tremblant, which is the closest hotel to the ski slopes and offers a ski-in, ski-out entrance.
The Fairmont Tremblant also has several bars and restaurants on-site, as well as offering winter equipment rentals. Check the Fairmont Tremblant website for current rates and more information.
Tremblant Restaurants
The Pedestrian Village of Tremblant is very walkable and offers a number of different dining options of varying cuisines. There are a few standout options, though:
La Forge Bistro Bar & Pub — One of Tremblant's best restaurants serving upscale comfort food like wagyu steaks & burgers, truffle fries, and their famous duck wings. Very popular during weekends, especially because of its proximity to the ski lifts and slopes.
Choux Gras — Fine dining restaurant located in the Fairmont Tremblant with beautiful, picturesque views (if you're not seated by the fireplace). Quebec classics like French Onion Soup are great, as well as their cocktails.
Restaurant Altitude — Located inside the Casino de Mont-Tremblant (accessible via a shuttle from the pedestrian village, or direct over the mountain if you're skiing/snow-boarding), Restaurant Altitude offers a limited menu of seasonal meats & vegetables—of the highest caliber. Don't miss out on their decadent deserts, either.
Ôwok Mont-Tremblant — A small Asian restaurant serving staples like Pad Thai and curries; most popular with their lunch specials and poke bowls. Food flavors are standard but it's high-protein and very big portions, often a great stop for something light but hearty during the day.
Tremblant Activities & Things To Do
Whether it's a gay ski weekend, or other international events and festivals hosted in the town, check the official Tremblant.ca website for a listing of all upcoming events and activities.
[/box]
Note: My trip to Tremblant was sponsored by the Tremblant Resort Association. Discover more about Tremblant, including recommended hotel resorts, activities, and even deals & packages on the Tremblant.ca website.