Tel Aviv isn't just one of the most exciting cities of the Middle East, it's one of the world's most vibrant, sexiest cities. The city has been named one of the top two cities of the world for tech start-ups, with offices for some of the world's hottest start-ups and tech giants like Google, Waze, Wix, SimilarWeb and many, many more. Basically competing with San Francisco's Silicon Valley.
I'm not sure which came first: the city's culture for connectivity or the start-up scene, but no matter. Tel Aviv makes it easy to visit with a number of useful apps great for tourists, especially those first-time visitors. Here's what I packed onto my iPhone before arriving in TLV…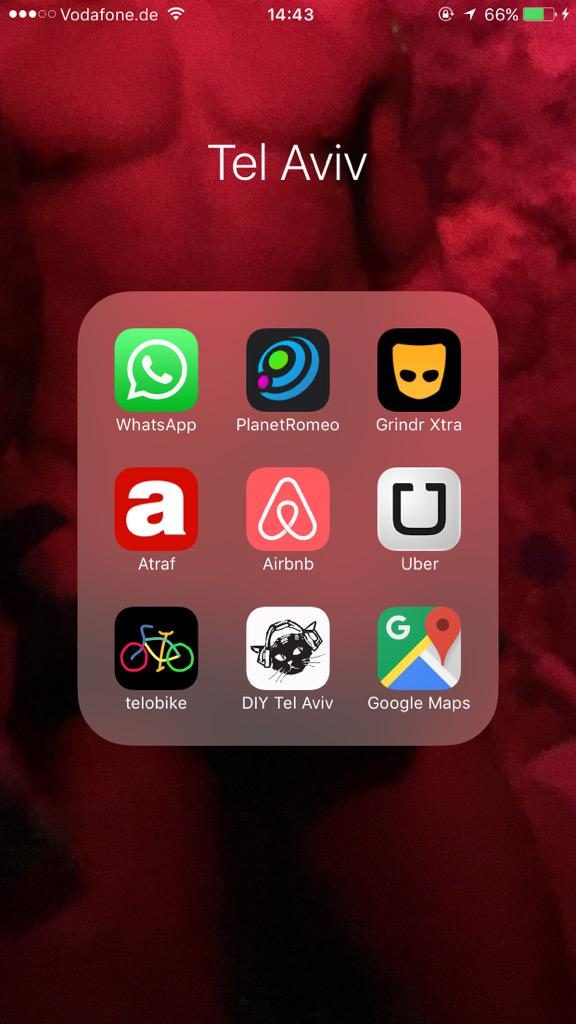 Top 10 Travel Apps for Tel Aviv
1. WhatsApp
Without question, this is the most popular app in Tel Aviv. Everyone in Israel seems to use WhatsApp for communication. Locals seem to send/receive hundreds of messages a day, to different groups (whether family, friends or co-workers) and no one is off of the app for very long at a time. You'll find most locals comfortable to give out their phone numbers and that's almost exclusively for the purposes of connecting on WhatsApp.
Get the WhatsApp app on Google Play or the App Store.
2. Atraf
Almost exclusively used by gay gays, this app (maybe you'd like to call it a "hookup app") is hugely popular in Tel Aviv among the gay community. They also claim to be useful for bi and straight people, but in my experience it seemed to be a gay thing. The app works similarly to other hookup apps: think headless torsos and a messenger feature where you can send private photos. The app works smoothly but requires a premium purchase for additional features and to view more profiles in a day. (Worth it, in my opinion.)
The app also has a helpful website and within the app you'll find event listings for gay club nights–plus the ability to purchase tickets for some clubs in advance (at a discount, even). There are two versions of the app: Atraf (for gay men) and Atraf girls (for lesbians).
Get the Atraf app on Google Play (for gay men; for lesbians) or the App Store (for gay men; for lesbians).
3. Grindr
The ubiquitous gay guy app—Grindr works in Tel Aviv like in most other cities around the world. Headless torsos, slutty direct messages and a whole lot of inane conversations. But, due to the overwhelming friendliness of many Tel Avivians (this is a very tourist-friendly city), the app is a great way to connect, and dare I say: hook-up. You'll even find many Tel Avivians happy to recommend things to do while visiting: whether it's recommended beaches or specific gay club nights that might normally be more difficult to find.
Get the Grindr app on Google Play or the App Store.
4. Airbnb
Accommodation in Tel Aviv is famously expensive, but Airbnb makes it much easier to find more affordable places to stay. I ended up in a 30€/night room in Florentin on my most recent trip to Tel Aviv—a real bargain! Many hostels in Tel Aviv charge just as much for a bed in a shared dormitory, so if you're looking to do Tel Aviv on the cheap, definitely give Airbnb a try. Look for places in the outskirts from the city center–around Kikar Rabin in the north or Florentin in the south.
Get the Airbnb app on Google Play or the App Store. Use this link to get $25 off your first booking!
5. Telobike
Even if everyone in Tel Aviv seems to be glued to their phones all day long, people do seem to go out and enjoy bits of digital detoxes. There's a thriving bike culture in the city, and Tel Aviv has a bike-sharing program called Tel-O-Fun that's popular with locals and tourists. The rental stations are located all over the city and have on-screen instructions in English, German and other languages—making it simple and easy to use. The Telobike app also shows you which stations are nearest to you using GPS, plus will let you know how many bikes are currently docked at each station, so you know where to go to drop off or pick up a bike.
Bike rentals cost just 17 shekels per day (approx €4) or 23 shekels on shabbat & holidays (Friday afternoons to Saturday night). With the daily rental fee, you can use the bike for 30 minutes at a time — each ride over 30 minutes incurs a small fine. You can also rent for an entire week at just 70 shekels. It's definitely one of the cheapest ways to get around and the bikes are available 24/7.
Get the Telobike app on Microsoft or the App Store.
6. Uber
Maybe not as useful as in other cities, the Uber app can be useful for getting a taxi in Tel Aviv. Keep in mind that public transportation in Israel shuts down during shabbat and Jewish holidays, so sometimes taxis are the only way to get around. Uber makes finding a taxi abroad much easier. Simply log in through the app and you can hail a ride from just about anywhere in Tel Aviv.
Get the Uber app on Google Play or the App Store.
7. DIY Tel Aviv
My go-to source for all things to do & see in Tel Aviv, the DIY Tel Aviv app provides a listing of events, club nights and other things to do. For those traveling Tel Aviv on a budget, the app also has a special listing of free events. It's regularly updated and goes along well with the travel guide available on the same website. Download the app before you visit to make sure you know about specific clubs and parties—it's one of the best ways to discover the city.
Get the DIY Tel Aviv app on Google Play or the App Store.
8. Planet Romeo
Another gay dating app (read: hook-up app), Planet Romeo has a useful and easy-to-use interface. While there is a free version available no matter where in the world, the app offers their pro version for free when you're in certain destinations, including Israel and much of the Middle East.
Ge the Planet Romeo app on Google Play or the App Store.
9. Google Maps
One of the best travel apps no matter the destination, Google Maps makes getting around a new & foreign place infinitely easier. My favorite way to prepare for a trip is to search in Google Maps for all the bars, restaurants and shops I plan to hit up on a trip. I then favorite them all in the map (whether on the desktop version or the app—as long as you're logged in, it'll show up everywhere). This makes it easy to find when I'm out and about in a new city. Because the Google Maps app works even when off wireless or data, it's useful at all times.
Get the Google Maps app on Google Play or the App Store.
10. Tel Aviv Gay Vibe
Another gay travel app, this one is actually produced by the official city tourism office. It offers a calendar listing of all the LGBTQ events, parties and clubs taking place in Tel Aviv. It's one of the most up-to-date sources for anything and everything "gay" in Tel Aviv. Plus it's free!
Get the Tel Aviv Gay Vibe app on the App Store.
* * *
Note: Tel Aviv also offers free wifi throughout the city (more info here). The connection works fairly well, though in some areas it can be spotty. It even works on the beach in much of the city center! In fact, most cafés and restaurants in Tel Aviv have free wifi as well—the password is usually some sort of combination of 8 digits, sometimes just 12345678 :)
For more about Tel Aviv, check out the website Go Israel where you'll find exclusive discounts and deals.