My third week of daily German courses went as fast (if not faster) than the second week, though I feel I learned much less than at the beginning. The first two weeks, it seems, I learned new words and ways to form sentences just about every day. We continued to learn new words in the third week, but we also focused more on grammar and word order. Which, if you know any German, can be a challenge.
The other challenge since starting my German course at the did deutsch-institut has been practicing what I learn outside of class. Though I've got plenty of friends around who speak varying levels of German (or, yes, are even native speakers!), I just don't always have the motivation to practice. The biggest problem I've noticed, is when I tell strangers or acquaintances—"Oh, I'm learning German!"—and their immediate response often goes like this:
Dasisttoll.WielangehabenSieschonstudiert?WelcheWortekennenSie?MögenSieDeutschlernen?Wassollmansagen?SagenSieetwasschnell?HEYetwassagen!!!!
I'm not sure if it's a distinctly German thing to blurt out VERY quickly a bunch of German words when you learn someone is a new learner, or if it's just something douchebags do. I want to speak German with strangers, yes, but when I tell people I'm trying, there's no need for you to blurt out words I will obviously not know and to do so quickly, in a hard-to-follow way. Speak softly and slowly and I'll be able to follow along. Fast and difficult words only discourage me. When you're at the beginning stage of a new language, I find it hard to speak with strangers if they make it difficult. Grocery stores are a great place to practice, though, because no one seems to move fast in a German grocery store—either when speaking or going through the check-out lines.
Highlights from week 3 of learning German:
Here are some selected posts from my third week of a German language course at the did deutsch-institut. Obviously we learned much more than this, but I was a bit slow to upload highlights to myberlinstory.com. Check out my Berlin blog to get all the juicy details on what I've been up to :)
Being late to class & learning a German proverb
One day I was about a half hour late to class and had to think quickly to come up with an excuse! Luckily my professor that day was kind and enlightened the class with a proverb
Writing my own story in Deutsch
One of my favorite parts of my German course so far has been taking dictations. This time, though, we had to write our own story based on the vocabulary and sentences we already knew. Here's a brief preview of what I had to say about myself.
Learning how to ask directions in a grocery store
I've already said how much I like practicing my German in grocery stores. Here's my quick update on some of the things we learned regarding asking questions and receiving answers in a shop.
Other highlights from my week in Berlin
Berlin, as always, was a lot of fun. Here's what I was up to the same week I spent fretting about German grammar.
Gin and Gingerbread at the ArtStars*/Visit Berlin holiday party
Cupcakes and coffee in Friedrichshain. I've liked Cupcake Berlin for a while now. They've got USA products and some of Berlin's best cupcakes.
The snow I wrote about the week before mostly melted, but it took a bit of time to completely disappear. One morning on the way to my German course I spotted this graffiti in the snow. Alles gute! All is good!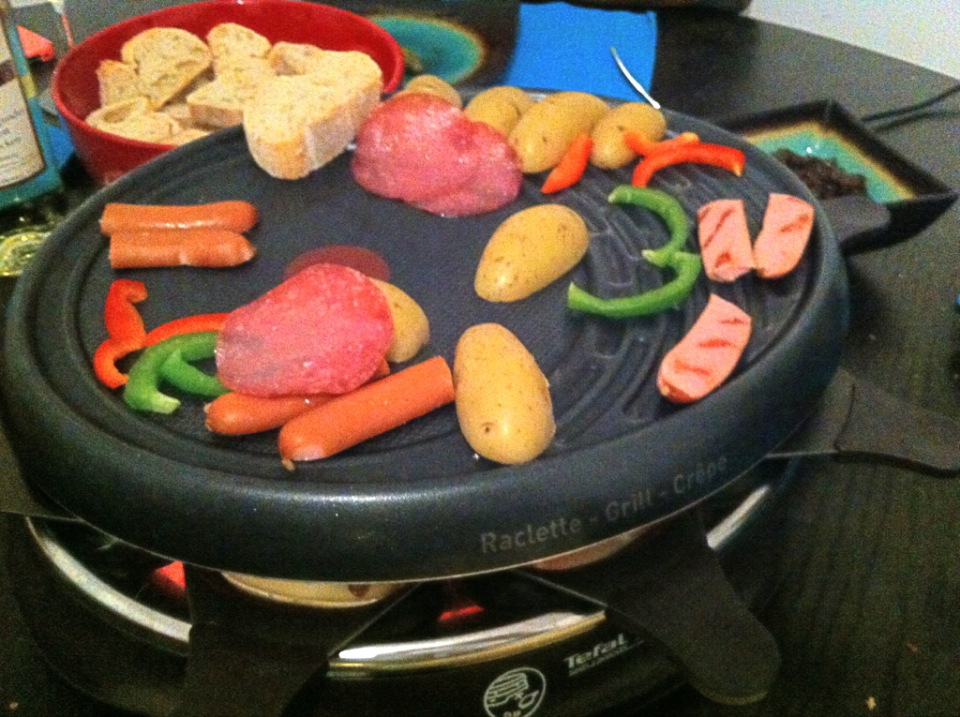 My weekend started with raclette with my friend Nicole (@NicoleNewBlack). Good thing, because apparently it's a Christmas tradition in a lot of Europe. I'm having raclette again next week even!
Saturday night included a birthday party at the hip cocktail bar, John Muir, and late-night roasted chicken at the famous Hühnerhaus 36 in Kreuzberg. (Not pictured—it was messy)
My weekend ended with yet another visit to a Berlin Christmas market. This time, the Gendarmenmarkt Weihnachtsmarkt (Berlin's prettiest IMHO) with @fotoeins from fotoeins.com
Stay tuned for my final review about my German language course next week! Got any language learning tips? Share them below—please! I need all the help I can get.