Welcome to Williamsburg, Brooklyn—a vibrant and eclectic neighborhood that has become synonymous with art, culture, and cutting-edge creativity. It's where I call home (though I live on the edge in East Williamsburg) and it's always been my favorite part of not just Brooklyn, but of all of New York City.
Situated along the East River and anchored by the iconic Williamsburg Bridge, this vibrant enclave is a must-visit for travelers seeking a taste of Brooklyn's unique charm. Join me on a journey through Williamsburg as we uncover its creative spirit, eclectic shops, and the captivating presence of the Williamsburg Bridge.
How to Spend a Day in Williamsburg Like a Brooklyn Hipster
In the Morning: Williamsburg Bridge Views and Brunch Delights
Start your day by embracing the breathtaking views of the Williamsburg Bridge. Head to Domino Park, a beautiful waterfront park that offers unobstructed vistas of the bridge, Manhattan's skyline, and the bustling East River. Take a leisurely stroll along the promenade, capturing Instagram-worthy shots of the bridge's architectural marvel.
Once you've worked up an appetite, indulge in a delectable brunch experience at one of Williamsburg's trendy eateries. Café Mogador is a local favorite of mine, serving up Mediterranean-inspired dishes in a vibrant setting.
Enjoy their signature Moroccan Eggs or their famous brunch mezze platter while sipping on a refreshing mimosa or specialty coffee. It's right on Wythe Avenue which is also one of my favorite streets just to wander down.
In the Mid-Morning: Artistic Exploration and Vintage Treasures
After brunch, immerse yourself in Williamsburg's artistic scene. Venture into the heart of Williamsburg's vintage and independent boutique scene. Bedford Avenue is home to a plethora of carefully curated shops, housing everything from retro clothing and vinyl records to handmade jewelry and quirky collectibles.
Take your time to browse through beloved shops like Monk Vintage (cute thrift shop where I often find good tops) or Artists & Fleas (best to visit on weekends, though), where you can uncover hidden gems and support local artisans.
In the Afternoon: Culinary Delights and Riverside Retreats
As the day progresses, satisfy your taste buds with the neighborhood's diverse culinary offerings. Williamsburg is a food lover's paradise, boasting an array of international cuisines and innovative dining concepts. For a mouthwatering slice of pizza, head to Roberta's Williamsburg, a renowned pizzeria that has become a local institution.
Also riverside is Sea Wolf Williamsburg—a delicious seafood restaurant I've celebrated more than a handful of special occasions at. It's less crowded during lunch so can make for a nice upscale afternoon meal.
After lunch, embark on a leisurely bike ride or stroll along the East River waterfront. The revitalized Williamsburg waterfront offers scenic running paths (popular for those out on a run or exercising in Williamsburg), picturesque parks, and stunning views of Manhattan.
Find a peaceful spot to relax, read a book, or simply soak in the tranquil ambiance before continuing your exploration.
In the Evening: Music, Mixology, and Rooftop Vibes
As the sun sets, Williamsburg comes alive with its vibrant nightlife. Indulge in the neighborhood's rich music scene by catching a live performance at one of its iconic venues like Music Hall of Williamsburg or Brooklyn Steel further out in East Williamsburg. Whether you're into indie rock, jazz, or electronic beats, you'll find a venue that suits your musical preferences.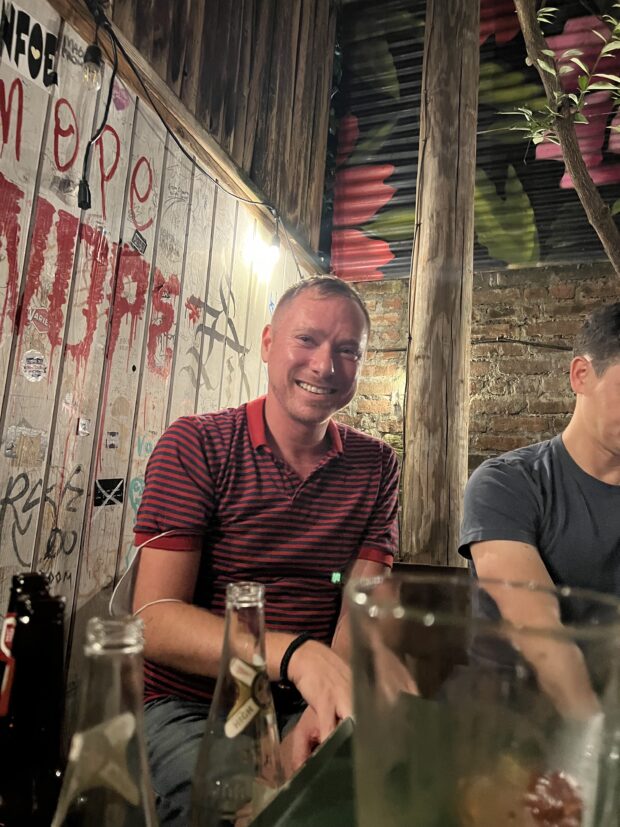 To cap off your day, head to one of Williamsburg's rooftop bars. The William Vale (my personal favorite Brooklyn rooftop) boasts stunning panoramic views of the city skyline, complete with craft cocktails and a sophisticated ambiance. Sip on a handcrafted drink, mingle with locals and fellow travelers, and raise a glass to a memorable day in Williamsburg.
The Moxy Williamsburg hotel also just opened a new rooftop patio bar, LilliStar, with food, drinks and views of the Williamsburg Bridge
---
Williamsburg, Brooklyn, offers a captivating blend of creativity, culture, and history, anchored by the iconic Williamsburg Bridge. From stunning bridge views and artistic exploration to culinary delights and vibrant nightlife, this dynamic neighborhood has something for everyone.
Embrace the spirit of Williamsburg and immerse yourself in its vibrant energy—it's an experience you won't soon forget and even if it's less hipster than it used to be, it's still my favorite part of NYC.