I went to Amsterdam and didn't get high.
I know, I know. I can hardly believe it myself. The thing is: the city that offers up sex, drugs and a healthy bit of "crazy" to so many of its tourists, also has museums, culture, high quality restaurants and history. Who would've thought?!
It seems that Amsterdam has this affect on tourists. It's the type of city that you really need to visit more than once—and maybe at different points in your own life. Cities change over time, but so do people. And as tourists, visiting a city at different points in your life gives you the ability to experience the city in different ways each time.
There's no better or worse way, of course. The how, why and where we travel is a personal decision and when we decide to visit a place has as much to do with who we are as it does with travel deals and discounts.
So, when earlier this month, I was invited for a sneak preview of the popular Late Rembrandt exhibition (February 12-May 17, 2015) at Amsterdam's Rijksmuseum, I was more than curious to see a different side to the city than on my previous two visits.
Looking for Culture in Amsterdam
"Culture" is one of those vague words we use to describe the ambiance, the history, the experience and even the people of a city or of a place. Many cities have many different types of cultures – thanks to diverse populations with diverse passions.
In Amsterdam, there seem to be any number of cultures. But what I'm referring to here is one that's a bit more historical, more artistic. More so than that famous "coffee shop culture."
There are over 50 museums in Amsterdam—that's more than most European cities of similar sizes. The city's most impressive historical museum, celebrating Dutch art, is the Rijksmuseum. If you're not as much a fan of museums as myself, you might know it as the big building behind the giant iAmsterdam letters at Vondelpark.
But inside the newly renovated building, you'll find a huge collection of Dutch masterpieces—one of the largest in the world. Museum entry isn't free but for 17.50€ it's a pretty fantastic way to spend an afternoon. Especially if the weather in Amsterdam isn't fully cooperative. (And let's be honest here—this is northern Europe. The weather won't always be perfect.)
Perhaps the most famous of the Dutch masterpieces is 'The Night Watch' (Nachtwacht) by Rembrandt. It hangs in a first floor gallery of the museum with a constant crowd of people around it. The experience in that room reminded me a lot of seeing Picasso's Guernica at the Reina Sofia Museum in Madrid. Lots of crowds, lots of sneaky photos being taken and lots of people sitting and standing in awe.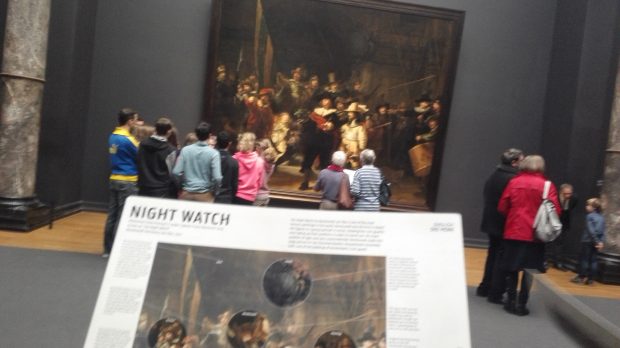 Rembrandt in Amsterdam
Probably Amsterdam's most famous resident, Rembrandt lived in 17th century Amsterdam during the Dutch Golden Age. His comprehensive set of artworks offer a glimpse into Dutch history throughout a transformative period of European history.
And the Late Rembrandt exhibition currently on in Amsterdam shows off his typically emotive style. There's a lightness to these late Rembrandt works (in the brushstrokes and the style), but also a darkness. Symbolic of the Dutch Golden Age itself, when the Netherlands was seemingly at the peak of its game in science, in art, in commerce. Seventeenth century Netherlands was a hotbed of new ideas and money. Many of Rembrandt's late works offer a glimpse into this society.
The exhibition space, located in a new wing of the museum, allows for just the right amount of atmosphere you'd expect for Rembrandt. The open spaces aren't crowded with works, but evenly spaced. A digital audio guide (available for 5€, or else you can download the app for free to your own phone) directs you from painting to painting, room to room—telling a selective story of Rembrandt and his artwork.
Where to Find Rembrandt in Amsterdam
Amsterdam is a small city but that doesn't mean there isn't much to see. And for art fans, Amsterdam certainly delivers. If you're looking for Rembrandt, though, there are few highlights you just can't miss.
Rijksmuseum
A large and impressive museum, the Rijksmuseum rightfully dominates the art & culture scene in Amsterdam. With permanent exhibitions showcasing the best of Dutch fine art—from Rembrandt and Vermeer to Van Gogh—the museum has a bit of everything. There are even some unique, historical artifacts from the World War II era on display.
Learn more about the Rijksmuseum: rijksmuseum.nl
Rembrandt House
The Rembrandthuis is the house where Rembrandt lived for nearly 20 years. I've visited other artists' and writers' homes in other cities before, but this one in Amsterdam tops the list. The space is well restored and surprisingly interesting.
Listen, I know what you're thinking. The home where an artist lived — meh. But, seriously, it was an interesting and well-done museum. I particularly enjoyed a room where Rembrandt collected strange and unusual objects from around the world. It seems he was a bit of a curiosity connoisseur always looking for different things.
Entrance is 12.50€ or free with an iAmsterdam City Card. Learn more about the Rembrandt House: rembrandthuis.nl
Hermitage Amsterdam
Amsterdam's Hermitage Museum regularly showcases Dutch masterpieces. Through the next year, the museum currently has on exhibition a Portrait Gallery of the Golden Age — an impressive collection of typical Dutch portraits from the 17th century.
In one large room, over thirty group portraits tower over you, the visitor, offering a strange glimpse into Dutch Golden Age society. Many of the works might resemble Rembrandt's famous Night Watch but these aren't Rembrandts. Still, the exhibition has an interesting take on society—applying some of the ideas and philosophy of the 17th century to the way society works today.
Entrance is 15€ or free with an iAmsterdam City Card. Learn more about the Hermitage Amsterdam: hermitage.nl
Amsterdam's Royal Palace
Who knew?! But the Netherlands has a royal family! (Sorry, I'm American and our royalty is only of the self-made, entrepreneurial and super-wealthy kind.) Regardless, Amsterdam's Royal Palace is open for visitors most of the time, but closed when the royalty is in town.
The building was originally constructed during the Dutch Golden Age as the city's town hall. I guess since then the building has passed through more than a few hands (including Napoleon) and has gone from a building for the people to, well, basically a museum. Rembrandt had one famous work, Claudius Civilis, commissioned for the town hall way back when, but today the work is visible as a projection (the original has been cut down in size and moves around on exhibition).
Entrance to the Royal Palace is 10€. Learn more: paleisamsterdam.nl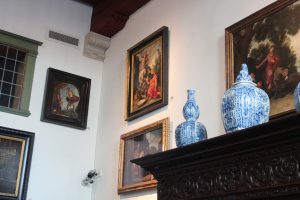 What you need to know
The Rijksmuseum is open 365 days a year, even on Christmas and New Year's, from 9:00 to 17:00 daily. Entrance is 17.50€, or 25€ including the Late Rembrandt exhibition. The exhibition is currently on until May 17th. More information about the museum can be found here.
On my weekend trip to Amsterdam, I stayed at the Radisson Blu. The hotel is centrally located within walking distance to the Centraal Station, the Rijksmuseum and the gay neighborhood. Rates for the hotel are upwards from 175€ night on a weekend. Try Booking.com for good rates.
I was invited to Amsterdam for this trip by the city's official tourism organization. Their website offers up an incredible amount of tips and tricks to make your Amsterdam holiday easier. Visit the website here: iamsterdam.com
View more travel stories & photos from Amsterdam here on travelsofadam.com.