October in New York City offers a variety of romantic and fun date ideas, taking advantage of the beautiful fall weather and the city's seasonal attractions. Fall in NYC is my absolute favorite season—the changing weather, it's cuffing season, and the changing colors of the leaves make the city especially picturesque.
Everyone has an opinion on the best month for dating, but in NYC, there's no question: it's when the air turns crisp and cool, but when the sun still shines. Yes, the sun sets a little earlier and you've got to dig out your sweaters and fall jackets, but that's just even more reason to be looking for love.
I've been giving my dating apps a serious workout this autumn and
15 Date Ideas for Autumn in NYC
The Fall season is really special and the city really comes alive during October and November during cuffing season. I've done all or part of these date ideas each fall in NYC when I've been single.
1. Take a Stroll in Central Park
Take a leisurely walk through Central Park to enjoy the stunning fall foliage. You can also rent a rowboat on the Central Park Lake for a charming and intimate experience.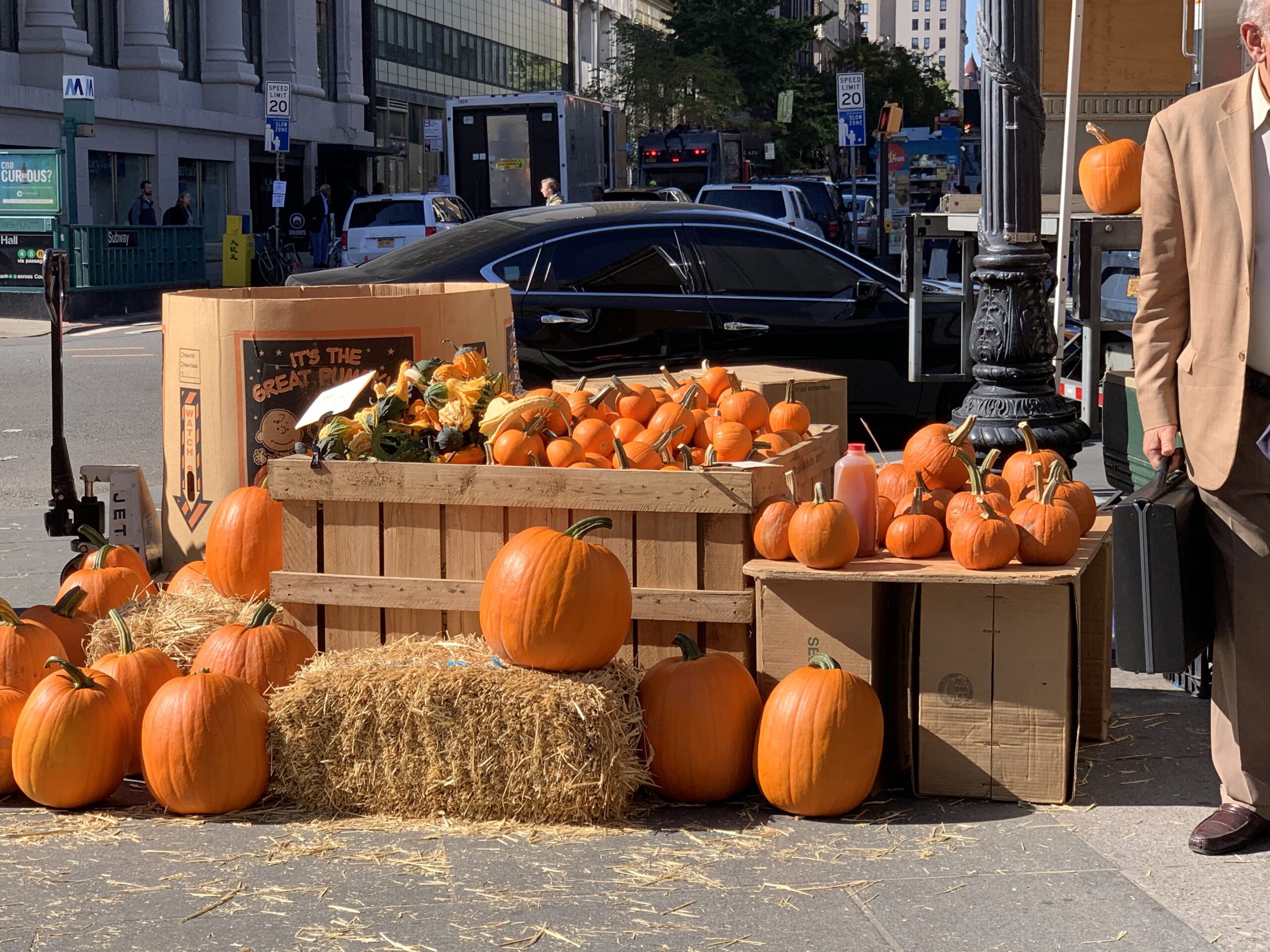 2. Visit a Pumpkin Patch
Head to a nearby pumpkin patch or farmers' market to pick out pumpkins for carving. You can then have a pumpkin-carving contest at home or enjoy cider and doughnuts at the patch.
In Williamsburg, a great date idea would be to visit Greg's Great Pumpkin Patch in Domino Park. They're open throughout the Halloween season and it's a cute spot to wander along the East River.
3. Visit a Haunted House
Explore one of NYC's haunted houses or spooky attractions, such as Blood Manor or the Halloween Haunted House at the Bronx Zoo. I went to Blood Manor last year with a group of friends and it was a lot of fun
4. Cruise up the Hudson River
Take a scenic cruise along the Hudson River to enjoy the changing colors of the leaves. Many companies offer special fall foliage cruises during October.
5. Celebrate Oktoberfest
Enjoy the Oktoberfest festivities at one of the city's beer gardens or breweries. You can savor traditional German food and beer together.
6. Art Gallery Tour
Explore the city's many art galleries and museums. Check out the latest exhibitions, and discuss your favorite pieces over a coffee or dinner afterward.
7. Go Apple Picking on Long Island
Take a day trip to one of the nearby apple orchards, such as Applewood Orchards or Masker Orchards, for apple picking and cider tasting.
8. See a Broadway Show
Catch a Broadway show or a theater performance. October is a great time to enjoy the theater scene in NYC because you might not have a bulky jacket if visiting NYC in winter where you have to deal with coat check, and the air conditioning inside is completely bearable with a sweater and light jacket as opposed to during a NYC summer.
The new Broadway show, Here Lies Love, is a great autumn option for a date because if you get a ground floor seat, you're actually a part of the performance in a small way. With music from Fatboy Slim, the ground floor seats are actually standing room only and you have to move with the music.
9. Get Drunk at a Rooftop Bar (with a View)
Visit a rooftop bar with views of the city's skyline and fall foliage. Sip on cocktails and enjoy the beautiful scenery together during a sweet sunset date. There are so many rooftop bars in Manhattan, but if you're looking for one of the trendiest at the moment, Monarch Rooftop has a cool view of the Empire State Building.
10. Go on a Spooky Ghost Tour
For a seasonal date in October, take a spooky ghost tour of the city. In a city as big and historical as NYC, you're sure to encounter haunted places where you can learn about the haunted history of various neighborhoods.
In Greenpoint, if you want a ghost tour at your own pace, you can follow along the audio ghost tour The Lady in Greenpoint for a suggested donation of $10. It's a self-guided tour so kind of great for a one-on-one date during Twilight, and you can end with a late-night walk through McCaren Park.
11. Go for a Stroll in the Brooklyn Botanic Garden
Flowers and gardens are always an important part of dating, so a visit to the botanical garden is a great option. Plus, if you visit the Brooklyn Botanic Garden in the fall, you can see the Japanese Garden's fall foliage which is pretty incredible this time of year.
12. Bike Ride along the Hudson River
Rent bikes and ride along the Hudson River Greenway, enjoying the crisp fall air and scenic views of the river. Even just getting a Citibike and biking down a stretch oft he West Side Highway is a perfect date option.
13. Take a Day Trip to a Winery
Take a short day trip to a winery in the Hudson Valley or Long Island for wine tasting and a picturesque day out of the city. You can stop and see one of the waterfalls (Caterskills is especially nice in the winter) and take a short hike on the day trip, too.
14. Food Festival
Check out one of the food festivals happening in the city during October, like the New York City Wine & Food Festival.
15. Go Halloween Costume Shopping
Spend a fun afternoon shopping for or creating Halloween costumes together. You can get creative and make your own unique outfits.
---
Remember to check for any seasonal events, festivals, or exhibits happening in NYC during October, as the city is always bustling with exciting activities to enjoy with your date.