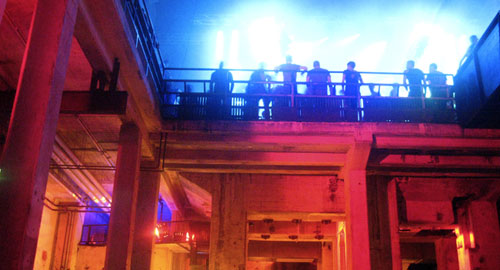 A few weekends ago, on just a typical Saturday night out in Berlin, I decided to take a few steps into the unknown. My night out started normal enough with a party at a friend's apartment in Friedrichshain. The party music streamed through 8tracks, wine, cheap beer & food (including some delicious hummus).
It was nearly 2 a.m. before we headed out to our first club for the night. Walking down Revaler Strasse (the best street for clubbing in Friedrichshain), I ended up at one club with some friends. A little more than an hour later, motivated by my desire to have a proper night out without any obstacles, I went out into the night alone.
First stop was an indie dance club where I knew I could hear some music to bring up my spirits and get me pumped up for a long night of dancing. Alone in a club? Not a problem so long as I have good music.
I didn't have a problem with the idea of going clubbing alone. While sometimes all you need is good company for a good night out, other times it's nice to just go out for the atmosphere or music. And if the two don't go hand-in-hand, then sometimes you just have to go it alone.
So when my night out with my friends seemed to be on the verge of dying, I went on. Alone. Partly motivated by my friend Alex, I decided to make my way to Berghain.
What's Berghain?
Notorious in Berlin, and certainly in the techno music scene, the Berghain nightclub has been called by many the best club in the world. Located in a former power station, it's basically this giant warehouse full of half-naked men. (That's not entirely an exaggeration.)
I've heard it called a gay club, a gay-straight club (whatever that is) or just the best club in the world, whether gay or straight. The door policy for getting in is practically legendary. It's not exactly your typical hipster Berlin club, but something of it's own league.
The people who visit the club each weekend are here for one thing: to have fun. And that's why I fell in love with the nightclub.
First time at Berghain
Berghain has two dance floors: Berghain on the main level and Panoramabar on the second. The bar/nightclub on the second level, Panoramabar, has these giant windows to the outside.
Considering that I didn't enter the club until 6 a.m., light was peeking through the window shutters inside as the sun was rising outside. At one point, the music playing in Panorama synched with the window shades as the windows slowly opened; then quickly shut. Everyone dancing the whole while, light streaming onto the dance floor in a flash. Incredible.
There are two types of people in the world—those that go to Berghain and those that don't. (Okay, that's definitely an exaggeration.) Because of the nightclub's reputation ("gay", "popular", "overrated", "expensive") some may be turned off from visiting.
But in all honesty, it's an incredible place. The atmosphere inside Berghain is tough to describe without extravagant superlatives: incredible, amazing, etc., but I'll try to give you a sense of what it's like inside:
The music inside Berghain/Panorama is loud, but with a sound system regarded as one of Berlin's best, the music doesn't hurt your ears. Honestly.
It's not strictly a gay club though there are definitely a lot of gay guys there (and many of them shirtless).
Inside, there's a palpable sense that the people inside Berghain are just there to have fun and to dance.
Because it's common to go alone or in a pair (many more than that and you might not get past the door), most people don't know each other. Luckily Berghain's reputation almost guarantees that most Berliners will try to make it in at some point over the weekend. For me, I ended up running into a co-worker on the dance floor. (Though I'll admit I didn't recognize him without his shirt.)
(short soundclip from the Berghain dancefloor…)
Sunday morning at Berghain by travelsofadam
Planning to visit Berlin? If you like to dance, visit the Berghain nightclub. You won't be disappointed. And if you don't get past the door, don't worry too much. It just might not be your night. Luckily, Berlin has a lot of other offers for a fun night out—from dancing in u-bahn stations to club-hopping around the city.
I waited in line 45 minutes to get inside Berghain. Alone. I also don't speak a word of German but was surprisingly not nervous when I showed up at the incredibly intimidating door. With a wave of the hand, I was in. (and 14 € for the stamp)
My friends over at überlin.eu have a nice little description of what it's like inside Berghain, too! Be sure to check out all my travel tips for Berlin in my "Indie Guide to Berlin."