Berlin is the capital of cool — it's the home to thousands of creative entrepreneurs, plenty of douche-y startups, street art on every corner and a bunch of other things. It's funny that while the city is so incredibly diverse, it's also strikingly difficult to discover that diversity. And while there are hundreds (thousands?) of blogs about Berlin, to be the best of the best, you still need to cover the Berlin basics.
Here are the things every Berlin blog is about:
1 – Something queer
At least two international reports in the past six months claimed Berlin to be the most gay (or most queer, depending upon your generation) city in Europe (or the world, depending upon your perspective). Berlin's creative edge, its raw attitude and the staggering amount of artists and bohemians that have claimed Berlin as home (temporary or not) just mean that this city is super gay. And it doesn't matter if you're gay or not, if you're going to have a Berlin blog, you're going to have to buy some glitter.
2 – Something underground
In a city as queer, cool and creative as Berlin, there's always something going on. And it's usually a secret to someone. Bars are unmarked, there are speakeasies hidden behind cabinets, raves in the forest and film nights in abandoned buildings. Something's always going on and someone you know is always there, but you're not invited. It's underground and the best Berlin blog wants to keep it that way. The Berlin blog will tell you about the super secret, cool, underground, hidden, alternative, edgy, queer, undisclosed party—but they will not tell you enough that you can find it on your own.
3 – Berghain
Berghain – the world's "most famous nightclub" makes every must-do list of Berlin. It's nearly impossible to find a travel guide or article about Berlin that doesn't mention it. Even when a Berlin blog omits Berghain (often opting for Sisyphos instead, or whatever new iteration of Bar25 there is this year), the blog is just as noticeable by the omission than if it had included it. There's no Berlin without Berghain, and certainly no Berghain without Berlin. Even when we try to ignore it, Berghain is there—in the backs of our minds. And the Berlin blog, no matter how they may try not to, will at one point mention Berghain.
4 – Brunch
Over the past few years, Berlin has become more and more of a foodie city. It was never very well known as a culinary destination, but new restaurants, chefs and events (there are more and more street food markets every year) are changing that. And no Berlin blog is complete without listing their favorite brunch spots. Every time a new brunch spot opens up, suddenly every Berlin blog is in a race to publish first—who's going to get the best photos? Who's going to show up in the first results? Who's going to start the trend of making it impossible to show up on a Sunday without a queue? Berlin brunch is as much a competition at the restaurant as it is online. And the Berlin foodies are surprisingly snobby about their brunch spots for a city famous for what is essentially hot dogs slathered in curry ketchup.
5 – An exclusive PR event
Because of Berlin's reputation as the "capital of cool," it seems just about every international brand tries to tie themselves to the city. And that's usually in the form of hosting some exclusive event/party/dinner/DJ in some small gallery/restaurant/bar/abandoned-lot. A handful of influencers (ie, instagrammers/fashionistas) show up. A photographer documents the whole event with brightly illuminated shots of influencers holding cocktails. The photos show up on a Berlin blog and that's that. The brand looks cool. The blog looks cool. Everyone wins!
6 – Instagram
There are a lot of beautiful cities in the world, especially here in Europe, but Berlin's beauty (like everything else) is a bit more rough and raw. There's not a lot of sunshine (oh hey Germany), and the architecture is a lovely shade of grey. But somehow the city has attracted countless Instagram photographers documenting Berlin's cold, grey colors and harsh lines. There's not a lot of color in Berlin bloggers' Instagrams, but they are there—always behind a camera lens ready to document a grey sky and an ugly building. And to then publish a blog about the best places to Instagram.
7 – The BVG
Despite regular service interruptions, constant renovation, construction and a slow process to modernization (credit cards, anyone?!), the best of the Berlin blogs have a special relationship with the BVG—Berlin's public transport system. There's not a lot of criticism of the BVG online because the BVG regularly creates viral ads that people just eat up—Berlin blogs in particular. The city just goes crazy every time the BVG does something sweet or silly on social media. And if it's not the latest marketing of the BVG, it's the colorful, mismatched typography that becomes the star.
8 – #ThatTowerAgain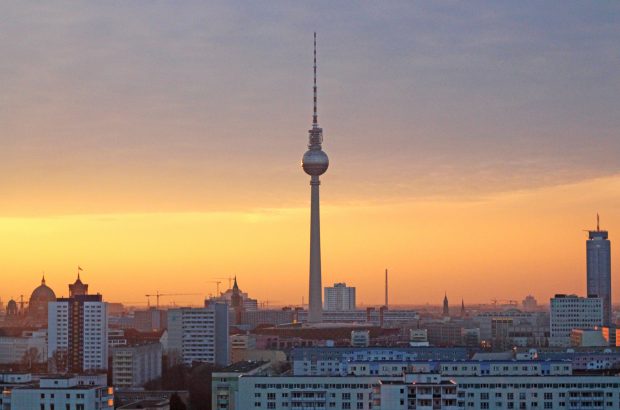 It's Berlin's best hashtag. It's discreet—what tower?! why is it here again?—but for those in the know it just makes sense. Berlin's TV tower is an icon of the city. I've seen it tattooed on a dude's forearm once. And no Berlin blog is complete without using or referencing the hashtag somewhere or somehow. Just like the tower itself, it shows up unexpectedly, but in plain sight.
9 – Urban exploration
Code word: street art and/or abandoned places. Every Berlin blog, by definition, must feature some sort of illegal activity—and while a lot of that takes place in the bathrooms at <insert your favorite club here>—I'd argue that the most popular form of illegal activity (errrmmm, of those featured on your favorite Berlin blogs) is the act of breaking into some abandoned place. It's rarely dangerous (somehow; I don't really understand how) and it's where the best Berlin blogs get their best photos. But they won't tell you how or where it is—because Berlin is meant to be cool, and stay cool. And the tourists have to earn that kind of experience.
10 – The Berlin WelcomeCard
Just about every Berlin blog recommends the WelcomeCard—a service from the city you can purchase before you arrive. The WelcomeCard includes discounts on a number of museums as well as access to the public transportation. Personally, I'm undecided on whether it's worth it or not for tourists. A lot of Berlin's best museums are surprisingly expensive, so the card can help with that, but also: if you're in Berlin for a bit of "like a local" experiences (seeing street art, getting high, dancing all weekend, getting naked in a club/spa/park), the WelcomeCard doesn't actually help much. But it's Berlin, after all, and the hustle is real.
• • •
Okay, okay, okay — I can see your eye roll from over here and I heard you groan. Yes, Berlin is one of the world's most interesting and exciting cities. I don't use that phrase lightly—I honestly find Berlin to be special, to be unique. Berlin is Berlin and there's nowhere else really like it. It's why I've made Berlin my home since 2012.
And okay…Berlin blogs, in fact, do offer a lot of originality. In a city as diverse and sprawling as Berlin, there's a lot to cover and see. This is a growing city and there are new things to do every day, night, weekend. The best Berlin blogs write about the basics, they post their #ThatTowerAgain 'grams and they attend all the right meetups, but they'll also provide something unique. It's the Berlin way—copy a bit, follow the trends, look pretty but act a bit weird. Stand out and do something a little different. Maybe do more than a little different—just don't tell your mom that part and definitely don't write it all down. Some things just don't need to be documented.
[box]
Read my Hipster Guide to Berlin — a comprehensive guide on the best things to see, do, eat, party and explore in Berlin.
[/box]