Germany's fourth largest city is more interesting than you think. With cool events, trendy cafés and a vibrant, colorful culture, there's a lot more to the city than just a really big church.
As Germany's fourth largest city, Cologne is big but not overwhelming. The population is diverse and while the city is spread out, it's a completely manageable city to discover with easy public transportation or even on foot.
One of the best areas to spot Cologne's many hip cafes & trendy bars is around Rudolfplatz and the nearby Belgian Quarter, but what I found when discovering the city for myself, much of Cologne is actually pretty cool. Here's a peek into the hipster hotspots in what might just be Germany's most under-rated city.
Know Where To Go: Cologne Neighborhoods
Cologne is one of Germany's larger cities but it's actually still quite easy to get around using the u-bahn. Most tourists stick to the Cologne Old City, but go a little further (sometimes even just 10 or 15 minute walk away) and you'll find quirkier areas full of street art, trendy shops or tasty international food.
Old City (Altstadt) — This area is relatively touristic, but its narrow alleyways and colorful buildings along the Rhine River make it picturesque. It's definitely worth taking a stroll through this neighborhood as it's so near the major tourist sites.
Central area around the Cologne Cathedral — The Agnesviertel area and neighborhood near the Cologne Cathedral is often crowded with tourists but that's because all the best sightseeing is here. Museum Ludwig is located just behind the Cathedral and the main streets nearby are full of both typical High Street shops and smaller, kitschier ones.
Rudolfplatz — In the blocks around Rudolfplatz you'll find hipsters, gays and lesbians, students, families and locals. It's a casual area full of shops, bars, cafés and restaurants.
Belgian Quarter (Belgisches Viertel) — This is one of the more trendy neighborhoods of Cologne. There are shops selling everything from used records to high-end fashion, with street art murals painted on the walls outside. It's gritty but clean, crowded but quiet.
Ehrenfeld — Slightly further outside the main areas of Cologne, this neighborhood is a lively and popular residential area. Shops, artists studios, cafes, clubs and theaters are scattered throughout the Ehrenfeld neighborhood. Look out for the huge street art murals at Ehrenfelder Bahnhof!
Sightseeing & Activities – Things to Do in Cologne
Trust me. There's more to Cologne than just a really big church.
Cologne Nightlife & Bars in Cologne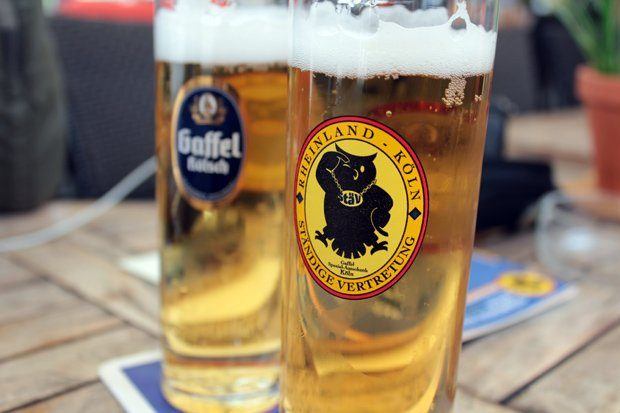 There's quite a bit of nightlife in the Cologne Old City (Altstadt), but don't think that's all you've got. Visit the Belgian Quarter, Ehrenfeld and around Rudolfplatz for more interesting bars and clubs.
Cologne Gay Travel Guide
Cologne is allegedly home to one of Germany's largest LGBTQ (ie, gay/queer) populations and if you ask any German about Cologne, almost inevitably the first thing out of their mouth is that it's "the gay city." Somehow it's just gotten this reputation and it's stuck! The annual Christopher Street Day pride (in June) is one of the largest in Germany, but probably the city's biggest gay event is the Carnival in February.
Approximately one million people visit Cologne for Carnival and the costumes are really a sight unto themselves! Regardless of the gay events and festivals, however, Cologne has some decent gay nightlife and a welcoming and friendly atmosphere. Much of Cologne's gay culture centers around Rudolfplatz and the Belgian Quarter, with some of the more legendary and historic gay bars around Heumarkt (which is also where the summertime CSD pride festivities take place).
Schaafenstraße — This is the street where you'll find most gay bars and clubs in Cologne.
Bastard — This trendy, backyard bar and cafe is best visited on a summer evening. Friesenwall 29
Bruno's Shop — Located on the Kettengasse street, Bruno's is Germany's most popular store for gay books, magazines, DVDs and fashion…plus brochures and information on local LGBT initiatives and hotspots. Across the street is a small but friendly art gallery, Osper. Kettengasse 20
Ex Corner — Popular most nights of the week with a regular happy hour each evening, Ex Corner is best visited before midnight. Schaafenstraße 57-59
Iron Bar — With a daily happy hour, tapas & cocktails, this is supposedly one of Cologne's more stylish gay bars (despite its rather tough name). Unfortunately they were under renovation when I visited. Schaafenstraße 45
Katt-Winkel — Where to go when you're looking for a fun drag show! Greesbergstraße 2
Die Mumu — A gay bar and club for a younger crowd, the visitors here might get described as "campy," which matches the outrageous decor. Schaafenstraße 51
Rosa Winkel Mahnmal — This memorial to gay and lesbian victims of National Socialism sits alongside the Rhine River just near the Hohenzollern Bridge. It was built in 1995, shortly after Frankfurt's similar monument went up. The location was once a meeting point for queers in Cologne and the design of the monument reflects the famous "Pink triangle."
Cafés & Restaurants in Cologne
Kaffee und Kuchen (coffee and cake) is a German past-time throughout the country, but in Cologne they seem to have perfected the afternoon treat.
Salon / Metzgerei Schmitz — This cafe and deli next door to one another is probably the best place to spot Cologne's local hipsters. With wifi and spacious seating, quality coffee and a budget-friendly lunch menu, you could easily get lost for a few hours in Cafe Schmitz. Aachner Straße 28
Hallmackenreuther — This bar, cafe & restaurant is über-hip! With a giant Pan-Am logo on the outside, and just on the corner of the always popular Brüssler Platz, the clean design on the inside and the good drinks make it a popular stopping point in the Belgian Quarter. Brüssler Platz 9
Cafe Sehnsucht — This bio restaurant and cafe is famous for being a part of the slow food movement. Körnerstraße 67, Ehrenfeld
Café Rico — Popular hangout on the corner of Rudolfplatz with a reputation as one of Cologne's best brunches. It's very gay-friendly and a great place for an afternoon coffee on the outdoor patio as well. Mittelstraße 31-33
Beef Brothers — A small burger joint on the popular Aachner Straße, the meals are cheap and tasty. There's only a small room in the back for seating, but if the weather's good you can sit out on the patio out front. Aachner Straße 12
Ständige Vertretung Köln — Located in the Altstadt (Old Town), this bar & restaurant along the Rhine has hundreds of historic photographs hanging on the inside and a comfortable outdoor patio for the summertime. The Brauhaus was once a meeting point for local political leaders. Tip: drink the local Kölsch beer! Frankenwerft 31
Krua Thai — A fast but tasty Thai restaurant with take-away options. Perfect for a quick but flavorful meal in the Belgian Quarter. Brüsseler Straße 40-42
Shopping in Cologne
Schildergasse is Cologne's main shopping street in the central, downtown area, but in fashion-friendly Cologne, the best finds are found out in the boutiques around Brüssler Platz and throughout the Belgian Quarter. There are also some small shops in Ehrenfeld where you're sure to find something unique.
Magasin 2 — Part of a trifecta of boutique fashion shops in and around the Belgian Quarter, the Magasin 2 location has clothing for both men & women (one of their other boutiques sells just mens fashion + has a record store in the basement). Many European brands on display and they have a small sale rack for better bargains. Brüsseler Strasse 48
The Good Will Out — Sneakers and cool kicks, selling brands from Nike & Adidas to New Balance and Puma. Prices are reasonable. Händelstrasse 41, near Rudolfplatz
Ciuciu — Candy store selling handmade sweets! You can see how they're made in person at their shop in the Altstadt. Rothenberg 9a-11
Parallel — Record store selling used and new "schallplatten." Brabanter Strasse 2-4
Taschen Bookstore — The international art design bookseller has a small shop in the Belgisches Viertel. It's crowded with art and photography books! Hohenzollernring 28
Where to Stay in Cologne
Cologne is fairly easy to get around and you'll probably find most hotels and hostels nearby the central downtown area. The major tourist attractions in Cologne are also near the main railway station, and the hipster neighborhoods around Rudolfplatz and the Belgian Quarter are just a short tram ride away (or maybe a maximum 20-minute walk).
Best Hotels in Cologne
Hotel Chelsea — Boutique art hotel started by a local artist, Marin Kippenberger. The hotel was created and designed by artists and all rooms have contemporary art hanging on the inside (many from local artists). Originally the collection was developed by allowing aritsts to provide art in exchange for a place to sleep! Jülicher Straße 1
Best Hostels in Cologne
Pathpoint Cologne Backpackers — This chain of backpacker hostels across Germany are pretty basic, but the staff at the Köln location are friendly and outgoing. Allerheiligenstraße 15
Die Wohngemeinschaft Hostel — I didn't stay here but I did walk by and it looked super cool!
Cologne Travel Tips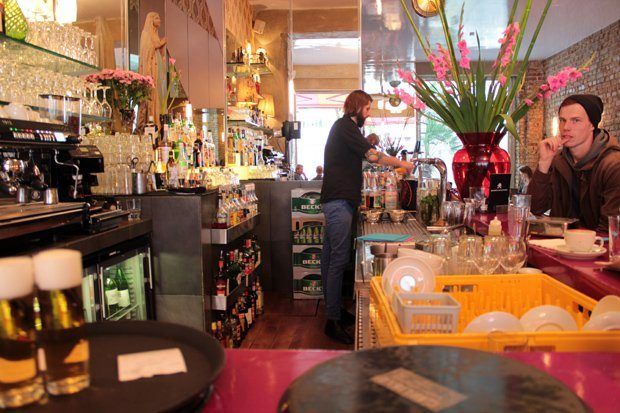 Go for a mid-afternoon coffee break at Cafe Rico in Rudolfplatz
Visit the book & clothing swap in Ehrenfeld
Shop for costumes and Carnival attire at Deiters
Visit Brüssler Platz in the Belgian Quarter during the early evenings in summertime, where young people gather after work for drinks and fun
Watch the sunset at Deutzer Brucke to have a view of the city with the Kolner Dom (weather permitting!)
Local Cologne Travel Resources