After visiting Cologne a few times in the past six months, it's quickly climbed up my list of favorite German cities. So a few weeks back, with Cologne's annual Carnival approaching, I booked myself train tickets for the long weekend. The Cologne Carnival (or Köln Karneval, auf Deutsch) is the biggest event in the city each year. From speaking to friends who live in Cologne, the annual Carnival usually ranks among the best things to do in the city. So, having fallen for the city last year, I made a point to visit during their biggest event. Even if I was skeptical of what Carnival would be like, in the end it turned out to be a fun, easy-going, non-stop party.
The Cologne Carnival is more than just a weekend festival, though. It kicks off with events the week before, but the biggest party is the Rose Monday Parade (Der Kölner Rosenmontagszug). The parade includes over 140 floats, with thousands of people marching and playing in bands and music groups. Participants in the parade also give out candy and other sweets while marching—over 300 tons of it, in fact. That's A LOT of candy. With over one million visitors each year to the Carnival, though, that candy doesn't go as far as you might imagine.
But imagine: one million people flocking to Cologne for a parade. People were costumed in everything from movie characters to onesies. There were holiday-themed costumes and just plain goofy outfits. It was hard to find anyone not smiling. And even when going around asking people to take their photos, people were more than willing to smile for the camera.
Floats at the Cologne Carnival Rose Monday Parade
With over one million visitors watching the Rose Monday parade, people pretty much took whatever position they could along the parade route. And being up high for the parade provides great views over the floats going by. One of the things I found most surprising about the Cologne Carnival is that most floats are political in nature. Many of them this year were quite topical — plenty of them featuring caricatures on Obama and the NSA. I think it's great that a festival can have a lot of fun while taking on serious political issues.
Carnival Costumes
Even if I was a bit worried about what I was going to wear during Carnival Monday, it turned out it was a needless worry. Everyone's wearing something — and even those that aren't, they quickly acquire something. There are so many gifts and other things being given out at the parade, it's quite easy to collect enough junk to make a costume. Red clown noses are easy to come by, as our funny hats. Shops and stores will be selling clothes and costumes in the weeks leading up to Carnival, and even in the days before the Rose Monday parade, it's still possible to find decent costumes in the shop windows.
Saying that, though… there are plenty of people in Cologne who take their costumes seriously. I walked through the crowds and snapped a few pics — there were some truly incredible costumes. I can't believe how much effort people put into this!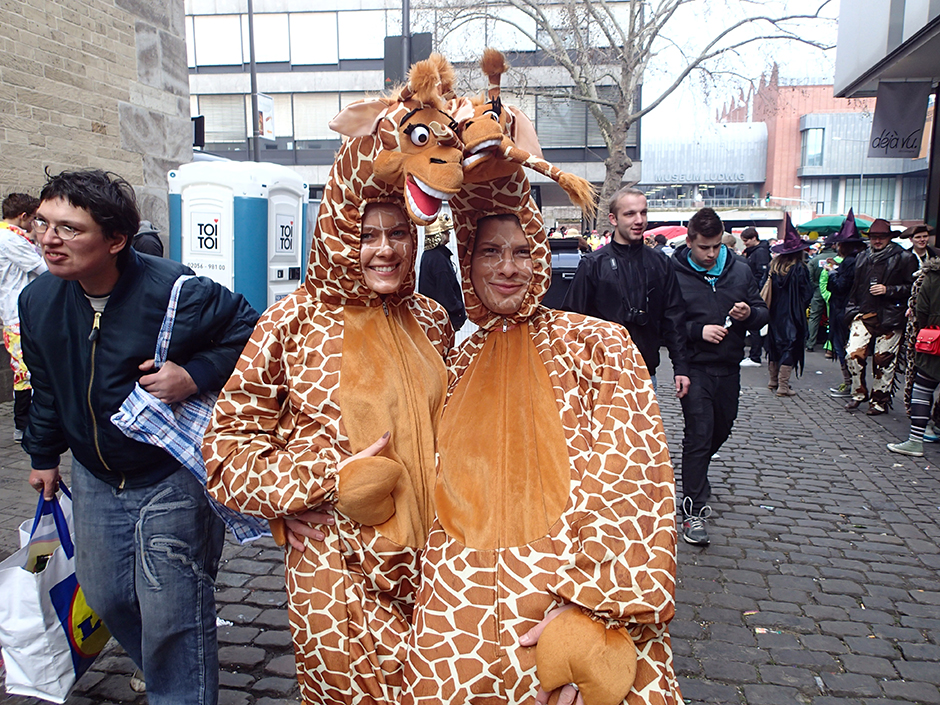 What you need to know…
Hotels for Cologne Carnival fill up quickly, so if you're planning to go, book a place as early as possible. I stayed at Hostel Köln, located in the heart of the gay neighborhood. Room prices are great — as low as 50€/night for a single room with flat-screen TVs, including a full breakfast buffet. More information about the Cologne Carnival can be found on the official website, or use the pamphlets and information on the Tourist Information site for tips and travel recommendations.