A mini-guide to the most fun, unique and coolest things to see and do in Dallas — a city that's way more cool than you'd expect if you know what to do!
When people hear I grew up in Dallas, Texas, there's often an initial bit of surprise. Texas conjures up a flurry of preconceived ideas & stereotypes—most of them wrong. And while most people have heard of Dallas, they assume Austin is one of the state's only cool hotspots.
But just as Houston has a handful of cool hotspots, Dallas has its own share of cool things to see and do.
While Dallas itself as a city might appear relatively quiet—there's not much street life—the city is home to some of the world's best arts & cultural institutions. And with an impressive culinary scene and surprisingly hip nightlife, the city makes for a great weekend break.
Probably the most important historical attraction in Dallas is the site of JFK's assassination at the Dealey Plaza and the corresponding Sixth-Floor Museum inside the book depository. It's an important site for USA history, but after you've checked that off your to do list, try some of the more exciting things in Dallas.
There's so much more to the city than just Downtown Dallas. Outlying neighborhoods, particularly Deep Ellum and Bishop Arts (in Oak Cliff) are hotbeds of fun and unique things to see and do. It's just a matter of finding where the fun stuff is happening. Start here with my list of favorite cool things to do in Dallas.
Yes, Dallas has plenty of tourist activities and things to do. Of course there's the Sixth Floor Museum, the universities, the dog parks, and the traffic (so much traffic), but this list is meant to be used as a guide for the best things to do—the cool and fun things that are maybe a bit more surprising.
Read more: The Hipster Guide to Dallas
9 Fun & Cool Things To Do in Dallas
1. Visit the Arts District
In Downtown Dallas, the Arts District is home to the city's most prestigious museums. The Dallas Museum of Art is always free and houses an impressive collection of art from around the world and spanning centuries. The contemporary art collection is especially good.
Across the street is the Crow Collection of Asian Art – another free museum – where you can attend yoga or Tai Chi classes in a peaceful environment, alongside the museums' art collection.
However, probably the best museum in Dallas is the Nasher Sculpture Center, a museum and garden full with works by some of history's best sculptors. Look out for their special exhibitions which are often unique and interesting.
2. Explore the Deep Ellum street art
Deep Ellum has been the heart of alternative Dallas for decades. It's always been the spot to be for punks and alternative club kids. Most of the live music and indie clubs are in Deep Ellum, making it a hotspot at night, but visit during the day and it's just as colorful and lively.
Namely because of the street art. There are countless murals along the streets, alleys and in the parking lots.
Anyone searching for the best street art or graffiti walls in Dallas, or the most Instagram-worthy, scenic spots in Dallas will stumble into Deep Ellum. The 42 Murals project is responsible for a lot of the best Deep Ellum street art—inviting artists to paint walls each year.
Read More: How to Visit Deep Ellum – The Coolest Neighborhood in Dallas
3. Have coffee at the Crooked Tree
This organic coffee shop and café is set in a home just off McKinney Avenue in Uptown Dallas. It's a cozy spot with excellent coffee roasts and a great environment for getting work done.
There are board games, too; it feels a lot like a living room! The Crooked Tree Coffee House provides a little hideaway from the nearby busier streets and a cozy place to meet friends and find some peace.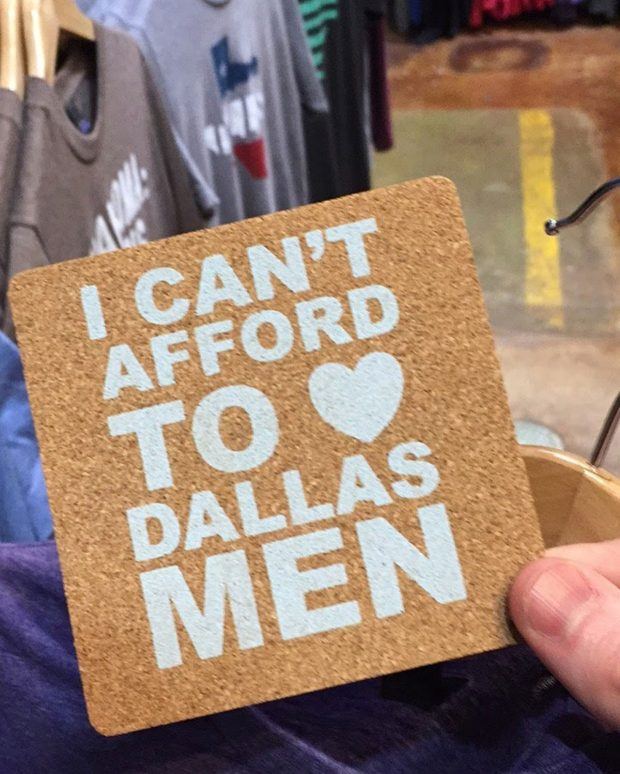 4. Hang out at the Dallas Farmer's Market
From high-quality olive oil, to trendy T-Shirts and Caribbean meals, the Dallas Farmer's Market is open every day of the week and includes a variety of restaurants and alternative shops in an indoor market space.
It has everything that locals and visitors need, including various small cafés and a bakery. Artisanal products, local specialty foods and fine cheese make the market a must for food lovers and creative souls.
Plus there are several shops selling Dallas-themed souvenirs (look out for the quirky t-shirts from Bullzerk).
On weekends (Friday, Saturday and Sunday) regional farmers bring in produce and you'll find additional specialty stands in The Shed next door to the Farmer's Market, selling everything from vegan snacks to pickles brined in local craft beers.
5. Eat in Bishop Arts
The Bishop Arts neighborhood is probably my favorite in Dallas. It's a little less crowded, more quaint and cute than Deep Ellum. Besides for the handful of independent shops that make the area so special, there are also many great restaurants and cafés.
You can browse for books while enjoying empanadas or other small bites at The Wild Detectives. Or visit Oddfellows—a bit of an institution for Bishop Arts and a popular meeting point—for their always crowded and boozy brunches.
The menus at so many of the Bishop Arts restaurants are varied and creative, with whole restaurants dedicated to different cuisines.
There's a restaurant serving gourmet grilled cheese sandwiches (Dallas Grilled Cheese Company), a kiosk for Cuban sandwiches and yucca fries, or a sweet little sit-down restaurant for Korean BBQ (bbbop).
6. Dance the two-step at a gay cowboy club
Something a lot of people don't necessarily realize, but Dallas is an LGBTQ-friendly city with one of the USA's largest gay populations.
The Oak Lawn neighborhood has been ranked among the best gay neighborhoods and the Round-Up Saloon is at the heart of it. Just like you'd expect, this is a country bar (it's still Texas, hey) but it's also a gay bar—crowded every weekend and host to cool events, shows and (of course) square dancing.
It's a jovial environment and probably not a lot like your gay bars at home – worth a visit! Wear flannel, a beard and a cowboy hat if you've got it—but at the Round-Up, everyone is welcome.
Read more: Gay Guide to Dallas
7. Shop at the Joule
The Joule is a luxury hotel in downtown Dallas, but with its prominent location and beautiful design, it's also become a cultural hotspot. In the lobby of the hotel you'll find another one of Dallas' best coffee shops – Weekend Coffee.
Great brews, wifi and international clientele make it a cool spot to hang out and get work done. There's also a Taschen library in the ground floor—one of just a few Taschen bookshops around the world.
You'll find beautiful photography and coffee table books on topics such as fashion, architecture, photography and travel. The hotel's rooftop bar also hosts regular club nights and parties, plus features a rooftop swimming pool that juts out over the sidewalk below.
Read more: Rooftop swimming at the Joule hotel in Dallas: a night of luxury
8. Eat street food at Klyde-Warren Park
Because of the swelteringly hot summers in Dallas (where temperatures regularly stay at or above 100ºF for months at a time), there aren't many public plazas or open parks in the city.
There are some nature trails, however, but one of the coolest parks is the Klyde-Warren Park which borders the Arts District. With free wifi and an outdoor public library, it's an easy and comfortable place to chill on an autumn evening.
Food trucks also line up regularly in the park on weekdays for lunch and dinner times and musicians regularly perform at the small outdoor stage. Check the park's website for other special events and promotions.
9. Sleep overnight at a waterpark
The Hilton Anatole Resort isn't your stuffy resort hotel. Just on the outskirts of Downtown Dallas, the resort is part waterpark, part business center, and part art gallery.
Two towers make up the bulk of the hotel, with an award-winning wellness and fitness center and several restaurants (including a 24-hour café with to-go sushi sets.
But the real attraction in the summertime is the JadeWaters Resort Pool Complex. With a swim-up pool bar, lazy river, luxury cabanas, a splash zone with two 180-foot slides and a poolside grill and bar, it's fun for everyone. On weekends, they show movies by the pool.
Elsewhere in the hotel, you'll find a wide collection of artworks (according to their website, it's the largest ever assembled in an American hotel). The collection includes two 12-foot segments of the Berlin Wall (painted by Jurgen Grosse) and the Nebula Sculpture by Reuben Margolin.
The Nebula is a kinetic sculpture made of 15,000 bicycle reflectors rotating along with the quiet humdrum of a small motor hanging above the main lobby of the hotel.
---
Get more fun things to do in the Hipster Guide to Dallas — available exclusively here at travelsofadam.com.