Discover the best of Dutchess County tourism on this 3-day itinerary for exploring the Hudson River Valley cities of Beacon & Poughkeepsie
Since moving to New York state, I've made an effort to become a part of my local community. Whenever you move to a new place, there's a whole checklist of things to do—everything from registering to vote to getting the proper identification cards, finding an apartment, making friends, and getting to know your neighborhood.
But as a serial expat and frequent re-locator, I think it's also important to explore your new (adopted) home. To get out there, see the museums, the sights, the tourist attractions. To learn the history of the region. I've done it everywhere I've lived for more than three months.
It can be a huge effort to get to know a new home, but what better way to feel like home, than to get out there and explore?
---
New York City has no shortage of tourist attractions—from the free (or cheap) things to do, to the glamorous, iconic places. But once I got my New York state driver's license, and started filing my taxes as a New York resident, I knew that I should explore more than just the five boroughs of NYC. (Let's be serious, though: I've really only visited Brooklyn, Manhattan, and a bit of Queens.)
With that in mind, over the summer I was able to plan a weekend trip to the Catskills, and in November—just as the autumn leaves were starting to fall—I made me way up along the Hudson River Valley through Dutchess County
My trip started in Brooklyn with a late morning drive to beat the traffic. With a Lexus car for the drive, I was planning on a three-day trip of relaxing luxury. The first stop: Beacon, New York.
---
Day 1 in Beacon, NY
Arriving in Beacon in the late morning, I first made my way to the newly opened Beacon Daily cafe and sandwich shop. It's just around the corner from one of my favorite museums, so it was a good first stop on the itinerary! The cafe is most famous for their freshly made biscuits each morning, but with a huge selection of sandwiches, I couldn't resist a cuban.
After a light lunch and coffee, I found myself at the Dia:Beacon for a warm apple cider and a few hours wandering the former factory (and taking a million selfies).
To complete my day in Beacon, NY, I spent the afternoon and evening on the town's Main Street. Since the Dia:Beacon brought its contemporary art collection to the town, there's been a resurgence of art and culture along Main Street.
Hipster thrift shops, boutique art galleries, and trendy bars & restaurants have all made a name for themselves thanks to the new creative class of Beacon residents and regular visitors.
The Hudson Beach Glass gallery and shop offers glass-blowing experiences, but their showroom of decorative arts is the real show-stopper. And across the street, the Kitchen Sink restaurant prepares feel-good food classics, like a special fried chicken dinner menu every Monday evening—perfect for a rainy autumn evening!
A stop in the Draught Industries bar was the highlight of my time on Beacon's Main Street, though. With a huge selection of craft beers and a refreshing, modern design, the bar was one of the friendliest spots I visited in town. Over the course of my next 3 days traveling around the Hudson River Valley, at least two other people would recommend the bar to me!
Top 5 Things To Do in Beacon
Explore contemporary art at the Dia:Beacon
Practice glass-blowing at Hudson Beach Glass
Shop thrift & vintage along Beacon's Main Street at American Gypsy Vintage, Blackbird Attic, and Vintage:Beacon
Try local & regional craft beers at Draught Industries
Eat chef-prepared sandwiches with homemade breads & meats at The Beacon Daily
Making my way through the Hudson River Valley, from Beacon I went a littler further east to stay in Fishkill, NY—a larger city with plenty of accommodation options.
At the Hyatt House in Fishkill, I had plenty of space with an apartment-style suite accommodation including a full kitchen, living area, and separate bedroom. And an indoor pool, spacious gym, and full-service bar!
Because it's pretty centrally located between Beacon and Poughkeepsie, Fishkill is a convenient location that makes exploring the Hudson River Valley especially easy. Driving around, nowhere took really more than 40 minutes to reach.
---
Day 2 in Poughkeepsie, NY
On my second day in the Hudson River Valley, I left my hotel suite and made my way north to Poughkeepsie. On the recommendation of the Dutchess Tourism office, I stopped for lunch in the small village of Wappingers Falls for an early lunch. Mexicali Blue is a local favorite restaurant (and tequila bar) serving original takes on Mexican classics, including an excellent ahi tuna taco with a wasabi aioli.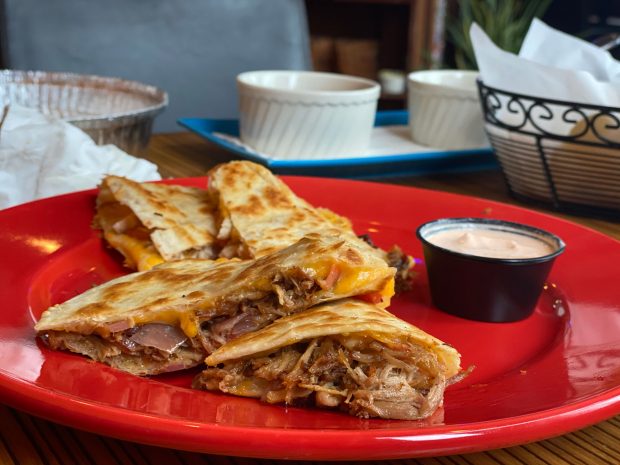 Continuing the arts & creative theme for my trip through the Hudson River Valley, I made my way to the Frances Lehman Loeb Art Center on the Vassar College campus. There was a special exhibition on featuring photographic works from their permanent collection, including many LGBTQ photographers and themes.
The museum is always free and open to the public, and even has late Thursday night hours making it an easy stop for visitors in the region. Plus: the Vassar College campus is really stunningly beautiful.
For my afternoon and evening in Poughkeepsie, I also checked out the 40 Cannon art gallery, part of a multi-purpose condo complex. Regular exhibitions of local and regional artists are on display in a large, multi-use space, with a café, wine bar, and craft beer brewery all on site, too.
Steps from Poughkeepsie's Main Street, 40 Cannon is part of the movement to revitalize the city responsibly (without displacing locals through gentrification). The city of Poughkeepsie has a burgeoning arts community, with lots of street art in the downtown district, and plenty of craft shops and galleries. The Arts Mid-Hudson organization supports local artists with grants and workshops, and in the December holiday season, even hosts a holiday pop-up market called Dutchess Handmade.
On my second day in Poughkeepsie, I visited the famous Walkway Over the Hudson. First opened in 1889, the walkway was originally a railroad bridge—the longest cantilevered and truss span bridge in the world! In 2009, the bridge was converted to a walkway and bike path, and opened as a State Historic Park and the longest elevated pedestrian bridge in the world.
---
With the growing community of creatives and young professionals, there are also a number of cool and hip restaurants, bars, and spaces for people to hang out. Schatzi's Pub and Beer Garden serves German food classics with an American twist (including a cheeseburger egg roll) alongside an extensive collection of local brews.
And longtime local favorite Rossie Rosticceria Deli operates as a small Italian deli and grocery with freshly made sandwiches and homemade breads.
With just a day-and-a-half in Poughkeepsie, I was really surprised to find the city so interesting and welcoming. The city, with a population of just 30,000, is still growing and with its expanded efforts to open up to new ideas, new residents, and new businesses is certainly a welcome attribute for the Hudson River Valley region.
Poughkeepsie even hosted its first LGBTQ pride march in 2019—one of the largest public parades in Poughkeepsie!
Top 5 Things To Do in Poughkeepsie
Explore the art for free at the Frances Lehman Loeb Art Center
Shop local artists at Dutchess Handmade pop-up or the Arts Mid-Hudson center
Walk (or bike) over the Hudson River at Walkway Over the Hudson
Enjoy Poughkeepsie's nightlife at local bars like 1915 Wine, Schatzi's Pub, or King's Court Brewing.
Take photos of the street art murals along Poughkeepsie's Main Street
Note: My visit to the Hudson River Valley was sponsored and supported by Dutchess Tourism, of the Dutchess county region. The Hudson River Valley is home to countless tourist attractions and things to do. Discover more of Dutchess County on their website here.

Thank you to Lexus USA for providing my transportation. Read more about my experience driving the Lexus RX 350L car here.