Listen, I don't have to really tell you this, but New York City is one of the world's most exciting and interesting cities. It's no wonder that it tops most "best of" lists throughout history. Visitors from around the world come to see the sights and the skyscrapers, to be a part of the city's unique place in history.
It's the most popular US destination and really needs no introductions. After a slow decline into yuppieness during the early 2000s and crime during the 80s , the city has once again revitalized and gained back its title as one of the world's leading arts and culture hubs—and certainly one of the most exciting and vibrant places on the globe.
Whether it's in Williamsburg—the birthplace of hipster culture or good old Manhattan art, there's just so much cool alternative free things to do and see. While its' incredible size, population and diversity make it—quite frankly—an overwhelming place to visit, there are a handful of ways to make a visit to NYC much easier—and cheaper!
NYC on a Budget – Helpful Tips
Know When to Visit Museums
In New York City you'll find some of the world's best museums. From the Metropolitan Museum of Art to the MoMA and the Guggenheim, art is respected and valued in the city. But most of the NYC museums don't come cheap. Thankfully, many corporations have subsided certain nights of the week to make art more accessible. The Moma is free on Friday nights after 5pm and the Witney Museum of American Art offers a "pay-what-you-want" entrance fee on Friday evenings. The Guggenheim offers a "pay what you wish" entrance fee on Saturday nights. And the Met's entrance fee is always just a suggestion – you can choose your own entrance fee donation to be anything from $1 to $25! With each of the free nights at the museums, be prepared for long queues and in the wintertime, they'll often require you to coatcheck large bags, so if you want a smooth and easy visit, it's best not to bring a bag.
Visit the Free NYC Attractions
While there are plenty of great tourist attractions in NYC requiring entrance fees—whether it's the observation deck from the Empire State Building, a visit to the Statue of Liberty (just take the Staten Island Ferry for a free view) or guided walking tours—there are just as many (if not more) free things to do in NYC. Visit the 9/11 Memorial, wander around Times Square, walk the Brooklyn Bridge and explore the markets of Chinatown and Little Italy. There's a lot to see and do in NYC and you don't have to spend a lot to see it all.
Eat Cheap
Like any big city, there's going to be food and restaurants available for every type of budget. And in NYC, there's always the street food—hot dogs, pretzels and other street food vendors can be found on literally EVERY street corner. Prices vary but if you're hungry, time-crunched and don't have a lot of money, these are a great way to experience the New York way of life. Just make sure you get a Nathan's brand hot do—they're the best!
Walk the High Line
Built on an abandoned rail line above Manhattan's west side, the High Line runs from the meatpacking district up to 34th street. Its' landscaping is pretty unique and the the Hudson River views along it are great. Make sure to walk along the full length of it to check out all the highlights. During summer especially, there are loads of music performances, food and drinks. It's surprisingly peaceful for literally being a park in the sky (and in between skyscrapers, businesses and hotels). Just for an extra bit of quirky, there are even occasional tai chi and stargazing events. Keep an eye out for the unusual public art along the route.
[box]
Related: The High Line: Photos and its' Gay History in NYC
[/box]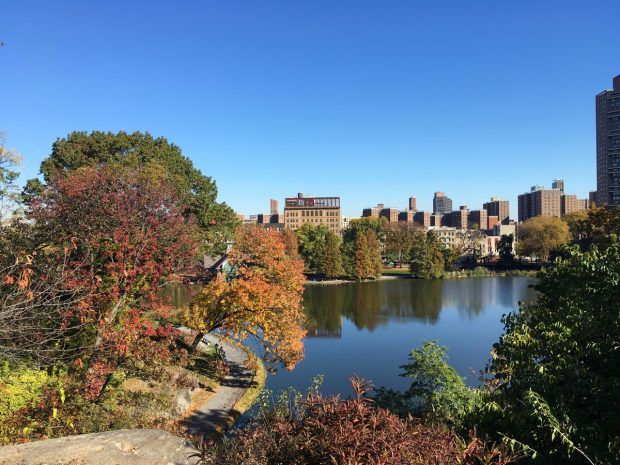 Spend Your Time in the NYC Parks
Not really unknown, but Central Park is brilliant. Personal highlights for me are "the pond" where Holden Caulfield kept checking where the ducks go when it's cold in The Catcher in the Rye and Strawberry Fields, where an Imagine mosaic serves as a memorial to John Lennon. Union Square is another favorite green hangout in Manhattan, with loads of aspiring artists and musicians (during summer, you'll even find free yoga classes) but it's especially great when the farmer's market is on. Artisanal food heaven! From super fresh fruits and veggies to award-winning meats and cheeses, artisan breads, maple syrup, wine and fresh potted herbs you can grown at home. New Yorkers love it, and its been going on since 1976. Not much further south in Lower Manhattan, Washington Square Park serves as a popular meeting point (at the arch) and center for cultural activities. During this year's election, Madonna even gave a free, impromptu concert in the park near the fountain!
Go to Brooklyn
Hipster heaven! Everyone knows Brooklyn is at the heart of modern, millennial hipster culture. Full of second hand record shops, pop up shops, designer fashion shops and a lot of fair trade coffee shops, Brooklyn is an epic melting pot. Cross the Brooklyn Bridge (a cheap, easy and fun tourist attraction) and you'll find yourself directly in the DUMBO area (famously short for Down Under the Manhattan Bridge Overpass). In DUMBO and the nearby streets, you'll find the weekend Brooklyn Flea market, Brooklyn Park and countless restaurants and shops—all at a pretty decent bargain and, generally, with a pretty epic view of the Manhattan skyline.
[box]
Related: Brooklyn Travel Guide
[/box]
Book Somewhere Cheap to Stay
New York City hotels are notoriously small, cramped and uncomfortable—even the more luxurious and more expensive properties. Just get used to that idea and choose somewhere cheap and convenient, and plan to spend as little time in your hotel as possible. Airbnb doesn't have the approval of most landlords or the city government, but that doesn't mean there aren't thousands of Airbnb properties. Hostels also exist in NYC with decent accommodation for budget backpackers and students. Look for accommodation in Brooklyn rather than Manhattan, or if you want to stay in Manhattan, find somewhere accessible on the NYC Subway further away from Downtown. Jazz Hostels has a hostel in the Upper West Side, near Harlem, that's a surprisingly cool and convenient area—and with pretty decent hostel rates, too!