Guys and girls, I give you the COOLEST TRAVEL VIDEO EVER! I'm serious. It's not very often that a travel video captures the essence of a neighborhood while still showing off all that stereotypical sightseeing stuff.
But this one from Hotel Club does it well and it does it right. A super-cool trip-hop soundtrack, a guy traveling through crowds on a skateboard, cool colors and a simple style. It's oh-so-pretty. I'm tempted to board a plane and make the move to East London myself. Anyways, watch the video. Get inspired. And then go visit East London already. Also: check out my beginner's guide to my favorite London borough below.
A Beginner's Guide to East London
Sightseeing travel tips & top things to do & see
To be honest, it took me years to finally visit East London. I'd been to Brick Lane before, but I never really ventured far enough away from the London Underground to fully appreciate all that East London has to offer. Below is my shortlist of many of the tourist sightseeing things you really should make a special trip out east for:
Curry at Brick Lane
Listen, I know it's cliché. Londoners love to claim Brick Lane is touristic. And it is. But that's what makes it fun. Haggling for the price of your dinner, BYOB, crowded restaurants and the spiciest foods you've ever had. Go for a curry at one of the many Indian and Pakistani restaurants on Brick Lane.
And as a bonus, on Sundays there's a pretty awesome flea/food/fashion market along Brick Lane. It's probably the best place to be in London on a Sunday.
Shopping at Shoreditch High Street
Shoreditch High Street is probably the place to be in East London. Again, thanks to the success of the London Overground tube, this part of East London can feel pretty touristic, but step into some of the shops along the High Street and you won't be sorry.
And for the super-trendy, the über-hip ACE Hotel (just check out these photos!) is located right in the thick of things. Along the High Street, you've got everything from food trucks to pop-up shops. The BOXPARK shopping center is pretty much the epitome of gentrification in the area. They've got quality coffee houses, big-name brands and a really cool blog.
Stroll along Regent's Canal
The Regent's Canal flows near some of East London's best places: the Broadway Market and Victoria Park. Each Saturday at the Broadway Market you'll find cool vintage deals, street food and a healthy spattering of knick-knacks and old books. And during the summer Victoria Park is the place to be seen (and do some top-quality people-watching).
Pho on Kingsland Road
Up north of gentrified Shoreditch you'll find down-to-earth Dalston. Kingsland Road is pretty special. The high street is lined with countless Vietnamese restaurants. I'm 90% sure that East London covers just about every type of diverse cuisine and culture.
Visit the Old Truman Brewery
Once a brewery, now the Old Truman Brewery is home to handfuls of indie shops and art spaces. On Sundays, the old brewery hosts the Sunday (Up)Market with over 140 stalls selling fashion, accessories, arts, crafts and music. Take a stroll through the area and then head over to the Pride of Spitalfields pub for some traditional London brews.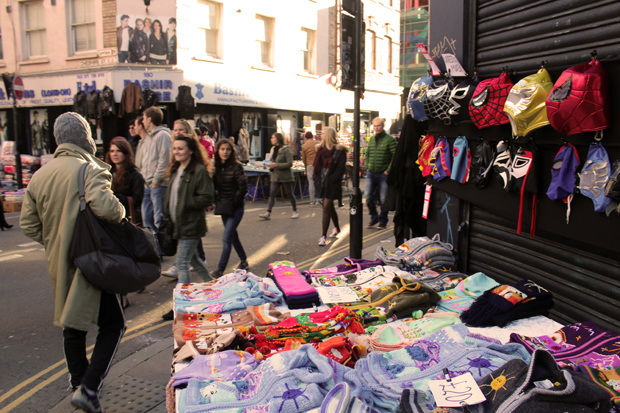 Vintage Shopping at Beyond Retro
This massive warehouse near Brick Lane is packed floor to ceiling with vintage clothing and accessories (and shoes!). Rumor has it that the Beyond Retro shop on Cheshire Street has had its fair share of celebrity shoppers as well. There's no shortage of vintage clothing stores in East London, but Beyond Retro is one of the biggest.
The Columbia Road Flower Market
Has there ever been such a pretty street market before? I don't think so. The Columbia Road Flower Market each Sunday transforms the quiet, peaceful street into a cacophony of flower-sellers, scents and street buskers.
* * *
Looking for more about East London? Try my mini-guide on My Gay Travel Guide or my previous blog about Shoreditch, Hackney & Dalston.