Paris. Berlin. London. Rome. No matter whether you're a local or visiting, Europe is almost always associated with its big cities—these international hubs of trendy, multicultural lifestyles. However, there are thousands of equally interested cities across the continent. European cities that are secret hotspots with as much urban life, cosmopolitan attitudes and international flair as their bigger capital cities.
Discovering these secret cities is always a surprise for many tourists, but it's a favorite travel tip of mine when visiting Europe. You'll find all the aspects of a big city but in a small town; prices are better and that same hip atmosphere exists. Often times, these small, big cities are in unexpected places—hours away from the capital but just as easily connected.
Eindhoven, in the Netherlands, is one of these small cities. It's one of the largest cities in the south of Holland, which probably doesn't mean much. The city is most famous as a tech and design hub because of it's connection to the Philips electronic and lighting company. Today, that history has permeated throughout the city's culture to make it a continuously creative city for entrepreneurs, designers and artisans in a wide variety of fields—from distillery and craft brewing to graphic design and street art.
When you first arrive to Eindhoven, like most Dutch cities, you'll first spot the impressive amount of street life: people walking around, sitting on terraces drinking coffee or beer, or biking around. But it's so much more than the typical Dutch city.
Eindhoven, Netherlands
An Insider's Guide to the Creative City

An art museum with a message
Let's start with Eindhoven's most iconic museum: the Van Abbe Museum. With an impressive permanent collection of contemporary art, this is one of Europe's best modern art museums. Founded in 1936, the museum today has been a leader in new and revolutionary projects. In addition to all the things you typically find in a contemporary art museum (open spaces, a cool shop), the museum runs alternative tours through their collection and exhibitions. These self-guided tours showcase different themes running through the museum, including a specific tour "queering the Van Abbe" which showcases queer & LGBT art & artists.
You can also choose to discover the museum's collections through touch and smell, a unique approach to art that makes it accessible for everyone. The collection is diverse and political, with cars floating in the art and political messages on the wall.
Van Abbe Museum
vanabbemuseum.nl
Where food meets design
A similar experience is created in the Kazerne—where art meets food and design. Located in a former police military barracks, Kazerne's founders turned the space into a huge restaurant with enough room for regular art exhibitions. You can enjoy fair-trade meals, local beer and local art all in one community space. The Kazerne epitomized that Eindhoven ethos for a city which transforms the experience of living and slowing-down our otherwise accelerated lifestyles. After all, the Kazerne is only one block away from St. Catherine's church, with a little square where you can see bones of people – I won't tell you why – but a clear reminder that life is short and you need to enjoy it.
Kazerne
kazerne.com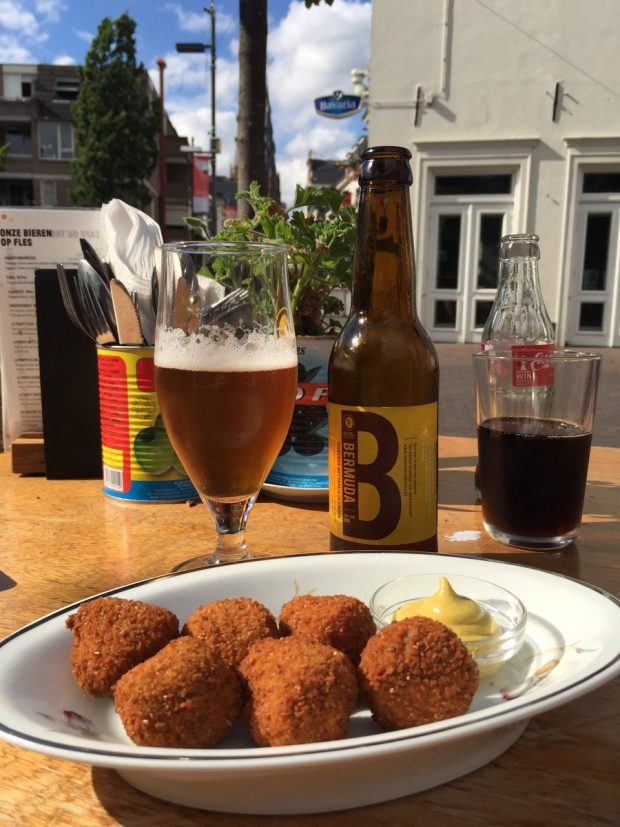 Creative entrepreneurs
Of the many small pleasures in Eindhoven (beyond riding a bike or exploring the little designer shops in the city center), there are a surprising amount of breweries and craft distilleries for such a small city. You can sit down right at the breweries and distilleries to try new, strong beers and liquors (including gin).
So much of Eindhoven's spirit is captured by these creative entrepreneurs and brewmasters. For a local taste of that creativity, visit both the Stadsbrouwerij Eindhoven for over 28 different beers and the Bottle Distillery for concentrated spirits. They're located in a former textile factory and it's possible to visit each to see how they've made use of the converted space for new (and tastier) purposes.
Stadsbrouwerij Eindhoven
stadsbrouwerijeindhoven.com
Bottle Distillery
http://bottledistillery.com/
Art is everywhere
One of the best things about Eindhoven is its industrial history, particularly related to the Philips business. Philips was founded as a lighting and tech company in Eindhoven over a century ago, but over the past few decades, most of their manufacturing and business has moved out of the city. But that hasn't stopped Eindhoven from keeping the lights on.
The former manufacturing plants and factories part of the Philips corporation are in the district Strijp S (following the name of the Philips' factories). Today, the area has been converted into designer shops, restaurants, cafés, a skateboarding park, and plenty of street art murals. Because design has become so imbedded in the Eindhoven culture, it's easy to wander around and see how these huge factory buildings have been given new life as designer apartments and a cool, livable space.
Strijp S
strijp-s.nl
• • •
For more information about Eindhoven, visit the official tourism website: thisiseindhoven.com