When I first landed in Israel (well, walked into Israel, really), I had little idea of what to expect. Coming from Egypt, I was already used to the Middle Eastern lifestyle (ie, things move slow…) so when I first arrived in Jerusalem, I was pleasantly surprised to find a city all mixed up in modernity and old oddities. The city moves to its own beat, that much is for sure.
Jerusalem is like no other place I've visited. I've said it one hundred million times, but saying it again won't hurt: Jerusalem is special. With hundreds of thousands of people and a history that goes back thousands of years, it's hard for it not to be interesting. And yet it somehow manages to continue to captivate. If I had to choose one word to describe Jerusalem it would be intense. You can feel it in the air—peoples' passions and their desires and this feeling of old and new. Jerusalem is special.
But while the city has a long and complex history, Jerusalem also has an incredibly interesting hold on the present. The city is developing and constantly changing—sometimes for better, sometimes for worse. Politics aside, the city is a mecca for religion but there's more than just tourism. Jerusalem is a place where people live. And that's why there's actually some pretty cool things to do in Jerusalem.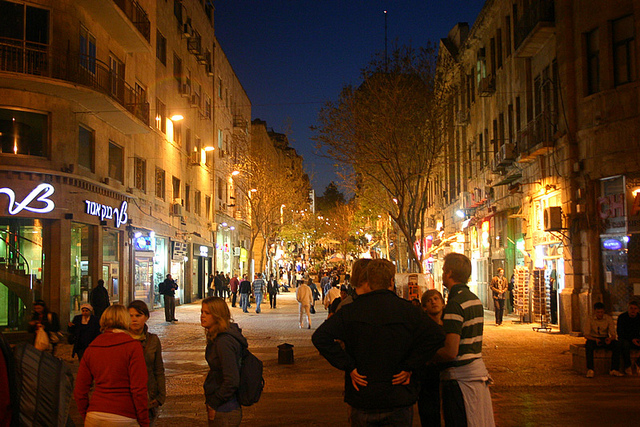 Hipster Jerusalem
Okay, those are probably two words you never expected to see next to one another. But in a city of mixed cultures and a hotspot for international tourism, there's actually quite a few interesting things to do see and do in the Holy City. In the one month I spent in Jerusalem, I pretty much hung out near the Ben Yehuda pedestrian street and Zion Square.
Things to do near Zion Square
Zion Square, or Kikar Tsion, seems to be a main square in modern West Jerusalem. Where the Ben Yehuda pedestrian street meets Jaffa Street, Zion Square is a popular meeting place because of its proximity to some of Jerusalem's coolest things to do. In about a 15-minute walking radius from Zion Square are a handful of awesome bars, cafes and restaurants. Here's a few that I especially like. Want more? View my hipster Jerusalem travel tips.
Uganda bar/club — This is as about as indie/hipster as you can get in Jerusalem. Not only is it a bar with some pretty cheap beer, but it also doubles (quadruples?) as a record, dvd & comic store.
4 Aristobolus Street | website | fb
Tmol Shilshom bookstore/cafe — A great little place to escape for a while and lose yourself in some books and a nice coffee.
5 Yoel Salomon Street | website | fb

Hakatze (The Edge) pub/club — A small pub that has a popular drag show once a week (Mondays when I was there, but double-check to confirm).
Shushan 4 | website | fb | tw
Catch a demonstration/protest/public event — Zion Square is a central meeting place and is occasionally the place where demos or peaceful protests take place.
Mahane Yehuda market, "The Shuk" — With lots of fresh produce, nuts and cheeses for sale, this is one of the best places to buy a snack. If you wander around the stalls for a while, you'll also stumble onto some small falafel stands and other restaurants.
Shopping! — You can find a lot of clothing and apparel shops on the streets around Zion Square and Ben Yehuda. There are some larger department stores but many independent brands as well.
Recommended hostels
If you're looking for a cool place to stay in Jerusalem, one that is perennially popular among backpackers is the Abraham Hostel. It's located just a 5-minute walk from Ben Yehuda street and not far at all from much of Jerusalem's nightlife. I've recommended it before (even though I've never stayed there) because I hear quite a bit about it from other travelers! Check out their website (where they've even got a good guide for things to do in Jerusalem): http://www.abraham-hostel-jerusalem.com/
I've stayed in a few other hostels in the Old City of Jerusalem—none of whose name I can remember now. A friend has also repeatedly suggested the Jerusalem Peace House as worth a visit (even if not for a hostel stay). It's a peace collective modeled after a similar type of house in Amsterdam. Interesting concept.
Some things to keep in mind
Ben Yehuda & Zion Square are pretty boring during Shabbat — Well, most of Jerusalem is pretty boring during Shabbat, actually. So many places are closed, unlike in Tel Aviv where there's still plenty of exciting things happening. Friday nights, if you're not into religion or all that jazz, are best for house parties or movie nights.
There's more than just Zion Square & Ben Yehuda — Besides the things to do around Zion Square, there are plenty of tourist sites (religious, historical and even political) around Jerusalem. Go forth and wander!
Photos (1), (2)