SPONSORED — There's a thrill to inviting a stranger over to your home. Personally, I love having guests—the excitement to share my space, to provide my own personal recommendations, and to see the joy of someone visiting for the very first time. It's why I've always loved writing about travel. Of course, you don't have to be social as a host, but that extra bit of comfort to a first-time guest can make all the difference.
I've been using Airbnb as a guest for years and I've rented rooms and apartments in just about every major European city, and a lot of the USA, too. As a frequent Airbnb guest, though, there have been hits and misses. And it almost always comes down to the host. After speaking with several of my friends who regularly host Airbnb guests, and my own frequent travels using Airbnb, here's my insider tips on how to be the best Airbnb host.
How to be an Airbnb Host
15 tips to help you be the best host (and get those 5-star ratings from your guests)
♦ ♦ ♦
1. Be descriptive in your property listing
This is your storefront, your sales page, so it needs to be accurate and it needs to do the heavy lifting. Make the description as clear as possible and take advantage of Airbnb's support with professional photography. Don't exaggerate the amenities. If your kitchen includes basic spices, say so! And importantly: it's useful to list the distance from your place to major attractions, but also be descriptive in what the neighborhood is like. Is it a quiet street? Is there a cute café with the city's best espresso nearby? Tell us!
♦ ♦ ♦
2. Know the local laws
As an Airbnb host, you're going to have some responsibility and it's always better to follow the rules from the get-go. Some cities charge tourist taxes and it's helpful to be up front about this in your property's description or the initial contact with your guest. Airbnb's hosting support helps to make sure you're following all the local laws and regulations, so just make sure you're in the know to avoid any trouble.
♦ ♦ ♦
3. Be open-minded
Airbnb has a strict non-discrimination policy and as a host, you must and should adhere to it. Be open-minded with who you let into your Airbnb space. As a traveler, there's a special joy to meeting new people and exchanging ideas. And as a host, you can experience that same joy simply by meeting new people (all the while making some extra cash, too!).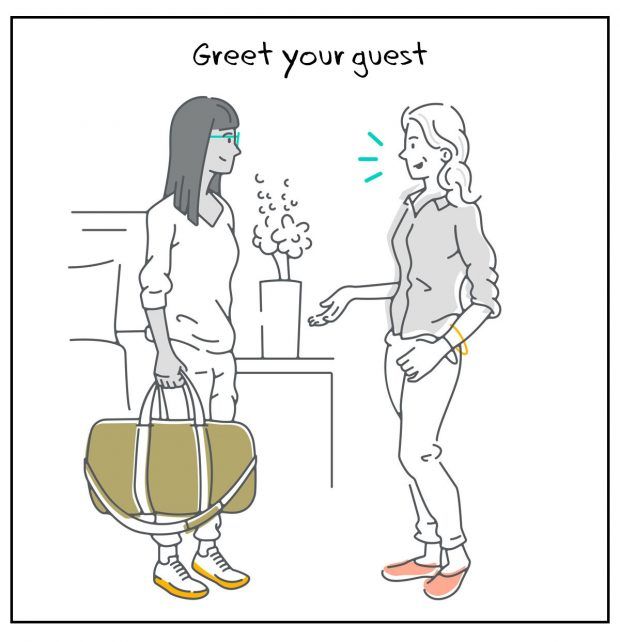 ♦ ♦ ♦
4. Be ready to greet your guest
Please don't show up late. As a guest, there's nothing worse than arriving in a foreign city unsure if you're in the right place, anxiously waiting on the side of the street. If you are running late, let your guest know by using the app to send messages!
♦ ♦ ♦
5. Offer a welcome drink
It's always the little things which go a long way to making a stay pleasant. Have fresh flowers in the room/ apartment/ house, or if your guests are big spenders and you've got the money, surprise your guest with a welcome drink, an extra couple of beers in the fridge or an unopened bottle of wine. It's those little things which go a long way to making a lasting impression. Remember: more often than not, your guests are on a holiday and new to the city—treat them as any first-time visitor and make the stay memorable! You're as much an ambassador for your home and for the Airbnb experience as you are for your city!
♦ ♦ ♦
6. Get to know your guest!
Whether it's through your initial communication during the booking process, or once they've arrived, please spend a little bit of effort to get to know your guest! Guests are going to be far more supportive and understanding of small issues if they know you as a person, and vice versa!
♦ ♦ ♦
7. Have an extra set of keys for your guest
If you've got multiple guests staying in your property, offer an extra set of keys for them if they need it.
♦ ♦ ♦
8. Offer local tips
My best Airbnb experiences have been when the guest sent me recommendations through the app, or else offered a print-out guide to the neighborhood. Some of the best properties I've stayed in even had a basket of tourist guides and maps (thank you Pepo in Barcelona!). When you're meeting your guest to give them their keys, offer whatever local tips you can or ask if they have any questions. Remind your guest that they can message you for whatever else you might need.
♦ ♦ ♦
9. Use the app for all your communication
When communicating with your guest, keep all the important messages through the Airbnb messaging system. If there are any problems, it's useful and important to have the record.
♦ ♦ ♦
10. Follow up with your guest after a few days
For guests who might be staying multiple days, follow up after two, maybe three, days. Ask how their trip is going, if they've had any issues, if they need any tips. (Thank you—again—Pepo in Barcelona!)* It's just friendly and supportive and as a host, it's partly your responsibility to make sure your guest is having a good trip.
*Seriously – he was such a great host!
♦ ♦ ♦
11. Respect your guest's privacy
While you should keep in touch with your guest, it's also important to mind their privacy. If you're simply renting a room in your apartment, install a lock on the door so that the guest can make themselves feel safe and comfortable as necessary. And if/when the guest isn't around, don't intrude on their rented space. Should you need to encroach on their privacy, always knock and/or message through the app as an alert.
♦ ♦ ♦
12. Don't ask for payments outside of the Airbnb ecosystem
If a guest breaks something small, or there's a local tourist tax, ask for the guest to pay through the Airbnb ecosystem rather than with cash. Again—it's all about keeping a record of the communication and it can be uncomfortable for either guest or host to have to hand over cash when the rules aren't strictly obvious.
♦ ♦ ♦
13. Save a portion of your profits to reinvest into your space
Once you've been a host long enough, use that extra cash to improve your space! Interior design can be fun, and creating the perfect experience for your guest should be seen as a fun challenge. Your Airbnb space should include some local character. Maybe there's a painting by your artist friend, or a vase (with fresh flowers – hey!) from that ceramic shop on the corner. It's those little touches of local flair which make the best Airbnb hosts stand out.
♦ ♦ ♦
14. Review your guests!!
As a host, it's important to get positive reviews. But don't forget you should also review your guests. Maybe you host people several times a month, but as a guest, they're probably only traveling a few times a year. A host is likely going to make a lasting impression on a guest, but it's important to remember the Airbnb experience is one of connections—so don't lose sight of it and make sure you review your guests!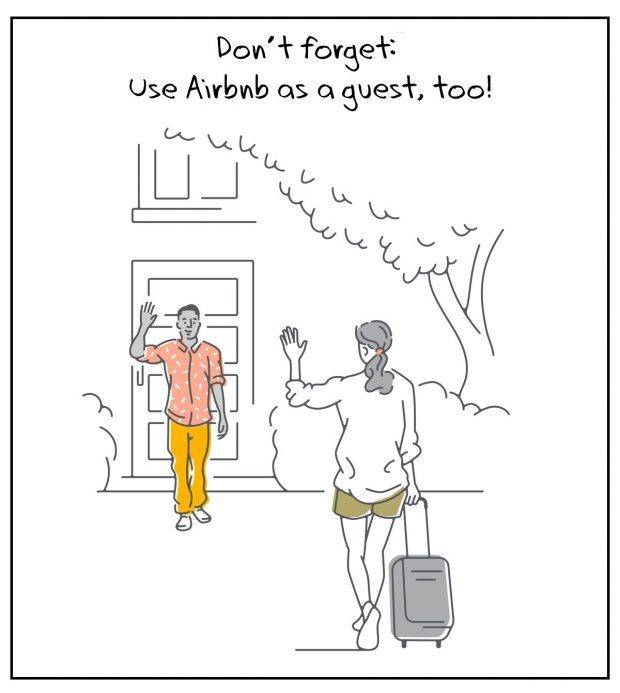 ♦ ♦ ♦
15. Don't forget: Use Airbnb as a guest, too!
Perhaps the most important tip!! Airbnb is one of the best tools available to us as travelers today. And sometimes the best way to know how to be a good host is to also try out the experience as a guest. It's helpful to understand the full process, and it's fun, too.