Finding a gay or LGBTQ-friendly hotel while traveling isn't always easy. I use these 5 steps when looking for accommodation when traveling to make sure I'm staying somewhere comfortable where I know I'm welcome
We made our way from the train station to our hotel—an easy walk through the old town. I'm the type of traveler that might splurge on a nicer hotel but I'm still going to walk everywhere or take public transportation to get around.
The hotel was self-described as a boutique design hotel, but as soon as we walked up to the property entrance, we were a little surprised. A large Christian cross was outside, standing about 10-feet tall by the hotel entrance.
This was in Poland, so that wasn't totally out of the ordinary, but in my mind, I immediately thought: okay, here we go. I wasn't necessarily nervous, but I figured I should be a little more mindful than usual. My boyfriend and I had booked a room with a single bed—we'd been careful to make sure we'd booked it because, well, we wanted to sleep together.
Check-in at the hotel was fine. We were given our keys, shown where breakfast was, and then we walked upstairs to our room. It was a small hotel, maybe no more than 20 rooms. And as soon as I walked into the bedroom, that feeling of despair and angst settled in. We'd been given a room with two beds.
My boyfriend looked at me. This wasn't what we had booked. We hadn't traveled together too much at this point, but when we had, we'd never had trouble with our hotel bookings.
---
The "two beds or one" question is one that LGBTQ travelers have been discussing for decades. Years ago, two men or two women checking into a hotel might have just secretly pushed their beds together or cuddled up in a small single.
Of course that's what we could've done, but I'm VERY stubborn. My boyfriend and I stood there in the room and had a full 5-minute conversation about the situation.
"It's not that big of a deal. It's only two nights," he said. "But if you want, we can ask them."
It was then a discussion of whether we should go downstairs and talk directly with them. Or do we just call reception and ask about the mix-up? We debated whether we felt comfortable enough to confront them. In my mind, that large cross outside weighing on my decision.
---
I'll be the first to admit I can be a bit naïve when traveling. I inherently trust people, for better or worse. I use my instincts, of course, but after almost a decade of traveling full-time, my experiences abroad have been largely positive.
Even in this situation with our hotel in Poland, I didn't know if it was some veiled anti-gay thing, or if it was just a mix-up in the booking. It's impossible to know, of course.
When I did finally call down to reception to explain that we'd requested a single bed, we were told that we had been given the last room and there were none available. There was no apology, but no direct malice in the receptionist's voice, either. And like my boyfriend said, it was only for two nights.
Truthfully, it wasn't the end of the world for us. But here's the thing: those brief moments of anxiety and worry, and the awkward conversation I had to have with reception put a palpable but brief damper on our holiday weekend. And it's something a lot of LGBTQ travelers have to deal with—and in varying degrees.
Read other gay travel stories & tips
---
These days, finding LGBTQ-friendly accommodation is largely just a small gamble because most major tourism destinations today across every continent are at least aware of LGBTQ travelers and try to be as welcoming as possible for foreigners.
Oftentimes, as a foreigner, you're even granted more flexibility and rights than locals. (Note: that's not always the case and some destinations like Dubai have gone so far as to prosecute LGBTQ tourists according to local laws. Check sites like Equaldex.com and the U.S. State Department's travel advisories for on-the-ground insight to stay safe.)
Most major hotel groups have global directives to be welcoming for their guests. And they also provide LGBTQ-inclusivity training. Marriott, Hilton, Accor, InterContinental, Starwood. The big brands are almost always going to be the safest options.
Unfortunately they're not always the most fun hotels as they sometimes lack the local flavor of a boutique design property. Design Hotels, HotelTonight, and TAG-approved properties include more independent properties, but unfortunately don't offer options in every city or country. That's why in the more far-off destinations, sticking to the major hotel chains is usually safest and most comfortable.
LGBTQ travelers don't need a lot from hotels, but what we want shouldn't be hard to come by. The check-in process should be seamless (and our requests shouldn't be questioned). We should feel invited and welcome into the hotel just as anyone else. That can be done at every stage of the hotel booking process.
A hotel could and should include LGBTQ imagery part of their website and marketing. They should feel comfortable advertising and promoting LGBTQ special offers year-round (not just during the pride season). Hotel concierges should be aware of notable LGBTQ tourist sights, or at the very least provide useful LGBTQ resources and local maps when possible. Hotels offering romantic packages shouldn't assume guests are looking for his/her-labeled amenities.
---
How to find an LGBTQ-friendly hotel when traveling
Gay travelers are assumed to have and to spend more money on travel (especially accommodation) than other travelers, but we're not all the same. Every trip I take is a little bit different in how I prioritize my time and my budget.
If I'm visiting a place for a festival or a gay pride event, I choose where I stay based on the location. If I'm looking to explore the gay bars and nightlife of a new city, I'm going to choose to stay in the gayborhood. That's why the first step I take in finding a gay-friendly hotel is step (1) searching Google to find the best area to stay for that specific trip—whether that's in the hipster neighborhood, the gayborhood, or something convenient to my itinerary.
Step (2): I'll look for hotels, Airbnbs, or house sits in that same area—usually using the searchable maps available on booking platforms like Booking, HotelsCombined, Trusted Housesitters, or Hotels.com.
Part of that process and step (3) is to also search Google for any gay hotels that might show up in search results. I've found gay-specific hotels in cities all over the world, from a gay resort in San Jose, Costa Rica, a gay hotel in Sevilla, a gay hostel in Berlin, and a semi-clothing-optional gay hotel in Puerto Rico….
If any of those gay properties seem especially appealing, step (4) is to check the prices and recent photos directly on their website. And bonus: oftentimes you'll find the best rates when booking direct with a property.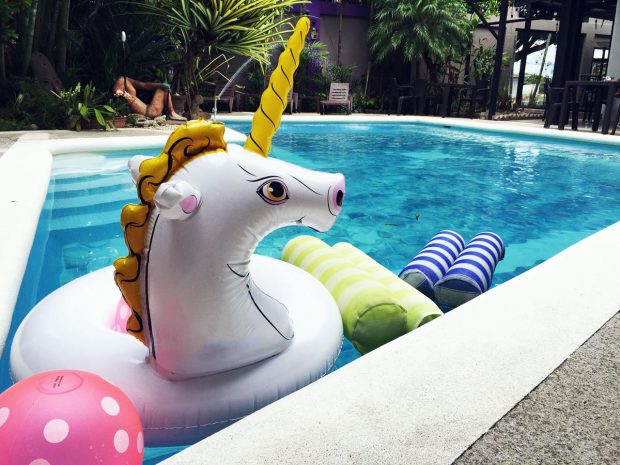 Before booking, however, step (5) is to check the reviews and ratings across booking platforms (whether Google Map reviews or on the hotel booking engines).
Truthfully, I haven't necessarily managed to stay in a gay-only property that was better-maintained than any other hipster hotel. I want to support LGBTQ-owned businesses, but with limited time and money for my holidays, I also want to make sure my hotel is going to be tip-top.
After booking, you're basically on your own and won't know how the hotel is going to be until you get there. But taking those initial steps before booking can help ensure you find more friendly and open accommodation. It might take more time during the planning stage of your trip, but in the end you'll have better experiences.
---
That weekend in Poland ended up being a lot of fun. We drank a lot of beer, ate a lot of pierogi, and had a great time at the arts festival we were visiting. We may not have had a big bed to share, but we decided not to let the experience ruin our weekend anything beyond that first bit.
It was a learning experience for us, however. Sometimes when you want a romantic weekend, you've just got to go deeper when researching where to stay. If you don't spend the time doing the travel research, there's little more you can do.
Unfortunately for gay travelers, we've just got to prepare a bit more to ensure our needs and interests are met while traveling with a partner.
Looking for more LGBTQ travel tips? Start here, and join my Facebook community of LGBTQ Travelers.