It was a short bus ride from Chemnitz to Limbach-Oberfrohna. Probably a part of Germany I normally wouldn't be exploring, but I was here to see something special. The annual iBug festival takes place in a city in western Saxony, a central eastern state of Germany with a history that spans more than a millennium. The nonprofit festival, this year celebrating its eleventh year, celebrates a diverse array of creative principles.
The urban art festival has come to be a place for artists to come together, share and create. Taking place in a different part of Saxony each summer, the festival brings together international, regional and local artists. Over the course of a week, they're given ownership over a property—usually one of Saxony's abandoned industrial buildings.
The festival breathes new life into these abandoned places, adding symbols of peace and unification, political messages of hope and statements on current political affairs around the world. When I arrived this year on my fist visit, the first impression upon entering was a red fox jumping on a Campbell's soup can (oh hey, Andy Warhol). There was music coming from somewhere, a group of people chilling out in a makeshift beer garden, the sun blazing down and a building that clearly looked out of place from its surroundings. There was so much color.
The festival aims to promote diversity and invites graffiti and streets artist from all over the world. From Ecuador to Belarus, over 120 artists from 17 countries presented an unique and interesting perspective on the world today: images of toxic waste, political messages about refugees in the Mediterranean and biohazard chemicals. Not everything was so grim, though. A series of 100 hearts (#100herzen) supporting children with cancer in Germany dotted the grounds, many of them with whimsical and colorful motifs.
It felt like a hodgepodge art exhibition. Artists are given free reign on the property in the week before the public opening. This year's festival took place in an old clothing dye factory which was power-washed before the artists arrived, giving them a mostly clean slate to produce their work. While most of it was graffiti or street art, some artists utilized found objects and other mixed media.
While some art seemed to reflect on people who committed suicide by bullying or because they were gay, other artworks were peaceful representations on Arabic calligraphy or… sausages (ironically, painted by a vegan street artist). One of my favorite works in this edition of the iBug was a work entitled A L O E, which can be completed either with the letter N to say ALONE or V to say ALOVE. The whitest room was a perfect installation in the middle of a ruined building, an empty flat waiting to be filled with memories. If you chose to be "alone" or "alove," the experience of the room will be completely different…as in real life.
Next to this room, on the second floor of the abandoned dye works, there was a huge mural reflecting on the lies of the press. Another floor of the building included lots of affordable little artworks, posters, t-shirts and other items like postcards and hipster tote bags created by the artists—all for sale at reasonable prices.
The iBug festival isn't just another simple and straightforward portrayal of urban street art, however. Artist talks, small conferences and documentaries were shown to further the learning process. Talking to some of the artists during my day at iBug, the festival has come to be a place where street artists can collaborate and share new ideas, stories and tips. Visitors ranged in all types of body shapes, age, color, sexual orientation, religion…and it seemed that the only requirement to attend the iBug was a passion for art. Any type of art.
Despite graffiti and street artists gaining more visibility, this form of art is still frequently rejected and criminalized. Many cities fight to keep street art contained in designated areas. I wonder what cities like Berlin or London might look like without street art. It's my belief that cities need to be open to this art because it allows people to connect, not only with themselves but with their environment—a challenge for any type of environment, but especially so in urban places. While graffiti tours are booming around the world, and while our museums fill up with books about street art, there's more that we can do. We need cities that embrace art—in all its forms.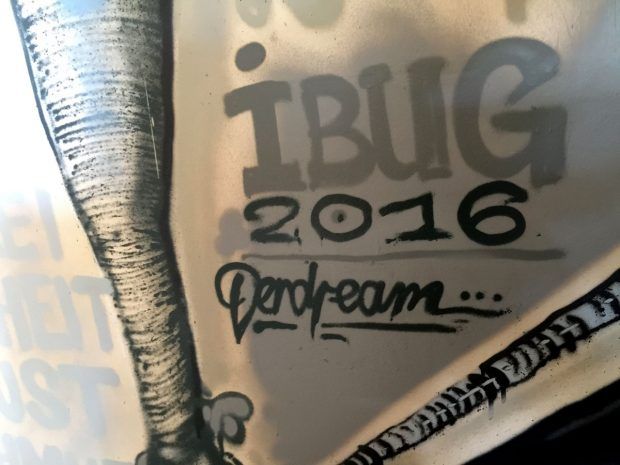 The iBug festival takes place each year in Saxony. Learn more on their official website. My visit to Saxony was supported by Simply Saxony.