It was raining when I got to the entrance of the Milkshake Festival in Amsterdam. I'd only arrived to the city a few hours earlier, on an early morning easyJet flight. As I was checking into my hotel the weather seemed perfectly fine, which is why when I left the hotel just before noon, I walked out in short shorts and a tank top. Only to find the sunny weather I was anticipating had turned to a sudden downpour.
But as I walked up to the festival entrance (thankfully: under a poncho handed to me by a drag queen on the sidewalk outside Westerpark), I didn't care. Based on the small crowd of people that was already gathering to get in, it was pretty apparent whatever I was wearing wasn't going to matter much.
When the front gates did finally open, we lucked out with some sunshine and as the crowds started coming in, the atmosphere inside the festival really brightened up. With nine different stages (plus a few secret, hidden ones), there was more than enough going on. Traveling solo, I spent the first few hours of the festival dancing alone, with a plastic beer cup in my and. Moving from stage to stage, I quickly found my favorites.
Each stage at Milkshake is managed by its own staff, with music tastes varying from venue to venue. The whole festival was unique in that you could find all sorts of variety of music. I had my indie pop, my R&B, my Berghain techno and my circuit party music all within a few hundred meters of one another. Plus, some real surprises, too. The different stages were also well-designed—the most impressive being the Supertoys stage where headliners like Hercules and Love Affair played a loud, exciting set.
While the stage design was fun, colorful and impressive (plus all the backup dancers—hot, fun and sexy!), the thing about Milkshake is, it's not really about the venue. It's about the people. With a motto "For All Who Love," the festival really is like one giant love-fest—in as clean a way as possible. Tote bags and t-shirts from the festival proclaimed "For boys who love girls who love girls who love boys who love boys…" which really wasn't far off from the type of people at the festival.
The crowd at Milkshake wasn't typical of other festivals I've been to: rather, the crowd was one of the most eclectic, crazy, fun and friendly crowds making the atmosphere of the festival totally, insanely, crazily fun. Most people had costumes but there was a definite "come as you are" vibe as well. As the day progressed and as the sun came out, clothes came off, pills were shared and Grindr was put away for actual encounters in-person. Even though I was traveling solo at the festival, I managed to bump into more than a few unexpected friends. Plus the overwhelmingly friendly atmosphere of the crowd, made it easy to talk to strangers and join in on dance parties.
When you've got people glitter-bombing on the dance floor and then those with elaborate outfits that must've taken days to put together, there's a certain amount of life to be expected at the party. (And this was definitely a party.) To accommodate all the crazy outfits and the surprisingly large amount of people who wanted to be nearly naked at the festival, lockers were available to rent for the day just outside the main entrance. It was a handy way to change throughout the day as the temperatures changed, plus made it easier to store things while I was on the dance floor.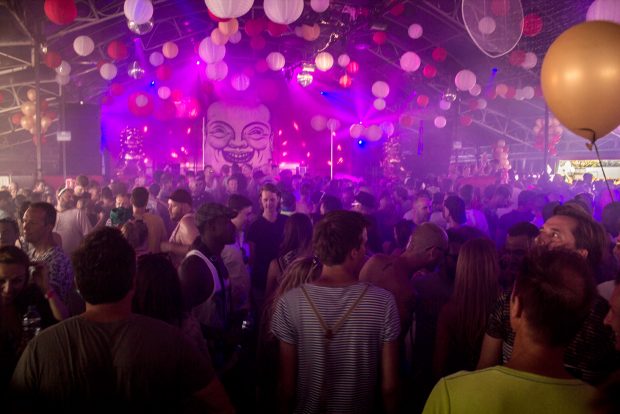 * * *
The idea of going to the Milkshake Festival this year came up when I heard it was a "queer music festival." That's a hard thing to turn down, especially when I've been grappling with what it means to be "queer" ever since this very-gay summer full of Supreme Court decisions, festivals and gay prides. This year was only the fourth annual Milkshake Festival, though there were over 15,000 tickets sold out before the day of the event. Clearly a sign that queer and alternative events like this one are still necessary. And bonus: they're a lot of fun!
After 11pm, the festival started to slow down. I guess day-dancing (and day-drinking) for hours straight can get a bit tiresome. As I made the late-night, half-drunk, short walk back to my hotel, the Renaissance Marriott, I couldn't help but wipe the grin from my face. Dancing all day and night, more than a few wardrobe changes and a full day of talking to strangers and making new friends—that's what a holiday is for.
Packing up on Monday for my return flight home, I was already messaging friends and planning my return to Amsterdam for next year's Milkshake. And already planning what my outfit's going to be…
[box]
My trip to Amsterdam was supported by Holland Tourism, Amsterdam Marketing and the Milkshake Festival. For more stories and photos from Amsterdam, view my free Amsterdam Travel Guide:
[/box]