The day started with brunch at a French bakery, Wienercafeét—fresh croissants served from a wooden basket. It was just before noon on Saturday and the outdoor terrace was full with couples and groups. We were inside enjoying a leisurely brunch (with champagne), waiting for the day to begin. By the time brunch had ended, the Stockholm Pride march was already on its way from Mariatorget square in Södermalm.
We perched on a bridge to watch the march as it made its way through the Stockholm Old Town. There were a mix of local and international organizations, most of them with quite political messages. Despite Sweden being one of Europe's most gay-friendly destinations, Stockholm Pride was surprisingly somber. Unlike other gay-friendly cities with large pride events, there's no alcohol available on the street and much less of a party atmosphere during the march compared to other events. That's not a bad thing. Instead, it put the focus on why we march, why gay pride is still important. It was a welcome break from other European gay pride festivals.
* * *
In Stockholm, it's not just about the LGBT pride march, though. All week-long there's a Pride House where conferences and seminars take place, and the Pride Park opens up for three days with concerts, dance parties, shows and other events every day and night. Both venues require tickets (and this is Scandinavia, remember—so it's not cheap!), but it's a fun and friendly place to meet other people and get involved not just in LGBT rights and politics, but also enjoy some surprisingly fun parties.
On the day of the pride march, Stockholm obviously comes alive with colors. Walking throughout the city, there were rainbow flags everywhere—even the public buses have small flags flying from their windows. Watching the march as a spectator was interesting, but I'm not one to stay on the sidelines. My friends and I joined behind a truck which ended up hosting a gay couple who got married in the middle of the pride march. Even though the ceremony took place in Swedish, it was clearly a happy moment and one that the whole crowd could celebrate.
Even while the atmosphere during the march was lively, I was anxious to arrive at the Pride Park. Inside, we had some fun joining in a conga line, exploring the Kinky Quarters (a fetish and BDSM area of the park) and getting free makeovers from the OUTtv stand. It was a fun afternoon, made even better with the sunshine.
Check out some photos from the day below. And stay tuned for more of what happened during Stockholm Pride, after dark ;-)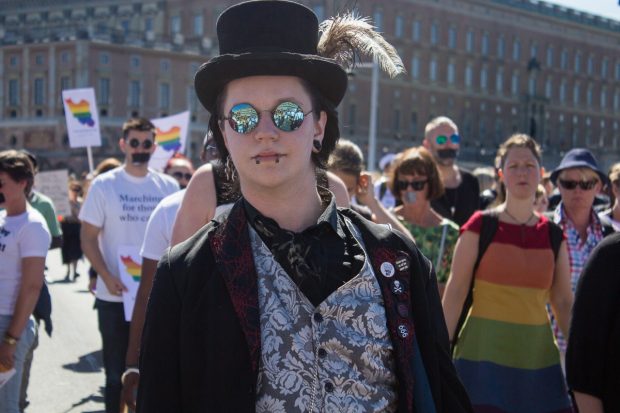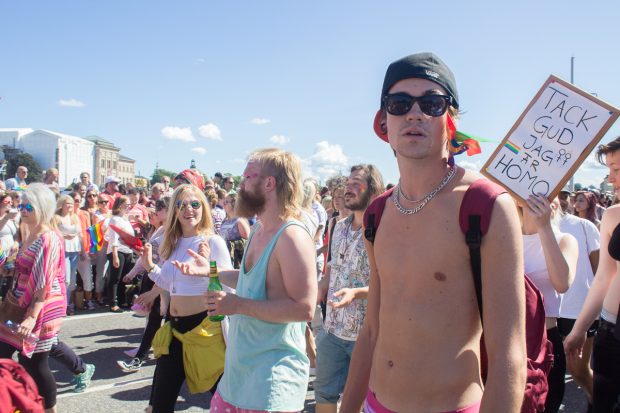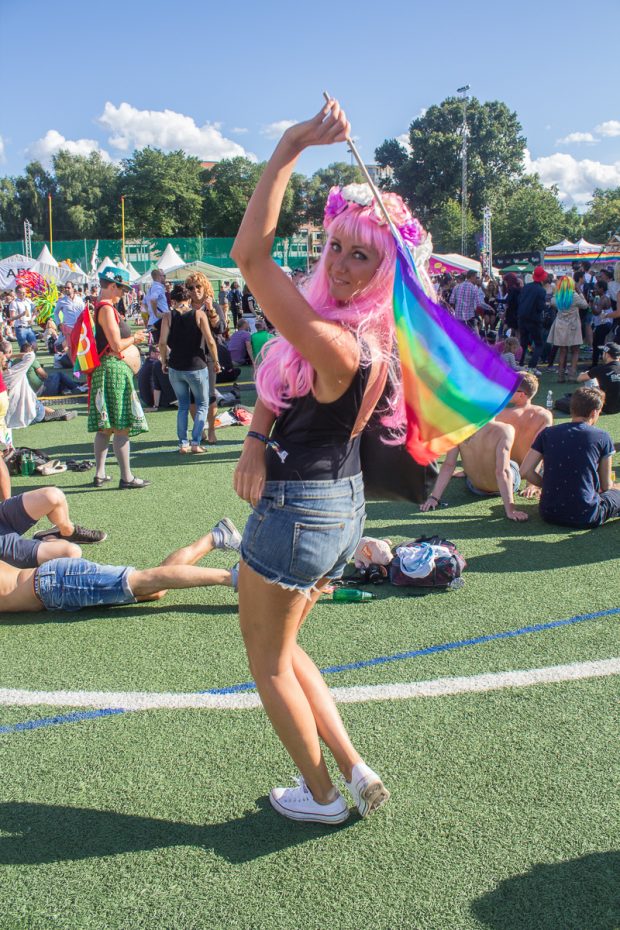 [box]
I was invited to Stockholm as part of the #MyGayPride summer campaign from TwoBadTourists.com. The campaign, supported by official media partner Gay Star News, has involved over 12 different bloggers visiting different pride festivals around Europe, supported by AirBerlin who offer direct flights to Stockholm from Germany. Visit the official Stockholm Pride website here, or read more travel stories from Stockholm here.
[/box]