Last week was a turning point for my month-long adventure in Seville. Sure, I've been singing the city's praises pretty much since I arrived. Sunshine, warm temperatures and the Spanish lifestyle were to thank for my immediate, knee-jerk love for the city. But now that I've been here for a while, I've definitely come to the conclusion that, YES, you should visit Seville.
Andalusia, the southern Spanish state, is famous for its tapas, oranges and flamenco. Seville, the state's capital, is Spain's fourth largest city but when I visited Andalusia for the first time (in 2010) it was probably my least favorite city. That's not to say I didn't like it, because I did (and god knows I had a fun time!), but I just didn't think it stood up well against Granada. This time it was different though.
Spending more than just a few days in Seville, I've come to really appreciate the city. It's a big city, yes, but it still feels like a small town. My studio apartment is located in central Seville (near the very cool Alameda de Hércules) and from there, nothing is really much further than a half hour walk. Of course there are buses and bike-rentals (including a public bike-rental program!) but with the decent weather that we've had in Seville so far, walking was never a problem either.
So it was this last week in Seville, with my camera in hand, that I finally did some sightseeing. With temperatures reaching 21ºC I was able to get out and explore more of the city. I went to the Alcazar de Sevilla, I saw an indie music concert in a contemporary art museum and I ate a lot of food. But I also hit a breaking point with my Spanish studies. I'm not really sure how or why it happened, but at some point in my class at the Clic school last week…everything just…clicked. (Sorry for the pun!)
I must've reached a point where what I was learning was actually being absorbed. Three weeks of classes every day, 4 hours a day, will probably do that to you. After class on Friday I came away super-motivated and ready to speak Spanish to anyone that would listen…which in Seville isn't hard to find. It was a good week!
But that's not the only reason I discovered why I love Seville… Here are a bunch more. Because as my time here disappears, I can tell you one thing: I will want to come back!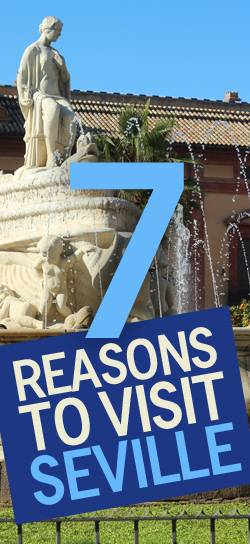 7 Reasons I Love Seville
1. Speaking Spanish is a necessity
It should come as no surprise that my number one priority for my time in Seville has been to learn some Spanish. It was a goal I publicly set out last November and I've been working hard at it over the past three weeks. I couldn't be happier that I chose to study Spanish in Seville either. In Seville, Spanish really is a necessity. Few people seem to speak English, or they're far more hesitant to speak English, than in the other bigger Spanish cities. That alone has forced me to use Spanish in a lot of situations I normally would've easily fallen back on my mother-tongue.
2. It really is sunny!
I don't know if it's some sort of marketing ploy I've picked up from who-knows-where, but it seems near impossible to say the word "Seville" (or Sevilla in español) without adding the word "sunny" in front of it. If it is indeed some sort of marketing that has been ingrained in my subconscious, it's certainly not a lie! Even though there have been plenty of rainy days here, the sun always manages to pop out for a little while. But to be honest: most days have been spectacularly sunny! I love it.
3. Tapas, tapas, tapas!!
A no-brainer, really. The food in Seville is better than I thought it would be. I've eaten at countless tapas restaurants now. I've had my best meals at restaurants like Eslava, conTenedor and La Pepona but I think I'd be hard-pressed to say I had a bad meal in Seville.
4. Bizarre architecture
I've already done a whole photo series on the bizarre but beautiful architecture of Plaza España but I've also recently discovered that there are a lot more bizarre buildings in this city. Walking along the river you can spot more than a handful of structures which just seem like they come from some alien planet. There's even the Puente del Alamillo designed by Calatrava. I tend to find his bridges quite pretty (even if they all look the same) but sti
5. La Alameda (and I guess there's other nightlife, too)
One thing I found pleasantly surprising about Seville is the nightlife. Now don't get me wrong: my main focus of this study abroad trip was to study Spanish…but that doesn't mean I didn't make time to study Spanish at night! Cool hipster bars like La Bicicleteria are open late (after-hours) even during the week. A friend once told me that the secret to life in Spain is the fact that it's impossible to sleep. Even during a normal week: dinners are late, drinks are later and mornings are (sort-of) early.
6. You can walk everywhere!
Even though Seville is Spain's fourth largest city, it doesn't really feel it. Of course in my short time here I've mostly stuck to the city center and the nearby neighborhoods, but it's a very manageable city by foot. Though I suspect I'd be singing a different tune in the summertime when temperatures can be unwieldy.
7. The colors
For me, Seville will always be associated with colors. On my first visit to the city in 2010 I met an Italian backpacker with a long, flowing skirt and a friendly, hippie demeanor. She spoke of attaching colors to cities and ever since then I haven't been able to escape the thought that some cities just scream a certain color. And so for me, Seville will always be a myriad of colors, though I won't lie: that blue, blue sky is hard to get out of my mind…
* * *
So there you have it. I've actually managed to fall in love with a city that isn't historically known as a big BIG city. I never thought the day would come… And while I wrap up my final few days in Seville, I'm already looking forward to visiting again — hopefully sooner rather than later!