Brooklyn is a vibrant hub of LGBTQ+ culture, offering a diverse array of gay bars that cater to every taste and style. NYC's most hipster borough, Brooklyn has long been a cultural hotspot in New York City, attracting creatives, foodies, and nightlife enthusiasts from around the world. From the vibrant art scene in Bushwick to the trendy boutiques (and now more bougie spots like Hermes) in Williamsburg, there's always something new and exciting to discover in this dynamic and ever-changing borough.
There's been a bit of a Brooklyn gay bar renaissance with at least four new queer spaces opening up since the pandemic, including one just a few weeks ago. And these aren't all just your typical gay bars attracting the same type of gay guy. These are all actual diverse, interesting places with their own unique vibes.
Whether you're a first-time visitor or a seasoned Brooklynite, there are plenty of options for LGBTQ+ travelers looking to explore the city's vibrant gay scene. From lively dance floors to cozy hangouts, these gay bars I've picked below are my personal favorites—each helps to create fun and safe spaces where the community can come together to celebrate, connect, let loose, make friends, and…even more (wink wink).
The Best Gay Bars in Brooklyn
Brooklyn has a thriving gay nightlife scene with a diverse array of bars and clubs catering to every taste. Here are some of Brooklyn's best gay bars in my ultimate guide to Brooklyn's coolest queer spaces. In no particular order:
Macri Park
Known for its small dive bar atmosphere, Macri Park offers a laid-back experience with regular drag nights and even Eurovision screenings. With a recently cleaned-up backyard and an iconic bathroom perfect for selfies, Macri Park remains a popular spot, albeit less crowded than pre-pandemic times.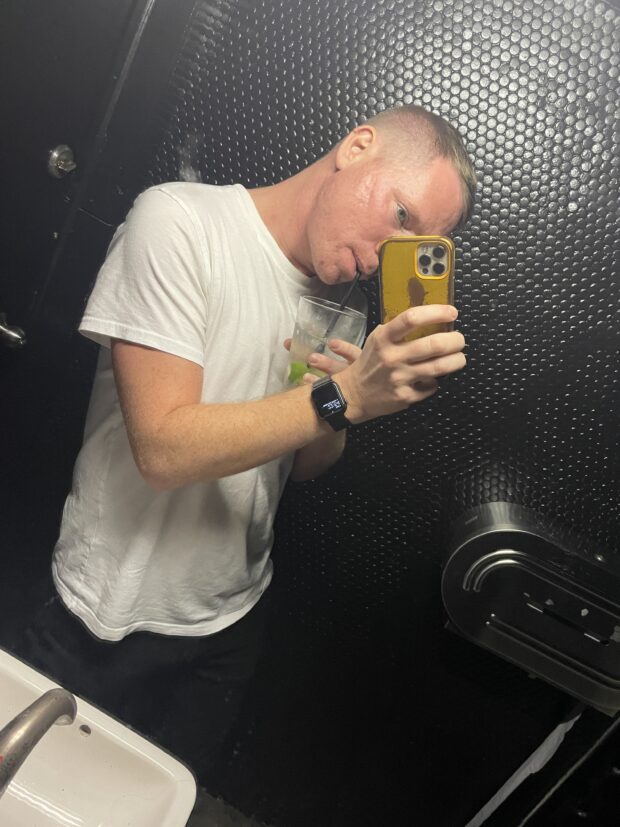 Metropolitan
Renowned as the best gay bar in Brooklyn for dancing, Metropolitan is a must-visit. Regular screenings of Rupaul's Drag Race draw crowds, and you might even spot celebrities like Idina Menzel dropping in. The iconic backyard, which catches just the right amount of sun during the day, and the inviting pool table make it an ideal place to make friends or find a great hookup.
The Exley
At The Exley, a slightly older crowd of thirty-somethings mingles in a small, crowded bar. The front patio is the coolest place to be, and though they recently added a second bathroom to manage the crowd, it can still take time to get a drink on busy nights. Nevertheless, The Exley's buzzing atmosphere keeps patrons coming back.
Mary's Bar
Newly opened in May 2023 by the same team behind Ginger's Bar, Mary's Bar caters to a vibrant queer community, particularly lesbians, trans people, and non-binary individuals. The spacious outdoor patio creates an inviting ambiance, while the establishment's ongoing improvements continue to enhance the experience. Although it brands itself as a "queer Irish pub," it deviates from the traditional pub atmosphere and does not offer food at this time.
Rosemont
Drawing in a young and energetic crowd, Rosemont is always brimming with fun and excitement. While the backyard may have seen better days, it remains a popular destination for making friends, scoring a hookup, and enjoying themed nights like karaoke, comedy, and movie screenings. Get ready to let loose on the lively dance floor!
Ginger's Bar
Situated in Park Slope, Ginger's Bar is a cozy lesbian establishment with a charming backyard decked out as a wooden terrace. The presence of a pool table creates an easy opportunity to strike up conversations and forge new friendships. It's the perfect spot to unwind and enjoy the welcoming atmosphere.
Happyfun Hideaway
Located in Bushwick near Bed-Stuy, Happyfun Hideaway offers a quirky atmosphere and a spacious backyard where regular DJs keep the energy flowing. While it may not have an extensive dance floor, it remains a fun place to boogie and mingle. Count on Happyfun Hideaway to be the prime spot for meeting the vibrant LGBTQ+ community in Bushwick.
Pink Metal
Nestled in East Williamsburg, Pink Metal offers a unique experience with burlesque nights and delightful cocktails. The bar, though long and narrow, rarely feels overcrowded, except for when performers take to the bartop for extra-fun dances (though I'm pretty sure the barbacks don't particularly enjoy when that happens – oops!). Step out into the small yard at the back for a breather or enjoy a cigarette in a comfortable setting.
3 Dollar Bill
A large bar/club that hosts big events, 3 Dollar Bill attracts a crowd of Hells Kitchen gays and beyond. Known for its spacious yard, it becomes the ultimate party destination during the summertime Ty Tea parties. Additionally, the venue hosts sexier and darker club nights like M.E.A.T. or Harder, creating an enticing atmosphere for those seeking a thrilling experience.
C'mon Everybody
Located in Bed-Stuy, C'mon Everybody is a charming spot with a back performance space that transforms into a dance floor during late-night weekend parties. The venue offers a lively and inclusive atmosphere, making it a great spot to let loose and enjoy the vibrant energy of the crowd.
Oddly Enough
Situated in Bed-Stuy, Oddly Enough is a lesbian and queer-friendly establishment that specializes in small bites and amazing cocktails. With its cozy and intimate setting, it's the perfect sit-down bar for a romantic date night or a relaxed evening with friends.
Singers
Opened in the summer of 2022 in Bed-Stuy, Singers boasts a beautiful spacious backyard nestled under a tree. This outdoor space often hosts events like movie screenings, karaoke, and trivia nights. With its candlelit interior and thoughtful design, Singers offers a great ambiance, making it an ideal choice for a memorable date.
Good Judy
Taking over a former gay bar in Park Slope during the pandemic, Good Judy has quickly become one of the best gay bars in Brooklyn. The venue features an upstairs performance space for drag shows, TV screenings, and special events. The back room provides a space for dancing, occasional DJ sets on the weekends, and a cute yard. Good Judy is known for its social atmosphere, making it easy to connect and make friends.
Purgatory
Located in Bushwick, Purgatory attracts a young and diverse crowd. The bar has an eclectic design that gives off the feeling of being in a house. Upstairs, there's a performance space that hosts special events and gigs, creating an energetic and inclusive atmosphere. Purgatory offers a true mix of different types of people, embracing the diversity within the queer community.
All Night Skate
Situated on the border of Bed-Stuy and Bushwick, All Night Skate offers a unique interior design reminiscent of a roller rink, complete with themed décor. While there's no skating, the bar features a pop-up food vendor in the side room, a maze of bathrooms, and a balcony off the dance floor with diner-like booths. The bartenders here are renowned for serving some of the best margaritas in Brooklyn.
The Deep End
Located in Ridgewood, The Deep End is an upstairs bar above the H0L0 basement club. The venue is known for hosting wild gay and queer parties, creating an unforgettable nightlife experience. The bar offers a weekly trivia night, delicious bar food (with happy hour specials on wings), and a lively atmosphere. It's a fun and vibrant spot to explore in the Ridgewood area.
---
Looking for more gay, lesbian, or queer spots in Brooklyn? Don't worry, there's plenty of queer-adjacent spaces that may not seem as explicitly gay as the gay bars above, but these all host regular queer events
Diane's
One of the favorite bars in Williamsburg, Diane's features a cute backyard and even some outdoor seating in the front. The bar is known for its friendly bartenders and a jukebox stocked with music exclusively from women artists. Diane's hosts various events, including drag bingo on Sundays, Vanderpump Rules screenings, and unique events like ikebana flower arranging.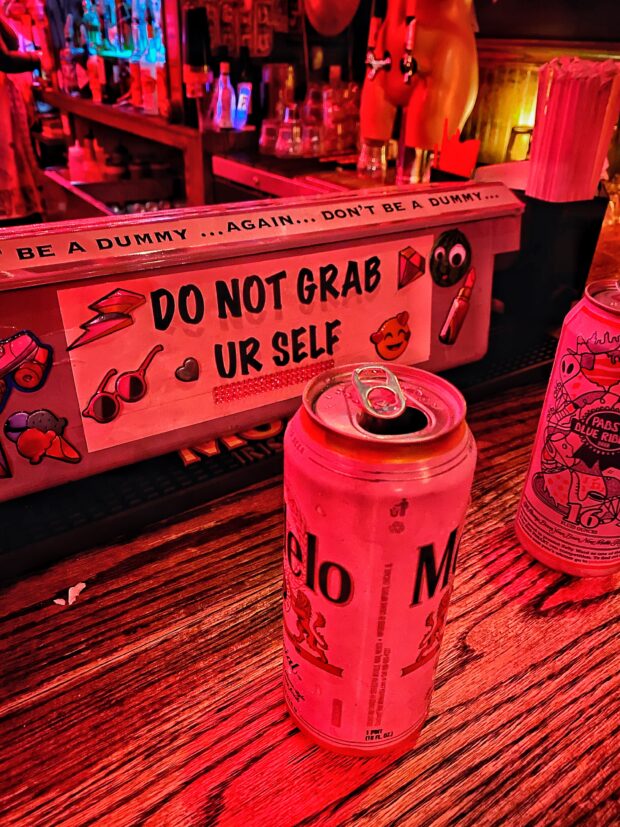 Boobie Trap
Located in the cool neighborhood of Bushwick, Boobie Trap is a super queer spot adorned with artistic depictions of boobs on the walls. It's a laid-back dive bar offering board games for entertainment and a small outdoor seating area on their front patio.
Echo Bravo
Echo Bravo is a lively spot that hosts Friday night drag shows along with RuPaul's Drag Race screenings. The bar also offers a great burger and beer food special. Keep an eye out for their whimsical pinwheel where spinning it for $1 can win you assorted prizes like boozy sno cones or jello shots. Echo Bravo is known for its delicious food, entertaining drag performances, and the opportunity to test your luck with the spinning pinwheel.
Mood Ring
Located in Bushwick, Mood Ring is an astrology-themed bar and club that attracts the local queer crowd. The venue features a back room that hosts a variety of events, including comedy shows, music performances, and Monday night karaoke. Step into Mood Ring to immerse yourself in a unique atmosphere that combines mysticism with vibrant nightlife.
---
Best Days to Visit Brooklyn's Gay Bars
| Gay Bar | Quick Description & Popular Times to Visit |
| --- | --- |
| 3 Dollar Bill | Bar/club. Best on weekends for special parties/events |
| All Night Skate | Unique roller-rink-themed bar, lively atmosphere. No happy hour |
| Boobie Trap | Casual dive with board games |
| C'mon Everybody | Small bar/club. Check their event calendar for special events |
| Diane's | Fun events like drag bingo and Vanderpump Rules screenings |
| Echo Bravo | Friday night drag shows with RuPaul's Drag Race screenings |
| Ginger's Bar | Cozy lesbian bar, ideal for evenings with friends |
| Good Judy | Upstairs performances, drag shows, and dancing (check event calendar) |
| Happyfun Hideaway | Regular DJs, a fun place to boogie (check event calendar) |
| Macri Park | Cheap dive. Skip the karaoke nights |
| Mary's Bar | Queer Irish pub with huge outdoor patio. Regular happy hours |
| Metropolitan | Best for weekend dancing @ night. All-afternoon happy hour and cute backyard |
| Mood Ring | Variety of events including DJS, comedy shows, and karaoke. Flyers on Instagram |
| Oddly Enough | Enjoy small bites and amazing cocktails, perfect for dates |
| Pink Metal | Check their Instagram for burlesque nights and figure drawing events |
| Purgatory | Eclectic design, upstairs events and gigs |
| Rosemont | Young, fun bar/club with cute dance floor. Lots of regular events and a daily happy hour |
| Singers | Beautiful spacious backyard, look out for outdoor events. Their Instagram is wildly fun but not informative :D |
| The Deep End | Trivia nights, great bar food, and good happy hour |
| The Exley | Fridays may be busy, consider arriving earlier in the evening or late for faster service |
Brooklyn's gay bar scene is rich with diversity, welcoming all members of the LGBTQ+ community to gather, celebrate, and connect. From lively dance parties to cozy hangouts, each of these bars offers a unique experience and a chance to feel at home—no matter how you identify.
They're all my honest favorites. Living in Brooklyn for over 5+ years and being your resident Brooklyn hipster gay, trust me when I saw that these bars new and old are worth your time. I hope you'll take the time to explore them, and don't forget: always tip your drag queens!