Okay, this title is slightly misleading. I'm not a German, and this past weekend I spent in Cesenatico, Italy is far from my first holiday. Here's what I mean: German holidaymakers stereotypically travel on package tours, as groups and to the beach. Pasty white Germans are famously spotted on the beaches of Mallorca, Crete and Thailand. And with the German tourism market as big as it is, there are often great package deals for holidays found and booked online to many of these destinations. When I flew out of Berlin for the weekend, little did I know that I'd find so many German tourists in the quaint (but surprisingly large) beach town of Cesenatico!
My weekend holiday in Cesenatico, Italy was part of a trip funded by the local hotel group and while I wasn't on a package holiday tour, I certainly felt like I was. The hotel I stayed in, the Hotel Prestigio, offers package deals which can include your room stay and all your meals: a breakfast buffet, lunch and a full-course dinner with salad buffet. It was fairly luxurious to have a private dining table and full service, even if the food was of your basic resort-style varieties (with menu options at every meal). The hotel also had all your basic amenities (pool, gym, wifi), plus large and social spaces which—perfect for big groups of friends & families.
I was tipped off to the general German-ness of my holiday from the very beginning. Upon arriving at the hotel, the staff started speaking to me in German, and in fact, their German was probably better than their English! Not a problem for me, considering I've just completed yet another language course. It was actually a lot of fun to speak German in Italy as an American, even if it was a strange way to practice my studies. Besides speaking German at my hotel, the staff seemed acutely aware of many of the things I've noticed Germans tend to appreciate in life—from bicycles to table tennis.
While I was initially surprised to find so many German tourists in Cesenatico, by the end of the weekend, I was quite content with the idea. It seems Cesenatico became popular with German tourists many years ago and much of the city's tourism industry is customized for Germans. This seemed much more apparent in Cesenatico than in Rimini which I briefly visited last summer. Rimini, while a bigger city with more nightlife options, lacked the charming town center of Cesenatico. Plus Rimini doesn't seem to be quite as accommodating for cycling. To be completely honest, I hadn't heard of Cesenatico myself up until a few weeks prior. And that's despite having spent a beach holiday just 20KM further south last summer in Rimini!
Many people like to comment about how well-traveled Germans are—and how often you meet German travelers & backpackers around the world. To be completely honest, I never encountered quite as many when backpacking. I tended to visit the same destinations as British tourists, come to think of it. If you stop to consider, it's quite remarkable how there are so many pockets of different types of tourists in different destinations. How do we choose where to visit? Are there underlying cultural forces at work—ones we just don't realize?
I suppose all this time living in Germany has finally rubbed off onto me and I now seem to want to visit the same places as Germans! And do the same things…
In Cesenatico, that meant bicycling.
Normally on a beach holiday, I'm quite content with a sun lounger and a good book. But because it just wasn't warm enough yet (unusual for this time of the year), I opted for a bit more exploration around Cesenatico the city. That meant wandering the streets and alleys around the old canal and spending my time in gelato & espresso shops. To make getting around easier, all the hotels in Cesenatico seem to offer free bicycle rentals. I had a little red one (my "Ferrari") which was quite reliable and got me all over the city. Cesenatico is also along some popular bike routes and the city gets quite a few cyclist tourists. There's a bike path along the beach, and the hinterlands are flat so they're perfect for cycling. I wasn't able to ride my bike out there and instead caught a ride, but a short distance from Cesenatico's town center are some salt farms and great places for bird-watching (flamingoes!).
Continuing my German holiday adventure, I made sure I sufficiently lounged around my hotel, but I also wanted to dig a bit deeper. I had a guided tour through the Cesenatico Maritime Museum where I learned about the city's history (Leonardo da Vinci once visited!) and the seafaring culture along Italy's Adriatic Coast.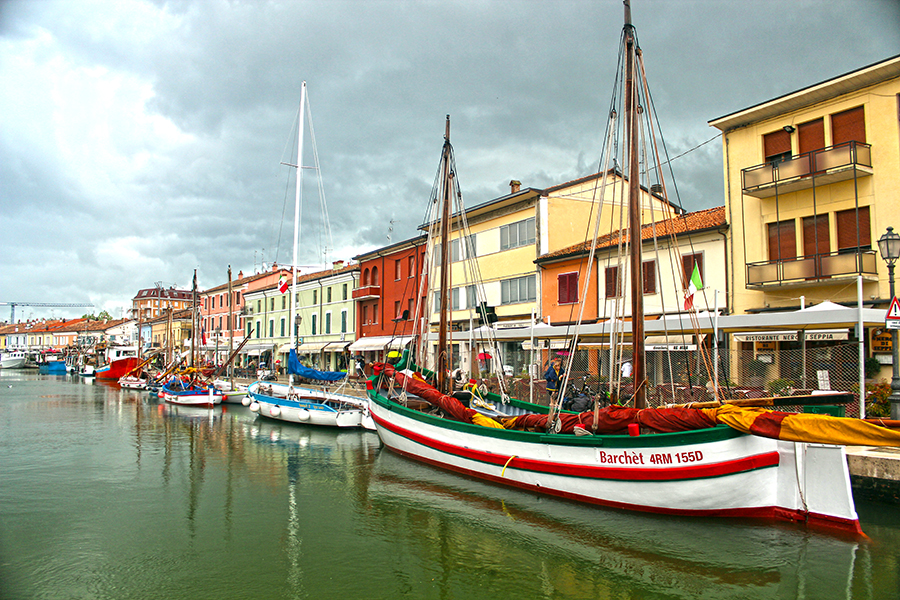 With everything I did this weekend, it's hard to imagine I was actually on a beach holiday. But a beach holiday it was! Thankfully the city was interesting enough to keep me entertained for a few days. In the sunshine, it's one of those places you could easily make into a week-long holiday—and not the type of beach holidays that are just for sun & sand!
Cesenatico is located about a 2-hour train ride from Bologna, Italy. Bologna is serviced my numerous budget airlines across Europe, with multiple direct flights to German cities every day. Check for last-minute flight deals with Lufthansa which wasn't quite as expensive as I would've expected. Special thanks to Cesenatico, Italy, Hotel Prestigio and Alessandra from 21Grammy for showing off the many things to do in Cesenatico.