With a celebrated music history and a large student population, Manchester attracts one of the UK's more diverse and creative populations. Home to the UK's "Media City" (with the BBC Headquarters), there's a host of different events and festivals that make the city stand out in both local and international media. But perhaps most poignantly, it's Manchester's reputation as an English city with rowdy bars, multicultural peoples and a growing creative class that's marked the city as one of the top places to visit—not just in the UK, but in the entire world.
The birthplace of independent music, Manchester has been home to some of the world's best indie bands from the UK, including The Smiths, Joy Division, New Order, The Stone Roses, Oasis and Britpop sensation, Take That. With such a storied music history, it's no surprise to discover Manchester has a long history of indie culture.
Know Where to Go
Northern Quarter — Since the area went through redevelopment in the past two decades, Manchester's Northern Quarter has been the city's hipster neighborhood. Once a run-down area of industrialized warehouses and ragtag squats, it's now home to trendy shops, pretentious cafés and underground basement clubs. Many Northern Quarter bars and clubs double up as restaurants, cafés or even art galleries during day, turning into shabby-chic nightlife spots each night.
Gay Village — Ever since being immortalized by the UK TV series, Queer as Folk, Manchester's Gay Village has helped to define the city as one of the world's modern gay city hotspots. Much of contemporary gay history has taken place in and around Manchester's gay village, with Sackville Gardens being home to a number of historical monuments. In recent years, longtime Manchester resident Alan Turing has gained the recognition he deserved, and today he's recognized as an important historical figure in the gay rights movement. While the city's LGBT history is important, today the Gay Village is one of the world's most vibrant gay neighborhoods with much of the focus in and around Canal Street—a stretch of road running alongside a canal full of bars, clubs and other gay-owned businesses. In the area, many of the bars operate as cafés and restaurants during the day, turning into glitter-bombed dance floors each and every night of the week.
Chinatown — Manchester's diversity makes it one of the UK's more colorful cities. In the center of the city, Manchester's Chinatown is the second largest ethnically Chinese neighborhood in the UK, and one of the largest in all of Europe. Home to countless Chinese and Oriental restaurants, there's a large gateway and arch making the neighborhood easily recognizable. Try the Wong Wong bakery for Chinese buns or bubble tea.
Deansgate — This long street that runs through most of Manchester has become one of the city's biggest nightlife spots. At the southern end of Deansgate street are the Deansgate Locks—another hub for Manchester's nightlife. Under railway arches, a handful of bars and clubs offer sun terraces during the summer months and popular drinking spots for many of the regional visitors. While the bars and clubs in the area aren't anything special, the Deansgate Locks still remain popular. The northern area of Deansgate, between King Street West and Blackfriars Street, is widely regarded as the coolest spot along the street, with live music venues and trendy bars butting up against the slightly more alternative venues in the Northern Quarter.
Chorlton — Manchester's newest up-and-coming hipster neighborhood, Chorlton is located in the southwestern part of the city, easily accessed by bus and the Metrolink. Beech Road is the center of a lot of the action, with cool bars like The Laundrette serving up trendy cocktails and local grub. Also in Chorlton, you'll find a range of international restaurants and foodie hotspots like the Unicorn Co-Up Grocery or live-music venues like Dulcimer (popular for its folk music).
Cafés & Restaurants
With Manchester's growing startup tech scene, there's a new wave of coffee shops and co-working spaces opening up, mainly focused on the Northern Quarter neighborhood. Many of the cafés close early, sometimes as early as 6pm, while restaurants seem to be open all-day, turning into club venues and bars at night. So you'll find many bars in Manchester that serve top-quality food, and many restaurants in Manchester that transform into trendy, hipster bars with DJs after hours. These transformations and blending of food and drink make the city a little more dynamic—nothing is really what it seems.
Art, Museums & Culture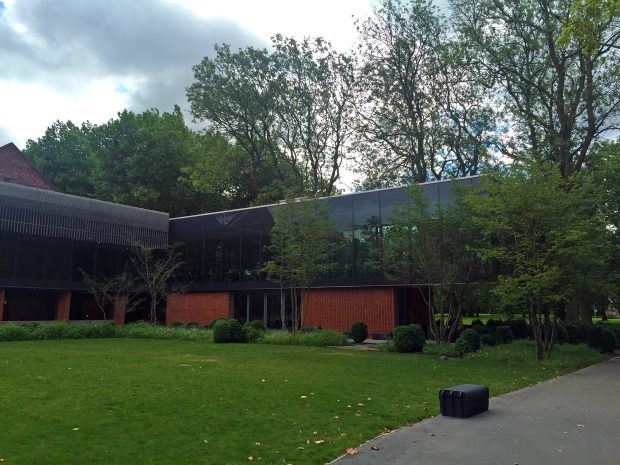 As the UK's third largest city, with approximately 2.6 million people living in the surrounding area, Manchester has plenty of great entertainment options. Many other Brits and Aussies visit for The Coronation Street history—the UK's longest running soap opera. Tours operate regularly showing off the original filming locations. With one of the UK's largest annual LGBT pride festivals, Manchester also attracts many gay and lesbian visitors. Other major attractions include the BBC's Media City—a favorite for journalists and those interested in media—and of course you can't forget Manchester United—probably the world's most famous football team, thanks to one David Beckham who defined his career while playing on the field here.
Manchester runs a number of great events festivals each year, including the biennial International Festival—an international arts festival that celebrates original new work. Though you'll found art and culture in Manchester year-round, thanks to these world-class museums and venues.
Shopping
Thanks to Manchester's working class heritage and new-found bohemian subculture, shopping in Manchester has never been better. High Street shops can be found throughout the city, but again, it's the Northern Quarter where more independent and alternative shops are located. One of Manchester's most unique attractions is the Afflecks shopping center—a warehouse turned into multi-shop building with everything from cereal cafés to barbershops.
Bars & Nightlife
Northern English culture is drinking culture. Manchester has a thriving nightlife scene because of the city's young population and a strong pub and club culture. Live music is also hugely popular in the city, thanks to many legendary Mancunian artists.
Gorilla Bar — This place has something for everyone, be it high quality drinks, tasty food or live music. Gorilla is actually home to a gin parlour where serious gin connoisseurs can sample gins from around the world. If gin isn't your thing, martinis are the other drink of choice. They even host a special afterwork drinking event each day from 5pm-7pm where all cocktails are £5 and a carafe of house wine is £8. All of their food is sourced locally and ethically, serving up brunch, dinner and traditional Sunday roasts. Then there's live music almost daily with different indie and punk bands in their concert venue space.
The Temple — A bar that was once actually a public toilet! It's a tiny place that packs a lot of punch, with plenty of foreign bottled beers on offer. The small space encourages a fun and sociable atmosphere. Notable is their jukebox that plays tunes by local bands. What might seem like a small dive bar actually becomes quite loud and rambunctious, so plan accordingly.
Soup Kitchen — Located in Manchester's Northern Quarter, people don't just come here for the food and drink. The venue also has live music events, comedy shows, art exhibitions and film nights, with a club in the basement. During the day, the bar & restaurant serves casual comfort food and sandwiches and boasts large, communal tables making it a friendly place to meet others.
Fab Cafe — The world's very first television and movie theme bar, this kitsch restaurant is museum-like as it's filled with tons of themed memorabilia. Come for the pub quizzes, cosplay nights, and live music while munching on some bar food and getting your pop culture geek on.
The Factory — Their name plays homage to the famous record label which once featured artists like Joy Division and New Order. The club space is now used for live music events, playing mostly indie rock and roll music and hosting regular events like Fuck Thursdays.
Gay Manchester
With Manchester's thriving and vibrant LGBT scene, the city is an attractive option for gay and lesbian visitors. Anyone who watched the late 1990s TV series, Queer As Folk, will know already that Manchester has one of the most friendly LGBT communities in the world. The gay village in the city center, centered along Canal Street, attracts thousands of visitors each weekend—with bars full of every type of individual and people spilling out on onto the streets, often sloppy and silly—but that's the charm of gay Manchester.
For fans of LGBT history, Manchester has a handful of important monuments and memorials. You'll even discover rainbow flags embedded into the sidewalk throughout the city marking important LGBT historical locations throughout the city. Manchester Guided Tours offers a Gay Heritage guided tour which makes for a helpful introduction to the gay history and current political situation in Manchester.
Manchester today is home to a diverse and thriving LGBT community. The city hosts a number of queer and LGBT events throughout the year, from the Queer Contact arts festival in February, Manchester Pride (the largest in the UK) every August and the Sparkle festival each summer when hundreds of trans and gender activists take to the city. Find more gay Manchester tips here, on the Travel Gay Europe website.
Where to Stay
Manchester has a number of world-class hotels, plus backpacker-friendly budget accommodation. With London just two hours away by train, Manchester is a convenient and affordable weekend escape.
Hotel Novotel Manchester Centre — Centrally located, this four-star hotel is close to Chinatown (you can see the arched entry from the hotel), Canal Street and the Piccadilly railway station. Sporting a contemporary and retro design, the 164 rooms are clean and minimalistic. Health and wellness fans can enjoy the hotel's sauna, hammam and small gym. The hotel's location, simple stylistic atmosphere and solid wifi make it a great choice for weekenders or business travelers. There's a bar and restaurant in the hotel, but as the city has so many other amazing places to eat and drink, it's advisable to eat elsewhere. Breakfast in the hotel is the basic English breakfast buffet. Room prices from $120/night.
Hotel Gotham — Situated in a former bank building, Hotel Gotham is an opulent, art deco styled, five star, boutique hotel on King Street in the city's business district, a short walk away from the Northern Quarter. The hotel's unique design centers around its' historic past, taking inspiration from 1920s Manhattan and even Batman (hence the Gotham name). The hotel's 60 rooms offer bright and bold retro styled furniture and large king-sized beds with furry throws. It's truly a fun place to stay, with Batman "do not disturb" signs on the room doors, binoculars to gaze out the window and the possibility to order an emergency hangover kit to nurse yourself back to health after a particularly indulgent night out experiencing Manchester's nightlife. The sixth floor Honey Restaurant provides an unexpected yet thrilling dining experience no matter what time of day, with appetizers like a prawn cocktail being served in a one foot high glass. The restaurant's arched windows offer sweeping city views and beautiful terraces. Room prices from $175/night.
INNSIDE Manchester — This centrally located hotel found in the First Street development has 208 spacious rooms with a modern and minimalistic designs. Most rooms come with a king sized bed and bathroom with a rainfall shower head. INNSIDE's restaurant follows a rather interesting "Food for a Social Mood" concept where a different mood is set each day, with their Mediterranean styled dishes matched to the day's mood. The mood has further ties into art and music, i.e. a DJ is occasionally present, entertaining diners while they eat their meals. From a health and wellness perspective, the hotel has a Finnish sauna, aromatic steam room and a gym. Wifi at the hotel is also free and the location, near the HOME cultural hub and Picadilly train station. It's a short 10-minute walk from the INNSIDE to Manchester's gay village, making this a popular hotel for LGBT visitors. Room prices from $100/night.
Travel Tips
The friendly and sociable attitude of local Mancunians makes Manchester a great destination for solo travelers. You never know who you'll meet! The city's also a great destination for a weekend city break, as local Mancunian blogger, Rodica from UK Travel Room, has pointed out in a helpful 48-hour city guide. With some of the UK's best nightlife, it's a great destination for a weekend break.
One of the best times to visit Manchester is when they hold their annual LGBT pride celebrations over the August bank holiday weekend. Manchester is one of Europe's most friendly gay destinations so the atmosphere during Manchester Pride is fun, wild, crazy and without question, one of the best parties of the year. Plus you can feel good about yourself because proceeds from the Manchester Pride go toward LGBT charity organizations.
It's fairly easy to get to the city center from the Manchester airport. Trains run daily every 10 minutes, with a journey taking just about 20 minutes. Many of the hotels are just a short 5-15 minute walk from either the Manchester Central or Manchester Picadilly train stations—both accessible from the airport trains.
Manchester offers free transport around the city via their Metroshuttle service which links to the main rail stations, shopping areas and other businesses in the city centre. Ask for a map of the Metroshuttle route from your hotel or one of the Manchester Visitor Information offices.
Pick up a copy of The Skinny—a locally produced, free monthly newspaper with independent cultural journalism. The newspaper is produced for Scotland and the Northwest of England. You'll find it in many of Manchester's shops and bars, especially in the Northern Quarter.
Local Blogs & Resources
The friendly attitude of Mancunians makes Manchester an easy destination to visit—no matter your travel style. Most local businesses are on Twitter and often reply and engage with anyone. In fact, you'll often see businesses list their Twitter handle on their windows, menus or front doors. Check local hashtags like #BestofMCR for news about cultural events or special pop-ups.
Visit Manchester — The official tourism website tells you all about what to do, where to eat, where to stay and what's happening in the city at the moment. Get even more inspiration from their Instagram account (check the #BestofMCR hashtag), YouTube channel and even their Twitter @visit_mcr where they share lots of daily events and special deals. Visit Britain's official tourism website also features a guide to Manchester, which they deem the "capital of cool."
Where to Go Manchester — Buy this beautiful and informative 104 page pocket sized guidebook to Manchester for only £4.95 on Amazon. It includes a useful map of the city highlighting a carefully curated list of the best places to eat, drink, experience art, music and more.
Creative Tourist — This website and blog, originally from Manchester and supported by the Arts Council England, has a number of informative and helpful guides to Manchester, including new art exhibitions, events and other cultural news.
Manchester Bars — A nightlife guide to Manchester, with independent reviews of the city's pubs, nightclubs and bars. The website is part of a network which includes separate city guides for Manchester restaurants, theaters, live music and comedy clubs.
***
View more Hipster City Guides from TravelsofAdam.com here.