Eating, like traveling, is a way to relate with the world and with new cultures. That's why when I travel, I make the local cuisine a big part of my adventure. That joy you feel when you taste something so different and so surprising for the first time.
When you learn a new word for a new fruit you've never seen nor heard of before. When you taste a home-cooked meal in a foreign country and it's totally not what you were expecting. When you discover unknown fruits, exotic spices, new diets. It's an exploration—a way to experience a place and a mindset.
So, like every other aspect of my recent trip to Costa Rica, I learned not just the cute and weird phrases, the fun Spanish words or the fact that San José is hugely underrated. I also learned that the Costa Ricans have a serious sweet tooth, that coffee is a vital part of the local cuisine, and that even as sweet as the Ticos might be, they still like their fruits sour.
13 Essential Traditional Foods To Try in Costa Rica
Cas fruit
Like most tropical destinations, Costa Rica is home to a number of unique tropical fruits—ones you'd be hard-pressed to find in other places. And, just like any other warm-weather destination, Costa Rica turns these fruits into smoothies and shakes. The most popular tropical fruit in Costa Rica is without question the small, acidic sour fruit called cas. Ticos will most often eat the fruit with salt, but if you want it sweet, go for it in a juice.
Where to get cas: It's available at most sodas (small restaurants) and markets as fresco de cas—an ice-based smoothie made with the fruit.
Casado
The most traditional of Costa Rican meals, the Casado is an entire meal including white rice, beans, plantains, picadillo, salad and some type of meat (chicken, fish, pork or beef).
In some touristic places and the Central Market, the casados include even more, with a corn tortilla and Turrialba cheese and maybe even some avocado slices. The same dish varies from place to place and the prices in touristic places are often exorbitantly expensive.
Where to get casado: Just about anywhere – it's a popular dish for lunch. Skip the tourist restaurants and look for it instead at a local soda.
Gallo Pinto
Particularly popular for breakfast, the gallo pinto is a rice-and-beans dish prepared with onion, celery and other spices, sometimes accompanied with natilla or scrambled eggs. Ticos usually just call the dish pinto when ordering for breakfast.
The origins of this plate are tracked to the Afro-Caribbean populations. Still today near the port-city of Limón, there's a variant of gallo pinto simply called rice 'n beans. This dish is similar to the gallo pinto, however it includes the tropical Caribbean flavors of coconut oil and sometimes shredded pieces of coconut.
Where to get gallo pinto: In San José try the gallo pinto at churro restaurant Manolos or the famous Soda Chelles. Both serve the dish all day long. The Central Market may offer both versions, the traditional gallo pinto and the tropical variant, rice 'n beans.
Salsa Lizano
Salsa Lizano is a Costa Rican condiment developed in 1920 by the Lizano Company, and I am confident that Costa Ricans have Lizano running through their veins instead of blood since that very date. It's used for gallo pinto, for arroz con pollo, for the tamales during Christmas.
Ticos love to eat their rice with a splash of Lizano and even empanadas are opened on the corner to add some drops of this precious sauce. Luckily, the sauce is easy to buy and find, and many restaurants place it next to the ketchup and the mayo.
Where to get Salsa Lizano: Salsa Lizano is sold everywhere, in supermarkets and pulperías, in small and big bottles and even in plastic bags. You can buy it at the airport after security but make sure if it's in your carry-on that it's the proper size. Mine was almost confiscated between buying it in the duty free shop and boarding (but I hid it in my toiletries ziplock).
Arreglado
The Soda Tapia near La Sabana in Costa Rica is an informal icon among Costa Ricans. Because the country lacks road signs for directions and even street numbers, locals frequently refer to places like: "From the Soda Tapia, two blocks South." But the Soda Tapia is known not only as a point of reference, but as a traditional meeting point, coffee stop and restaurant. Everybody knows it.
The arreglado is a pastry with a small salad, cheese and a particular type of meat called mano de piedra (beef flank steak). You can also have a huge breakfast, for example, arroz con pollo con natilla. Don't forget to add a little bit of Costa Rica's best sauce, Salsa Lizano. Soda Tapia is also famous for their batidos (milkshakes) and their ensalada de frutas (fruit salad), frequently accompanied with ice cream. Ticos love their sweets!
Where to get arreglado: Do like the locals do and eat at Soda Tapia in San José – you'll find most traditional Costa Rican foods available there.
Strawberries
Driving through Costa Rica, you're bound to stumble on countless roadside vendors selling everything from fresh fruit smoothies to sweets and roadside snacks. During my road trip up to Poas Volcano, we had a gastronomic experience. There are lots of vendors on the way – up and down – and you can stop and get goodies for a great price. On the surrounding hills of the volcano, the fertile soil is ripe for growing a number of foods. Most common (and a tourist stopover on day trips to Poas) is coffee as the plantations are visible and easily accessible on the way to and from the volcano crater. But besides coffee, the soil is also responsible for some of the juiciest strawberries I've ever tasted.
Where to get strawberries: Look out for the roadside vendors on the way to and from Poas Volcano.
Queso Palmito
Queso palmito is a soft, salty, fresh white farm cheese wound up in a ball shape and easily peeled to eat as a road trip snack. It's a popular cheese from Central America, looking like a weird cheese ball made of yarn. You basically eat it like string cheese.
Where to get queso palmito: It's a popular dairy snack in Costa Rica (and Venezuela) so you'll find it available at most small grocery stores, and especially at roadside vendors selling sweets and other snacks.
Surf and Turf
In a country where it's possible to move between the Pacific and Atlantic coasts within a few hours drive, it's no surprise that seafood has made its way into Costa Rican cuisine. But Ticos also love their meat. Most meals include a steak of either beef, pork, fish or chicken—typical of the casados enjoyed each day at lunch. In popular beach destinations like Manuel Antonio, you'll find most restaurants serving seafood alongside steaks and other meat dishes.
Where to get Surf and Turf: La Marina Pez Vela in Quepos is a new and trendy shopping mall located right on the marina of Quepos, a short drive from Manuel Antonio. With gelaterias and open-air restaurants, it was a cosy place for a leisurely afternoon of luxury. The seaside restaurant, Gabriella's, part of the complex serves a healthy mix of steak, seafood and pasta dishes and the bar downstairs hosts a number of evening events each week.
Pops
Costa Ricans have a strong sweet tooth so it's no surprise that there are number of dessert-only restaurants that operate throughout the country. The local favorite is Pops—a chain of creameries you'll find in just about every city. Their staple dish is the milkshake or the banana split which is really the only way to handle the intense tropical heat in the warmer months.
Where to get Pops: With over 100 shops around the country, it won't be hard to find.
Coffee
If Ticos are addicted to something more than sweets, it's definitely coffee. The café chorreado is a coffee that's prepared with something that looks like a sock. You fill it with coffee and then you only have to let the hot water pass through. While international chains and coffee shops have the modern cappuccinos and expresso, Ticos mostly drink café negro, a small mug of coffee. Some of them like the quality of the flavor so much that they refuse to add sugar or milk. Other Ticos only drink café con leche, coffee with a bit of milk and sugar, but it doesn't look anything like a cappuccino.
Where to get Costa Rican coffee: Bags of coffee are easy to buy everywhere, including in the stores at the Aeropuerto Juan Santamaría. Ticos are so passionate about this that they frequently give coffee as a gift and I traveled home with more than a few bags of coffee from Tarrazú. Also: don't forget to enjoy your coffee with an empanada.
Chifrijo
Chifrijo is probably one of the most popular bocas, a small dish that you have with beer. It's made of corn tortilla, chicharrón (fried pork) and beans. Some places have their own chili version, with tabasco and other spices. Other popular bocas are pollo frito (fried chicken) and if you're vegetarian: yuca frita (fried cassava).
Where to get Chifrijo: It's a popular dish in most bars that also serve food. You'll find it on the lunch menu at some sodas and other local restaurants.
Beer
While beer isn't a uniquely Costa Rican thing, the beer culture in Costa Rica is surprisingly popular. There are three national brands which you'll find throughout the country: Imperial, Pilsen and Bavaria; but I particularly prefer the new craft beers, with brands like La Segua, Maldita Vida or Lora.
Where to get craft beer in Costa Rica: In San José, the pub Stiefel, located next to FANAL (former Costa Rican national brewery) in Barrio Amón, is popular for their selection of craft beers. They also serve salty fries and big hamburgers.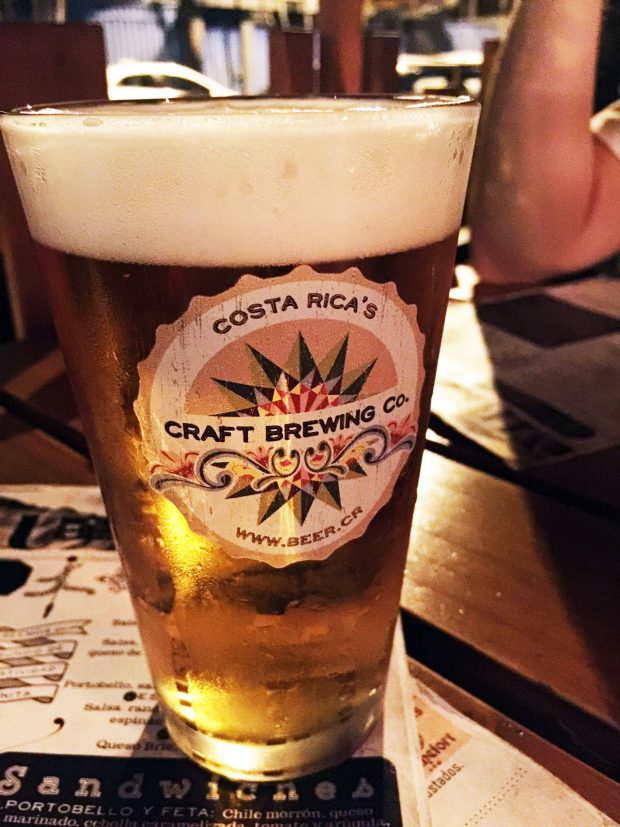 Tres Leches
Tres leches is a typical dessert in Costa Rica with a sponge cake soaked in three varieties of milk: heavy cream, evaporated milk and condensed milk. It's topped with a white cream and decorated with cherries, cinnamon, chocolate or colorful sprinkles. While Ticos are fans of sweets, I believe the secret ingredient of the tres leches is part of its success: a lot of rum. Non-alcoholic versions are also found but it is not strange to see little children have a portion of the regular tres leches.
Where to find tres leches: Almost any cafetería or coffee shop in San José has tres leches, and some supermarkets also sell it in a plastic container ready to go. However, in the rural areas of Costa Rica it might be hard to find.
• • •