California is one of America's most "gay" states. It's often considered one of the more liberal democracies in the country; its cities have been at the center of the LGBTQ rights movements for decades. LGBTQ travelers have a lot of great reasons to visit California because there's a lot of great things to do across the many different California cities—but to be honest, my favorite California city is Los Angeles.
Los Angeles isn't necessarily the top city that most people think of when planning a gay California trip. That's usually San Francisco. But to be honest: I've always been surprised and really loved the gay nightlife of Los Angeles, the many sights & things to do, and the incredible queer museums.
And while there are great gay bars in San Francisco, the gay nightlife of Los Angeles just stands out to me as a bit more fun and more social.
On my recent Southern California road trip with GayTravel.com, I had the chance to spend another crazy weekend in the city of lights living that oh-so-special LA lifestyle!
---
[box]
—AD—
Planning a road trip through Southern California? Advantage Rental Car, in partnership with GayTravel.com, offers a 20% discount for LGBTQ travelers. Use discount code GAYTRAVEL when booking online.
Learn more about the special offer here.
[/box]
The Best LGBTQ & Gay Things to do in Los Angeles
Visit the ONE National Gay & Lesbian Archives
The ONE National Gay and Lesbian Archives is an organization, community space, and archive that has been collecting important historical artifacts of LGBTQ life since the 1950s. Part of the University of Southern California Libraries, it's the oldest running LGBTQ museum & archive in the world.
Inside their small LGBTQ center, the ONE Archives keeps a record of some of the most important LGBTQ publications (covering every part of the gay, lesbian, bisexual, transgender spectrum) throughout history. In their archives, you can find the very first edition of The Advocate (which was launched in Los Angeles) to very small, homemade, independent gay magazines.
It's a beautiful record of a dynamic community through history, and an important reminder of how far we've come and what we still need to do to achieve full equality.
Go to The Abbey bar & restaurant
Okay, I don't care if it's a tourist cliche or not, but The Abbey bar and restaurant in West Hollywood is kind of the "it" spot. Everyone seems to end up there at some point in a night out in West Hollywood.
At the world-famous gay bar & restaurant, food is served during the day in a large outdoor space, but the real action is in the bar each night with plenty of go-go dancers and parties. With go-go dancers and events every night of the week, The Abbey is just a great meeting spot and central to the Los Angeles nightlife that makes West Hollywood so much fun.
Watch your pockets, though, because it's pretty common to be pick-pocketed at The Abbey (my phone was stolen out of my pocket there one night).
Visit the Black Cat Tavern
Another gay bar, the Black Cat Tavern is located in the more hipster neighborhood of Silver Lake, further up in the Los Angeles hills. It's an important historical site in LGBTQ history and a memorial plaque on the outside details what makes it so important.
The Black Cat Tavern opened in 1967 and shortly thereafter was raided by the police, harassing the local LGBTQ patrons. Shortly after, local LGBTQ activists organized a protest and demonstration—a full two years before the Stonewall riots which are largely credited with launching the modern LGBTQ rights movement.
Today, the bar is a popular bar and restaurant with a lot of space. Thanks to the on-site protest for LGBTQ freedom, it's a place worth seeing to better understand the collective LGBTQ history.
---
[box]
—AD—
Stay at the Elan Hotel in Beverly Hills
The Elan Hotel (Beverly Hills) is just a 20-minute walk (or 2-minute Uber) from Santa Monica Boulevard and the famous West Hollywood gay bars, and equally close to the picturesque Beverly Hills. A boutique, independent property part of the Greystone Hotel group, rooms are comfortably sized and with plenty of amenities.
A continental breakfast is served daily, and on weekdays from 5-7pm, the hotel offers free wine & cheese happy hour. View more photos & find special deals for The Elan Hotel (Los Angeles) on their official website.
[/box]
See a drag show
The drag community in Los Angeles is unlike any other city I've been to. The city's iconic reputation as a home to creative people, to performers, and to artists has made Los Angeles a thriving home to the art of drag.
A lot of our most famous drag queens live in Los Angeles as well (it's a nature of the performing arts industry), so on any night of the week you just might run into your favorite queens at any number of the gay bars. There are also plenty of drag brunches at some of the places, such as Hamburger Mary's (part of a chain of gay-themed restaurants around the world).
My favorite drag shows in Los Angeles are always at Micky's in West Hollywood, though you'll find them at most of the West Hollywood gay bars. RuPaul's DragCon convention also takes place annually in Los Angeles (and NYC), and is a great event to meet-and-greet with the biggest names in drag.
And don't forget to tip your drag queens!
Discover the best of Los Angeles
Besides all the gay hotspots in Los Angeles, there's a lot of things to see and do. From tours of Universal Studios, to Disneyland and the beaches along the Los Angeles coast, there's no shortage of activities. Los Angeles is one of America's largest cities with a diverse and inclusive population and there's no shortage of tourist things to do. Some of my favorite LA activities:
Check out the art at Los Angeles County Museum of Art (and the outdoor public art by Chris Burden, the Instagram-famous Urban Light installation.
Walk the Hollywood Walk of Fame to spot your favorite celebrities' stars
Hike up to the iconic Hollywood sign.
Take a day trip out to the surrounding beach towns such as Santa Monica, Venice, or Malibu
---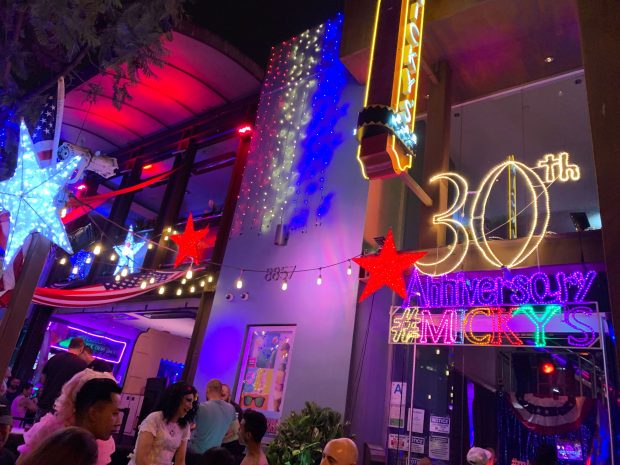 Read more of my Los Angeles travel tips in my series of articles from America's gayest state here.