I'd been in the museum for at least an hour by this point. I sat in a dark room, watching massive semicircular screens play a loop of athletes doing amazing things. The room was dark, but the three screens, each bigger than a SUV, played loud and colorful clips—ones meant to evoke anticipation and excitement. And: hope.
The clips weren't that different from any Nike commercial to be honest, but sitting there watching these powerful moments in sports history, in human history, I couldn't help but feel tinges of pride.
• • •
Last month, I visited the amazing and small city of Lausanne, in the French-speaking side of Switzerland, and was impressed by the nature and its beauty. Switzerland offers you great wine and hectic street life; but, surprising for me, I lucked out on a weekend during the Night of the Museums.
During this night when the museums stay open late and after-parties go on until dawn, I found myself popping into a variety of different museums. The first on my "to visit" list: the Olympic Museum, located just on the edge of Lake Geneva (Lac Léman). The museum chronicles the history of the Olympic Games through both permanent and temporary exhibitions in a modern building with a sculpture park outside.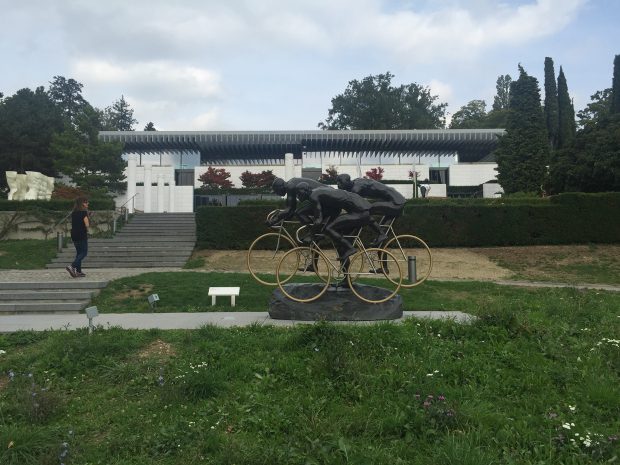 In the end, the Olympic Museum was actually one of my highlights of my weekend in Lausanne. Why? The Olympic Museum offers a lot that we already know (it's pretty hard to miss the Olympics when it's plastered across the world's media every two years), but it does so in a new light, touching the heart of our diverse world.
It tells the story of the original Olympic Games, which as many of us know, started in Ancient Greece. However, the Olympic Museum pays a lot of attention to Mr. Pierre de Coubertin, who was a French educator and historian. He dreamt of a world in which sport would play a role, uniting humanity and fostering respect and mutual solidarity. After fighting all his life, the modern Olympic Games were born.
The museum works as an interactive space. You walk through the history of the modern Olympic Games, learning about its founders, touching screens and playing games. A room is dedicated to the Olympic Torches, the ones used to carry the flame which is produced with mirrors and the sun and burns every day, every hour just outside of the museum. The torches include the games in Berlin (1936), Moscow (1980), Barcelona (1992) and London (2012). A huge screen shows a collage of video footage mixing the Opening Ceremonies of Olympic Games around the world. It's those Opening Ceremonies which are often so heavily promoted and publicized, working as advertorials for each new destination.
The Opening Ceremonies have always sucked me in, since I was a kid. I used to stay up late to watch them, re-watching clips later. It always felt like a momentous way to virtually experience a new place, a new culture.
Interactive screens also show you the evolution of the Olympic Games and how some sports have come and gone as the games have evolved. Did you know that tug of war was an official Olympic game? Is surfing going to be included in the Olympic Games someday?
• • •
We forget to see the world with new eyes every day, and that becomes a dangerous routine. We often focus on the here and now, the news and the timelines and the 24-hour news cycle. But when we stop to think about it, we've actually achieved so much in the world. The Olympic Games are an example of this; they illustrate a lot of positive things that we take for granted or forget how important they are. I am talking of things like bravery, perseverance, strength, courage, and yes, even failure.
When I was sitting in that dark room watching videos of amazing, passionate athletes suffering, in tears, because of a fraction of a second or some almost insignificant measure in centimeters—that's who we are. And that's not a bad thing. These athletes, they've achieved so much and come so far. It's hard not to feel proud to be human when you look at the positive aspect of sport. And, sure, that may be the difference between gold and silver, or between bronze and nothing, but it's always human. Pushing the boundaries of who we are.
• • •
While traveling isn't an Olympic Game (at least not yet), many travelers understand the courage and perseverance needed to obtain a given goal. This is a Museum that portrays us as human, no matter our ultimate endeavors. Walking around the museum, it was hard not to notice the people inside were happy, smiling and feeling…experiencing the amazing achievements of our incredibly diverse world.
For more about Lausanne, visit the official tourism website.