One month living in Brooklyn – the ridiculous things I've learned: finding an apartment, budgeting the cost of living, sex and dating (and hookups), making friends, finding things to do and just generally exploring NYC's most hipster neighborhoods
Well, life happened.
It's still pretty hard to imagine how it happened. But here I am. It's been a whirlwind month of stories I probably shouldn't tell, but why the hell not, here we go.
My first month living in Brooklyn was everything I expected to be, but better.
It wasn't a secret, but before moving to Brooklyn, I was absolutely terrified. I could count on one hand the amount of people I knew in New York City. A tiny handful of close friends, and then plenty of acquaintances. Making friends in a new city is never easy, and I heard NYC was either sink or swim, so I showed up with as much energy and motivation as I could muster to make the most of it.
Finding an apartment
While I arrived in New York City in March (couchsurfing with friends in the East Village), I didn't make the move to my own apartment until April 1st. I used an app called Roomi to find a one-month sublet. It'd been a while since I lived with a roommate, but my new Brooklyn roommate and I got on really well. We cooked and ate together, drank together, watched Drag Race together…
It was easy and comfortable and our spacious apartment in the legendary McKibbin Lofts (on the edge between Williamsburg and Bushwick) was perfectly located. New to Brooklyn, I didn't know much about the neighborhoods or the area except what I've read on random articles making fun of hipsters (eye roll), but I was surprised how quickly I was able to learn the neighborhood.
How to find an apartment (or sublet) in Brooklyn
PS: Finding an apartment in Brooklyn is relatively easy, but finding a good apartment is substantially more challenging. I've couchsurfed and sublet my way through the city for my first few months, but I'm always looking for that next apartment (a studio, 1-bedroom, or 2-bedroom).
Discovering Brooklyn's neighborhoods
Brooklyn is big. Like VERY big. Before moving to Brooklyn, I made a point to reach out to friends and acquaintances through social media and ask for tips. I posted on Twitter about moving to Brooklyn (see below, sorry Mom!) and collected what tips and recommendations that I could. I did a lot of that before I even got here and started filling out a Google map with recommended bars, restaurants, cafés and clubs.
Having all of that mapped out beforehand, I could already start to see what areas would be the most interesting for me. I didn't buy a guidebook but almost exclusively relied on people's first-hand recommendations.
And every single person that I met in the last month I would ask for additional recommendations. I literally had no shame in asking—because honestly, I'm new to the city, new to the neighborhood, and I'm determined to make the most of it. So you've just got to ask everyone and anyone!
How to explore Brooklyn's neighborhoods
Making friends and meeting people
Like I mentioned, this was my biggest fear about moving to a new city—let alone a city as big and lonely as NYC (Brooklyn). I'm in my 30s now and making friends just isn't as easy as it used to be. But once I was here and starting to get settled in Brooklyn, I realized there wasn't much to be afraid of. With the right attitude and a whole lot of gumption, I've made plenty of new friends!
First off, you've just got to put yourself out there. I learned a long time ago that it's stupid to feel shame. Just do something, worry about it later (or never), and move on. Meeting people in NYC was surprisingly easy as soon as you decide to just do it and not care about the consequences. I found the best ways to meet people and make friends was through a handful of groups and apps.
Grindr and Tinder worked remarkably well for me for dates—and even when we didn't click for anything more than a coffee, it was still a good way to get to know people here. And again, every person I met (no matter how quickly), I made them give me a recommendation or two to add to my Google map. (I have no shame.)
Instagram and Twitter are also great for networking. I've now made a handful of NYC friends just through both social media because, honestly, most (good) people love showing off their city (and why shouldn't they when it's a city like NYC!).
But here's the thing: using these social apps to chat people is only the first step. The next step is actually MEETING the people you're talking to. Again, having no shame, and a recent philosophy to "SAY YES TO EVERYTHING" meant that I found myself in a lot of random and unexpected places.
But that's how you meet people! (Fair warning: meeting strangers from the internet might seem scary but if you simply trust your instincts and be responsible about it, there's very little to actually worry about.)
How to make friends and meet new people in Brooklyn
Don't be afraid to meet strangers (just use your best judgement)
Use social media like Instagram and Twitter to connect with locals
Use dating and hookup apps to meet new people for friends (or even just to get travel tips)
Say yes to everything (and that goes for when you're trying to date in NYC, too!)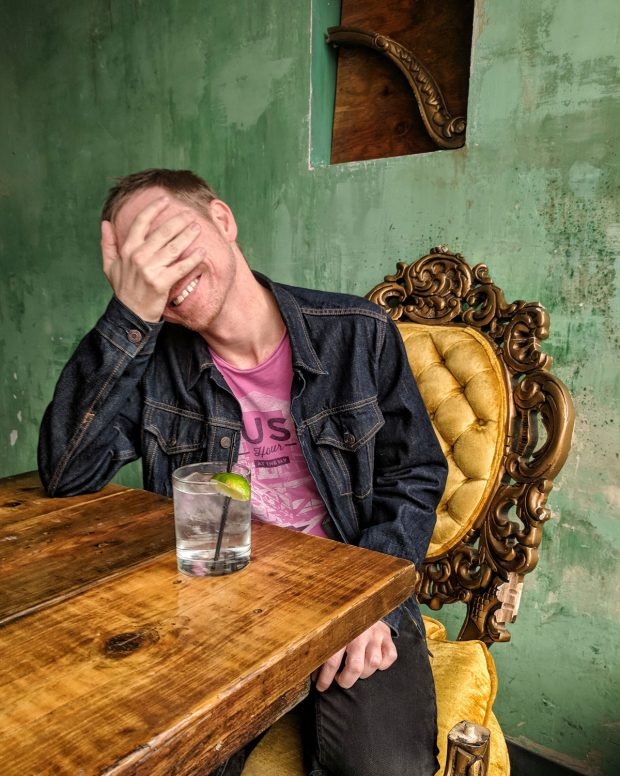 Finding things to do
Absolutely the best way to meet people has been with various Facebook groups. Again—a lot of these recommendations came directly from people who live here, but I discovered a handful that were really good. Groups like Bed-Stuy Boys and Brooklyn Queer Social both introduced me to a lot of queer and gay events happening in Brooklyn—everything from sex parties to underground club nights.
Subscribing to various venues' Facebook events also made it easy to find out about new things happening in town. There are also a handful of email lists (again, for everything from sex parties to drag shows and even queer theater), so there's always a way to find out about something new. You've just got to ask and make yourself available to new people and new experiences.
How to find cool things to do in Brooklyn
Find and join local Facebook groups that match your interests
Go to events, meet people, and ask about other events to go to
Subscribe to The Skint for free and cheap event listings across Manhattan and Brooklyn
Brooklyn on a budget
Okay, listen. Moving to a new city is NOT CHEAP. Especially if you want to do it right. You've got to make yourself available for lots of things, and that means showing up and being willing to invest in your new beginning.
I made a conscious decision before my move to Brooklyn to have a few months' rent saved up where I could focus on being social, meeting people, and doing new things, rather than prioritizing my freelance work. I'm still doing my work, but priority #1 is to succeed in Brooklyn—and that means getting to know the city and the people here.
I'm networking like crazy and eventually once I've got a rhythm here, I'll be able to slow down the activities and pump up the work. **famous last words**
Of course, spending money when you have unlimited resources is easy. And I definitely do *not* have unlimited resources. I've managed to find cheap eats (again: you've just got to ask for local recommendations), to cook when I can, and to drink at home when possible—that's saved me some money.
I just made sure to show up for my move to Brooklyn with a little bit of a safety net to really enjoy this first month (and maybe a second ?).
Using apps to save money has also been a huge asset. The Acorns app has allowed me to save 50 cents on every Uber ride with its "found money" scheme. Other apps like MealPal and Spotluck have made it easier to save on restaurants (though I haven't used them yet; they've just been recommended to me). Plus there's always happy hour—probably the best part of America is the happy hour. Literally the only time worth drinking in a bar!
How to live in Brooklyn on a budget
Go to bars during happy hours for the best drink deals
Use apps like Acorns, MealPal, Spotluck or others to save on various experiences, activities, or restaurants
Move to Brooklyn with a bit of a safety net to really enjoy and get to know the city at first
Track your expenses if you dare (I tried out youneedabudget.com this first month and it was pretty intense, but seems really useful)
Sex and dating in Brooklyn
Maybe it's just the adrenaline from moving a new city, or maybe it's just that springtime energy in the air, but finding sex and/or dates has never been easier for me. This city is hot, hot, hot and there are just so many ways and places to meet people in Brooklyn. So long as you put yourself out there.
For gay dating, there is of course: Grindr, Tinder, and Scruff. But I also have been looking for queer meetups and events to meet people. The apps are great and guys move fast here, but there are plenty of other queer events happening in town that make it easy to meet other gay guys.
Brooklyn Queer Social does an event every month and TheMenEvent.com hosts various speed dating events. I went to a speed dating event in Manhattan and met a handful of people—it was surprisingly fun and a decent way to make some friends. (Bonus: use my referral code TRAVELSOFADAM for a special discount on their events!) There's also GuySocial.com which arranges fun meetups (including NYC's only gay roller skate!
How to meet for sex and dating in Brooklyn
Use the dating and hookup apps – read my Grindr tips here!
Don't be afraid to visit meetups and events alone. You're new to the city, just show up and introduce yourself!
Check out TheMenEvent.com for gay speed dating (including a millionaire matchmaker event!) and use code TRAVELSOFADAM for a special discount!
Subscribe to the GuySocial.com events (also on Meetup.com) for a way to meet other gays
Getting around Brooklyn
This has been one of the biggest challenges for my first month in Brooklyn. Thankfully, I've been living in Bushwick and while it's pretty isolated from other areas of the borough, it's pretty well connected to Manhattan and a lot of the gay bars and nightlife I've been hitting up.
It's also 100% necessary to buy a MTA MetroCard. I'm not sure it was actually worth it, to be totally honest, but having the pass (for just $121) meant that I never felt awkward about going out to explore or visit a different area. It's purely mental, but spending the money on the MetroCard in advance prevented me from worrying about the cost of travel for random events, meetups, or hookups.
Brooklyn's size and awkward public transportation also means you're just going to find yourself taking Ubers and Lyfts—there's just no getting around it, unfortunately. UberPOOL and Lyft Line help a bit with the cost; just be prepared to sit in the back of a car for a while.
Citi Bikes (the NYC and Brooklyn bike-sharing program) are also pretty well distributed in Brooklyn. Unfortunately the weather in March was relatively awful and I wasn't prepared to ride a bike in a brand new city in terrible weather. Maybe this next month…
How to get around Brooklyn
If it's your first month, invest in a MetroCard—it just makes it so much easier to get around
Use Uber and Lyft to get between places in Brooklyn, or be prepared to walk. BONUS: Get 50 cents back every time you use Uber if you sync it up with the Acorns investing app
A lot of my friends also swear by using Citi Bike and cycling around the borough
How much did it cost?
Moving to NYC (and Brooklyn, in particular) isn't cheap. But we already knew that. Rent can be anywhere from $800 to $1200 for a sublet, depending upon location and how many roommates you end up with (if any).
I probably spent about $200-$300 per week on events/activities, restaurants, dining out, drinking in bars, and club entrances. But I managed to keep my costs down by not eating at expensive restaurants (street food burritos for the win!) and at least a few meals a week were $1 slices of pizza.
While my alcohol intake has gone up A LOT since moving to Brooklyn (is this city just full of alcoholics?!), I managed to keep my costs down by mostly drinking during happy hours and always ordering the drink specials.
How much does it cost to live in Brooklyn?
Everyone has their own budget, but if you plan for things being a bit more expensive at first, you'll be in a better position to enjoy the city
Rent can be anywhere from $800 to $1200. (I paid $1100 for a 1-month Bushwick sublet.)
In your first month living somewhere new, expect to pay a bit more for food and drinks while you stay active going out, meeting new people, and trying new things
• • •
Living in Brooklyn – is it worth it?
Obviously, it's still really early in my time living here in Brooklyn (and New York City, in general). In total, I've been living here for exactly 45 days. Sure, I've still got that 'new city adrenaline," and I 1,000% miss my friends back home, but here I am loving every moment.
The first month in a new home can be challenging. There's a lot of stress moving to a new city and Brooklyn is notoriously challenging, but with the right attitude, a little bit of savings, and a resilient spirit, it's possible to make the most of it.
I'm confident that moving to Brooklyn was the right decision. For my business, for my relationships, for my future and, simply, for myself. Bring on that Brooklyn summer!