Okay, I'm just going to come out and say it: the Philadelphia cheesesteak is over. Done. Tried and tested, it's time for some of Philadelphia's other famous foods to get the attention they deserve.
The Philly cheesesteak has become synonymous with Philadelphia as a city. The famous food dates back to the early 20th century and today it's simply just a part of the everyday culture. Locals continue to love and regularly eat cheesesteaks; tourists wait up to an hour in long, winding queues to get a taste of the authentic local cuisine.
And while the mix of thinly sliced steak with yellow melted cheese is surprisingly irresistible, there's actually a lot more to enjoy in Philadelphia.
Don't miss these other famous Philadelphia foods on your visit to the city.
5 Famous Foods from Philadelphia
(besides cheesesteak)
• • •
1. Pretzels
The Philadelphia pretzel is different than its counterpart from other American cities (oh hey NYC). It's most signature feature, though, is its shape. The Philly pretzel is shaped into an elongated figure 8, long and skinny—not in a knot like you'd find in most bakeries across the country.
A Philadelphia pretzel is soft on the inside, crusty on the outside. And always served with salt. you can eat it plain but any choice of mustard makes for the perfect accompaniment.
Where to get it: Without question, go to the Philly Pretzel Factory — a local chain (with recently announced plans to open in NYC)
• • •
2. Scrapple
One of the city's most famous breakfast foods, scrapple is a meatloaf dish made of pork scraps and trimmings combined with cornmeal and flour. It looks like meatloaf. It tastes like meatloaf (even if the ingredients might make you hesitant).
Where to get it: Skip the original and go straight for the alternative! Front Street Cafe in Fishtown serves a delicious vegan version of scrapple on a brioche bun with tofu scramble and a garlic-thyme aioli.
• • •
3. Philly style bagels
Maybe not the most obvious choice for a famous Philly food list, but Philly style bagels were invented back in 2015 as a pop-up food available at various pizza shops and events in the city. Since then, they've opened a permanent bakery in Fishtown and the rest is legendary!
The Philly style bagel is first boiled with beer (before baking) and then rolled by hand, and eventually baked in a pizza oven. The unique recipe means the bagels come out with a malted taste, staying soft on the inside and crunchy on the outside.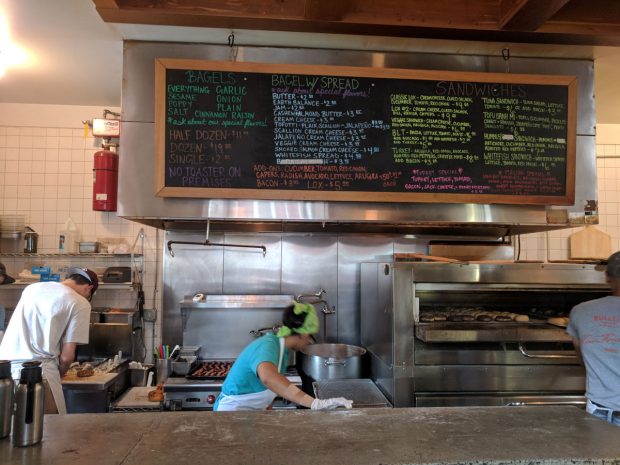 Served with any number of homemade spreads, it's delightfully flavorful.
Where to get it: There's only one real place to get the Philly style bagel and that's at Philly Style Bagels in Fishtown. On weekends, expect a queue out and around the corner (rain or shine) of the small corner bakery.
• • •
4. Tastykake
There isn't a snack food in Philadelphia that's more iconic to the city than Tastykake. The pre-packaged snacks are sold all over the city, each with their own ridiculous names and misplaced letter k's. Kimpets, cupcakes, Kandy Kakes, Tasty Pies, Honey buns….there are so many options!
Where to get it: Tastykake snack foods are available at just about every Philadelphia and Pennsylvania gas station and convenience shop, including the local favorite chain Wawa.
• • •
5. Vegan cheesesteak
Okay, okay—if you really want cheesesteak, you can of course get it at Gino's or Pat's (or Ishkabibble's or Wawa's or any number of other places), but—BUT!—try something different! Go for a vegan cheesesteak!
Philly has a pretty epic vegan food scene. They're available at so many restaurants across Philadelphia now, even pizzerias have started to offer vegan cheesesteaks. Each restaurant makes them in their own way—most often with seitan—but the cheese is crafted in any number of different ways.
Where to get it: I've had a few vegan cheesesteaks, and personally my favorite was from Wiz Kid. Their cheesesteak is made of mushrooms, seitan and fried onions. It's soft but crunchy and it's DELICIOUS, but unfortunately Wiz Kid shutdown. There are still lots of other Philadelphia restaurants serving vegan cheesesteaks, though, including the popular pub Triangle Tavern which also uses seitan in their vegan cheesesteak.
• • •
Looking for more Philadelphia food tips? Check out the Hipster Guide to Philadelphia for the city's best restaurants, cafés, bars, and more!